Painterly Realism: Interview with Nina Richards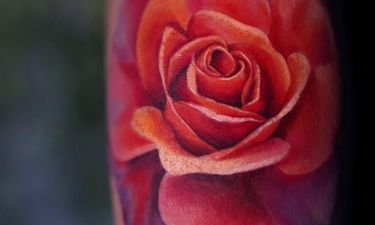 Ta

In this interview with tattoo artist Nina Richards, she talks about her unique approach to the Realism tattoo style.
Known for creating lush roses drenched in the vivid tones of sunset, Nina Richards is a tattoo artist based in Temecula working out of Devoted Ink. Currently concentrating on evolving the painterly Realism style she's known for, Nina talks about her connection to the tattoo industry, aesthetic inspirations, and how she ensures that her clients have the best experience possible while getting tattooed.
When do you first remember getting interested in art? Are there any childhood memories that hint at the artist you would become? 
I've been so fortunate to have a family that's always had a love and appreciation for the arts. My dad would take me museum hopping on many weekends, and encouraged an interest in photography when I was very young. He got me my first cheap camera when I was maybe 8, and I think that's what started me on the path of thinking in terms of composition and color without even knowing I was doing it.
What I loved about photography was the process of taking something that already existed and showing it to someone through my eyes. Painting was a very natural progression from there, but it wasn't until high school that I really tried it seriously and realized I wanted to study fine art.
How did you get into tattooing and why were you drawn to it? Who are your tattoo heroes? 
I went to this combination art gallery/tattoo shop when I was about 17, and I saw in-person for the first time people making art I didn't know was possible to accomplish with skin. The shop was such a beautiful space, and inside it were these incredible artists that had an infectious joy for their work. I was hooked the moment I walked in the door. I wanted my life to be like that, and I just dove into doing anything that I could think of to make it happen: art school, gallery jobs, apprenticing, etc.
The more I began to meet artists and loiter in local shops, the more I realized that the lifestyle of a tattooer was one that suited me very well. I love getting to share my art with diverse people, having the freedom to pursue passion projects, and working alongside other creatives. Some of my earliest inspirations: Valentina Riabova, Dmytro Samokhin, and Matt Jordan continue to be my tattoo idols. The more time I spend in this community, though, the more I discover a wealth of unbelievable artists that keep me starstruck.
Many artists have a philosophy about their work or why they make it. What is your artistic philosophy or goals?
I've been told that my clients are interested in my approach to Realism because it is not as focused on Hyperrealism as it is painterly and expressive. If I have any artistic philosophy, it's that I believe that one of the greatest things about art is how we share it with others and use it to connect to each other; I think tattooing is the epitome of that. My hope is that the value I place on my clients' comfort and happiness is evident, and that they can remember the experience fondly and as a part of the art they now carry with them.
I'm still so early in my career, however, my goals at this point largely consist of developing a style of my own and continuing to share good times with good people.
How do you feel about the future of the tattoo industry? What needs to change and what should stay the same?
I feel that with limited years under my belt I may be under-qualified to criticize this industry that I am lucky to be a part of. Nevertheless, I am most excited for the movements I see toward inclusivity and sustainability in tattooing. My appreciation for the rich history and culture of tattooing informs my belief that the tattooing profession benefits from accessible opportunity and open-mindedness towards innovation. I hope to play a part in fostering a positive and respectful community for everyone while also looking for more environmentally responsible practices to ensure the future of tattooing is growth minded.
Beyond tattooing, what are you really passionate about? 
I have an enormous passion for art history, and music/sculpture/photography are all favorite pastimes of mine. However, spending time outdoors with my family takes the cake. I am blessed to live in southern California and I try to take every opportunity I can get to enjoy the beautiful weather by hitting the waves, camping, biking and anything else that really gets us outside together.
Do you have any projects, events, or plans upcoming in the future you'd like to share?
As soon as it's safe to do so, I'm eager to travel to conventions and international guest spots. I'm eager to get out there and see new faces and new places!