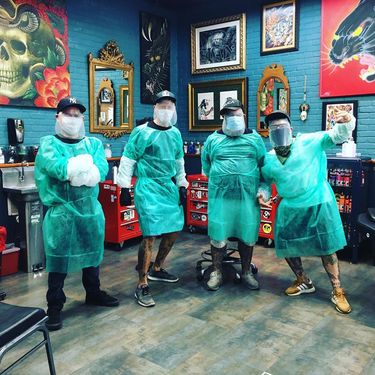 Pulling Through the Pandemic: Artist Support Initiatives
Ta

It's been a rough couple of months.
If 2020 was a piece of software, most of us would be hitting hard delete. But we'd like to give you a chance to refresh the page... with our support of course. From what we can see so far, the tattoo industry is starting to make a steady comeback! This is great news for all of us, as we've been working super hard to make our service better than ever in order to help artists get back on their feet. Allow us to indulge you…
For starters, we've given you a free extra month to play with 🙌 Tattoodo Pro memberships are now free until August 1st, 2020. 
Whether you're still at home or are breaking out into our new world, you can use Tattoodo over this time to get your digital presence strong AF. Let's crack on by starting with what you know well,
Instagram. 
Deciding which link to put on your Instagram bio is like picking your favorite child. But with Tattoodo's custom bio-link, you don't have to choose. Our custom bio-link can showcase as many links as your heart desires – such as your Tattoodo booking page, webstore, shop website, and any other cool stuff you want to brag about.
Tried your hand at one of our Art Classes?
You deserve a chance to grow and we've given you a sprinkling of knowledge from those at the top of their game. Up to now, we've dropped classes with Chris Garver, Bill Canales, Rose Hardy and Dansin to name a few. We hope they've planted a seed or two.
If you haven't checked out our epic catalogue of heavy hitters just yet, this is a perfect way to keep your creative juices flowing. Expect an ongoing roster with the industry's finest.
Reap the rewards.
We feel it's about time you benefited more from being a Tattoodo Pro member – so we're sorting you all out with a cheeky perk or two. A few top-shelf suppliers have signed on to give exclusive deals to our Pro artists. Keep your eyes peeled for more info 👀
The benefits don't end here though, as we're helping out our collectors too.
Paying for tattoos just got easier.
You know that little pink box you often see when you're checking out of an online shopping spree? That's Klarna… and we've partnered with them so that your clients can now finance their next tattoo 🎉
Now that you've got money on your mind, it's about time we spoke about cash. These days, taking cash payments can be a bit awkward and unhygienic. Are we Purell-ing dollar bills too? We've linked up with Stripe to ensure our in-app transactions are as safe and pain-free as possible for both you and your clients. You can easily take deposits or process full tattoo payments through our platform.
Itchy feet?
Travel might be on hold for the minute, but we can dare to dream, right?
We're in the process of a massive update on how your profile looks including a lovely space to pop in your next guest spots. Keep an eye out for the new release soon and remember...
Be presentable. 
You know when you meet the parents for the first time and you want to make a good impression? We're teaming up with Dad (A.K.A Google) to help your Tattoodo profile get seen and bookable through Google. It's a game changer.
We hope that you take advantage of these new offers over the next couple of months, while we continue to work on delivering you with the best possible experience on our app and website.
Stay safe, stay sanitized, and until next time...
The Tattoodo Crew