Reborn: Interview with Migdy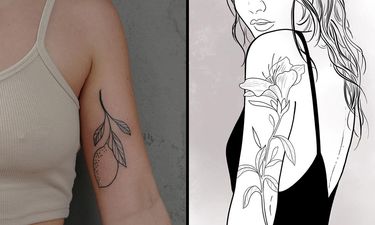 Ta

In this interview with tattoo artist Migdy, she talks about becoming a tattooer and her greatest inspirations.
In this interview with the tattoo artist Migdy, she shares how her perseverance and devotion to the tattoo craft helped her land an apprenticeship with one of her greatest tattoo heroes. Based in San Diego, Migdy is a tattooer who adores tattooing and the beautiful community that surrounds it. Creating a style that blends Illustrative Blackwork, Dark Art, and delicate Fineline florals, Migdy creates tattoos that she hopes will empower her clients and give them confidence.
When do you first remember getting interested in art? Are there any childhood memories that hint at the artist you would become?
This is a really good question. My first memory of being interested in art was when I was 7 years old. My parents took us to a Claridad Festival, a local newspaper, and one of my local heroes, Roy Brown, was performing. He writes and sings about Puerto Rican culture, nature and why we must appreciate and fight for our land. The way he moved the crowd with just his voice and guitar was intense. It made me understand that art and music was my soul and I could no longer live without it. Quickly after I signed up for vocal lessons and art lessons. I also joined a local traditional music band called Tuna. Music has always been a big part in my life.
How did you get into tattooing and why were you drawn to it? Who are your tattoo heroes?
At first I was drawn to tattoos because I thought they were the most beautiful adornments a human could wear and I still think they are when done properly. Many years ago I started visiting tattoo conventions and after research I found the right artist for my first big project. This artists name is FIBS and he is now my husband. I asked to be his apprentice and he declined on several occasions. He saw how persistent and passionate I am about this craft and he finally blessed me with being his apprentice. My tattoo heroes are: FIBS, Filip Leu, Victor Chil, Adam Guy Hays, Mike Rubendall, Kari Barba, Eckel, Calle Corson, James Tex, and Chris Crooks. So many great artist!!
Many artists have a philosophy about their work or why they make it. What is your artistic philosophy or goals?
My philosophy is that tattoos not only change us physically but also emotionally. We evolve every time we get a tattoo. Have you notice how confident and powerful a person feels after getting a tattoo? That's why I care about this craft so much! Clients are so grateful with the results and they feel reborn.
How do you feel about the future of the tattoo industry? What needs to change and what should stay the same?
To me, the future seems uncertain but one thing is that tattoos are the biggest they have ever been and it's going to keep getting so much bigger! After that, I think everything is going back to the old ways of the underground scene. What comes up, must come down, The great Universal Law of Gravitation. What always needs to stay is the respect and honor for this art. By this I mean respect and honor the tattoo legends who paved the way for this art. It's because of them we can do this craft for a living. Respect and honor.
Beyond tattooing, what are you really passionate about?
Music, photography, art and world history, rollerskating and cinematography.
Do you have any projects, events, or plans upcoming in the future you'd like to share?
Guest spots in Puerto Rico, Florida and New York during the late months of 2021 and early 2022. Hopeful to resume traveling and return to the tattoo convention circuit. I miss seeing our colleagues from different parts of the world.