Redeveloping the old and in with the new: an interview with Artemis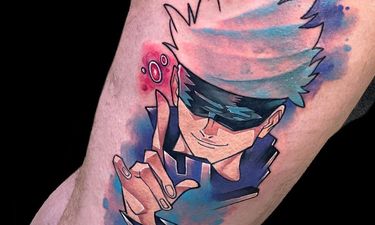 Na

In this artist feature, we talk with Artemis about early influences, his artistic goals and his views on the tattoo industry.
Artemis is an artist that has no boundaries when it comes to developing his personal style. What is most important to him is to feel connected to the idea and theme of every piece he tattoos. Understanding the client and their idea on a deeper level is something that gets his creativity flowing and allows him to create something unique every time. Artemis has been immersed in art from a young age and in this interview we find out more about his beginnings as a tattoo artist and learn what things about the industry excite him the most now and what he is looking forward to seeing in the future.
Do you remember the first moment you were drawn to art? Are there any important memories that hint at the artist you would become?
 
I'd have to say watching my uncle draw and tattoo when I was young definitely inspired me to get into art myself, seeing that someone could make a living out of art when I was a child definitely made me dream of a creative future!
Why were you drawn to tattooing and what made you pick this profession? Who were the tattoo artists you would and still look up to?
 
My family definitely played a big role in pursuing tattooing. I remember my mom always painting, my uncle and big cousin tattooing. I couldn't let go of the pencil when I was young! I started taking art classes in high school and have created ever since. I got my first tattoo machine from my uncle, owner of Stigma Rotary and after graduating I started my apprenticeship at the shop. I studied tattooing under my cousin, Elizabeth Rozaki, and Uncle Paul who was also working at that studio at the time. Later on I met SupremeDrone and Dynozartattack, these people affected me creatively and I still look up to them to this day. It amazed me how they were not following any traditional tattoo style, thought outside the box but still kept a unique style and character in their art! 
 
Can you talk about your style and how it developed over time?
 
So I think I've drawn a lot of technique and style from a dozen people I admire. To be honest I feel like that's how a personal style is developed. If you can re-imagine a part you admire and combine it with your creativity and other methods you've drawn, you develop something that doesn't exist yet! I definitely love detail, abstract thought and colors in a design. I'm always mixing and playing with new-school abstract elements, as well as micro-realism! 
 
If you are able to pick, which is one of your favorite pieces you have tattooed? 
 
My favorite piece is always the last one I did, because I try to bring something new to every piece I do. I want to feel like I've evolved every time I execute a new method or idea! Currently it's this bmo themed piece I did this week.
Many artists have a philosophy about their work or why they create it. What is your artistic philosophy and your goals within it?
 
My goal for every design is to get the feeling right. I couldn't possibly explain it with words but something just hits different when you design something you've understood the feeling of, as much as possible. I like to study the theme if the client has picked it, even if I'm familiar with it, refreshing the memory helps. Psychology plays a big part in my design process. I want to understand what made the client want that tattoo on their body, and relate to the theme as much as possible. If I create from that space, I know I'm going to get a good result. When it comes to my creations I try to express whatever feeling I'm going through at the time.
 
What are your favorite parts about the tattoo industry and where would you like to see change? How do you feel about the future of it?
 
I love how all these new styles are coming up to be popular, it just used to be traditional, Japanese and tribal back in the day. Nowadays you almost see a new style popping up on the daily! Apprenticeships get better by the years and technology has made everything much easier and more accessible. One thing I'd change would probably be for conventions and platforms to take into consideration more diversity. A lot of artists can't really compete or be promoted with their style just because it doesn't fit into any of the categories! The future looks exciting for sure! I'm amazed with today's apprentices in a good studio. Some people who have been tattooing for a year or two and are already excellent technically and stylistically. That was out of the spectrum a decade ago. Quality is accelerating fast! 
 
Do you have any projects, events, or plans coming up in the future that you'd like to share?
 
Yes! I'm planning on doing the Cornwall tattoo convention in England in August, Marmaris tattoo festival in Turkey in October, and I'm always jumping between cities in Denmark! I love traveling around the world. I announce every single trip I do through Instagram.