Rise from the Ashes with Watercolor Phoenix Tattoos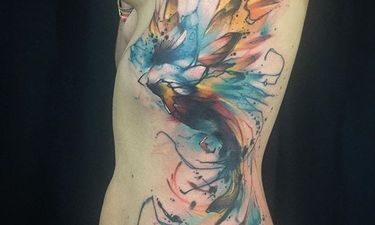 RD

As good as a phoenix tattoo can get!
If you're not a fan of watercolor tattoos then you're about to become one!
Rooted in Greek mythology the phoenix is a long living bird that dies in a show of flames and combustion only to be reborn from the ashes and rise again. An ancient symbol of renewal, rebirth and life the phoenix has been portrayed in countless novels, movies and poems - and few legendary creatures remain as popular as the mystical bird. Naturally, such a powerful creature as the phoenix is a popular tattoo design, but what style do you go with! 
The free flowing nature and simple beauty of watercolor tattoos suit the phoenix perfectly and the movement held by watercolor tattoos makes the bird and style a match made in heaven. As beautiful as any phoenix tattoos could be these watercolor phoenix tattoos are just stunning and will have you planning your own phoenix tattoo before you know it. 
You may also like these 10 Beautiful Bird of Paradise Flower Tattoos