Safe Spaces: How Female Artists Are Reinventing the Tattoo Shop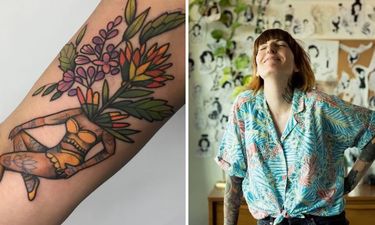 DG

We visit with four female tattoo artists who are transforming tattoo shops into inclusive and empowering places.
Tattoo culture is rapidly evolving. Once a taboo and even illegal art form, tattooing is now generally accepted and admired by mainstream crowds.
Muriel de Mai of Minuit Dix  in Montreal, Canada
"I want every person that comes to Minuit Dix to get tattooed to feel safe, so it's important that our values are stated clearly," she says. "It's a political act for me to claim those values loudly and clearly, and I don't care if I lose customers or if I'm frowned upon because of it."

But de Mai explains that it's not enough to just buy some plants and put a label on your Instagram account. She says that Minuit Dix hires artists who align with and practice the shop values.
Kim Deakins of Pink Goblin Tattoo in Athens, Georgia
"I often describe it as a demented daycare because of some of the unusual art I have hanging up in conjunction with the colors," she says. "This was a space that I personally wanted to feel good in—a place I wanted to return to with a smile."
Hunt, who works at the shop with Deakins, agrees that making all people feel at ease is at the forefront of Pink Goblin's mission. "The most important thing to me, other than tattooing to the best of my abilities, is that everyone feels welcome and safe in our hands," she says. "Most people don't know how tattooing works, so when they walk into the shop, they put themselves completely in the tattooer's hands and have no idea what is and isn't appropriate behavior."
Julia Campione of Good Omen Tattoo in Chicago, Illinois
Campione renovated a dingy storefront and turned it into a warm and inviting space filled with rich wooden floors, colorful carpets and furniture, and—of course—plenty of plants.
Good Omen already hosted a flash-day fundraiser to support the Ruth Ellis Center, the Yellow Fund, and the Chicago Women's Health Center.
Emilie Robinson of The Aldrich Tattoo Parlour in Minneapolis, Minnesota
She also says that little touches can really elevate the client experience. "Some small practical ways that we've created a client-centered experience are by having a comfortable waiting and welcome area with tea and water offered immediately as people enter the space," she says.
Author Bio: Deidre Grieves is writer, digital marketer, and tattoo collector. She is also the founder and editor of FemaleTattooers.com, a website dedicated to showcasing the stories and work of female tattoo artists worldwide.