Samuel O'Reilly's Peculiar Reciprocating Electromotored Tattoo Machine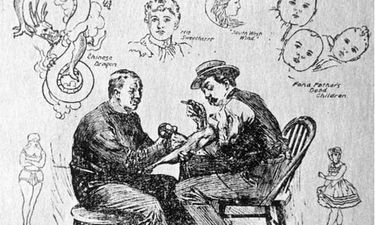 Step up, folks! Step right up! Witness the strange history of the one and only mechanical-inking marvel.
It's the soundtrack for most tattoo shops—at least most New York tattoo shops—the familiar click-buzz-hum of a tattoo machine. Different brands with a shared lineage: Samuel O'Reilly's Tattooing-Machine, US Patent No. 464, 801 granted December 8, 1891.
"Be it known that I, Samuel F. O'Reilly, a citizen of the United States, residing at New York, in the county and State of New York, have invented new and useful Improvements in Tattooing-Machines, of which the following is a specification."(a)
Behold! O'Reilly's bonafide, patented and renowned electric device. THE genuine article; the granddaddy of electric tattooing.

Vaudevillian antics aside, O'Reilly (1854 - 1909) deserves credit for electrifying the art with his riff on Edison's electric stencil-pen. "Professor S. O'Reilly" first appeared in New York in 1888, already a famed tattoo artist working out of a shop at 5 Chatham Square in Manhattan's Bowery. The Professor illustrated all manner of bodies, from members of the sideshow and curiosity scene to US sailors shipping out to the Spanish-American war. In a letter to The New York Sun in 1898, O'Reilly explains:
"The dragon is a favorite design in this shop, which also turns out serpents, birds, fraternal emblems, religious studies, and various patriotic conceptions..about one-third of the customers...are sailors, the other two-thirds...coming from every walk of life."(b)

How did the good professor arrive at his splendid patented product? In the same letter to The Sun, O'Reilly states he experimented first "to adapt a dental plugger to the work, and then an Edison pen, but each was too weak." (c) His patent adds a tubular shaft to strengthen the device, an ink reservoir, and fittings for multiple needles, five of which are referenced in the patent drawing.
But can he claim the crown as king of the electric tattoo machine? 
Well, he patented it but, like most history of invention, it's more than probable O'Reilly developed the electric tattoo machine in an atmosphere of experimentation and artistic development. The mid-to-late 19th century saw an explosion of handheld electronic machines, though rarely were they more than novelties.
O'Reilly's letter to the The Sun, in fact, is written in response to a story run a week earlier about one Clarence Smith, a young sailor who claimed to have seen an Edison pen in a shop window and adapted it for tattooing. 


Other New York newspaper archives muddy the waters. A letter-to-the-editor in The Brooklyn Daily Eagle in 1878, 13 years before O'Reilly filed his patent, implores Edison to "lessen the sufferings of humanity...by devising some modification of his wonderful electric pen." (d) Three months prior to O'Reilly's patent, The Sun reviewed a traveling curiosity museum featuring a man sporting full-body tattoos performed "by electricity, so that a large part of him can be highly ornamented in one afternoon." (e) O'Reilly, again in his 1898 letter to The Sun, writes of his experimented with dental pluggers before setting on the pen. It's safe to infer other artists would also have realized the potential of electric tattooing.


And then there's this from The New York Times: "Tattoo Artists at War," January 1, 1900. 
"Prof. Samuel O'Reilly and Prof. Elmer E. Getchell, rival practitioners in the art of tattooing, in Chatham Square, are having a dispute in the Federal Court as to who is or is not the inventor of the instrument they use in decorating their customers." (f)
Abandoning his previous letter-writing campaign, O'Reilly sued friend-turned-foe Elmer Getchell for making and selling machines that infringed on his 1891 patent. Getchell (1863 - 1940) was a fellow Chatham Square tattoo artist from Boston; the two had partnered briefly at O'Reilly's shop.


The case lasted for a year and was later dropped without settlement. Carmen Nyssen, historian and researcher at the Tattoo Archive and creator of BuzzworthyTattoo.com, dug up both the 1899 subpoena and the 1900 case files:
"Court papers refer to two of Getchell's machines, Exhibit A, the machine he was currently using, and Exhibit C, a machine he'd supposedly invented in prior years… [A] grainy picture of Getchell's machine in a 1902 New York Tribune article looks very much like a current day tattoo machine." (g)

Conclusive? Hardly. But it does shine some light on the journey from Edison stencil-pen to modern tattoo machine. Is O'Reilly the godfather of electric tattooing? Yes, according to the US Patent Office. But as demonstrated above, O'Reilly was one of many contributors to the tattoo machine's march to modernity, sharing the stage with greats like Elmer Getchell.
There you have it, ladies and gentleman! A fabulous, true-to-life tale of one Samuel O'Reilly, one of the greats of 19th century tattooing.
Written by B.B. Boyd
(a) O'Reilly, Samuel F. 1891, Tattooing-Machine. U.S. Patent 464,801, filed July 16, 1891, and issued December 8, 1891.
(b)  "Tattooing by Machinery." The Sun (New York), January 23, 1898.
(c) "Tattooing by Machinery." The Sun (New York), January 23, 1898.
(d) "Another Field for the Great Inventor, Edison." The Brooklyn Daily Eagle (New York), August 16, 1878.
(e) "Strange Human Nature.", The Sun (New York), March 15, 1891.
(f) "Tattoo Artists at War." The New York Times, January 1, 1900.
(g) Nyssen, Carmen. "Early Tinkerers of Electric Tattoing" BuzzworthyTattoo.com. (accessed 2017).