Save The World's Oldest Tattoo Studio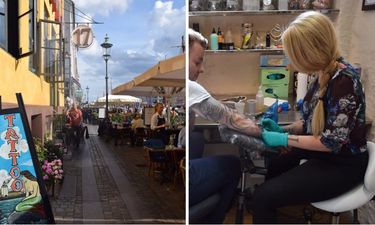 Ta

Tattoo Ole has been a fixture in Copenhagen for 133 years but may soon lose its lease. Learn about the shop and what you can do to save it.
Setting up and running a successful business is an incredibly difficult task, even if you have a killer idea and a dedicated and talented staff. Every week brings new challenges and only the select few are able to say that their business has been around for years, even fewer can say decades. This is even more true in the tattoo industry where new shops pop up only to disappear a few months later all the time. So when we found out that Tattoo Ole in Copenhagen, Denmark, had been open for 133 years our collective jaw hit the floor.
Yet, business can be savage, and even the status that comes along with being the oldest tattoo parlor in the world can't buy stability. The owners of Tattoo Ole's lease at Nyhavn 17 want to use the space to expand their restaurant's kitchen and the shop is scrambling to show that they have the support of the community and maybe, just maybe, they'll be able to stay put.
From its humble beginnings sharing the space with a bar, to tattooing members of the Danish royal family, the spot at Nyhavn 17 has seen it all. Majbritt Petersen, better known to the world as Lille Ole, is the current owner and leading the fight to keep Tattoo Ole in its home. "It is a living institution of art and believed to be the oldest parlor in the world still remaining at its original location," Petersen says. "In the beginning it was a table in the far corner, and as far as we know, there was always a tattoo artist working there."
As one of the busiest shipping ports in Europe, Copenhagen has a strong seafaring culture. And where there are sailors there tend to be tattoos. The port district of the city, Nyhavn, was the center of Scandinavian tattooing, and Nyhavn 17 is the beating heart that drives it all. Looking at the roster of artists who have spent time at the shop feels like walking the halls of a tattoo artist Hall of Fame — Hans Hansen, Tato Jack/Helmuth Mikaelsen, Ole Valdemar Hansen (Tatovør Ole), Henning Jørgensen and even Mike "Rollo Banks" Malone.
Since the shop isn't owned by some mystical tattooer who hasn't aged in 133 years, it's been quite a chore to make sure that the shop has been passed down to the right people. As Peterson found out 10 years ago when she first came to the shop, there is a method to the madness. "When I got to the store, it was a requirement that I should be put into all the old hands," she explains. "All the shop owners have worked and known each other, so I have a very close relationship with the store. It's a very big responsibility, it's not just a shop you take over but also a family and tradition to be transported and cared for."
Now, in order to keep that tradition alive, Peterson will be going to court in an effort to prevent the landlord from turning this vital piece of tattoo history into a kitchen. As members of the tattoo community, Peterson is calling on you to raise your voice and help. "We are going to court very soon, I hope we will be allowed to stay but my little shop may have seen its last days," Peterson says. "We have made a signature collection that you can share and sign, so we can show how much our story and store mean to us. I hope with all my heart that you will support my fight."
One hundred and thirty-three years is a long time to be doing something as historically subversive as tattooing, it would be a damn shame to see the shop shutter its doors during a period when tattoos are more socially acceptable than ever before. Please, click on this link and help the artists at Tattoo Ole keep the dream alive. Let's keep this thing going another 133 years, at least.