Simple, Yet Impactful: Japanese Tattooing by Shane Tan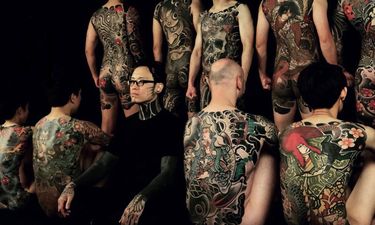 Shane talks style, process, and his come-up in tattooing in this exclusive interview with Tattoodo.
Born and based in Singapore, Shane Tan is one of the finest contemporary Japanese-style tattoo artists in the world. Tan grew up in a family of tattooed people, which exposed him to the subculture at an early age. He began his journey as an artist when his father bought him a coil machine for his 16th birthday. In the 22 years since those early days, marked by trial and error, Tan has honed his craft to create a bold, unique style, minimalist in its use of a predominantly red and black color palette. While he's very much indebted to the old masters of Japanese tattooing, he has managed to create an aesthetic of this traditional style that's all his own. Here he answers a few questions for Tattoodo about his roots, his process, and his plans for the future.
Do you remember the first moment you were drawn to art? Are there any important memories that hint at the artist you would become?
My mum told me that when I was a kid, I would hide in my room and draw all day. My entire family would go on outings and when they returned in the evening, I'd still be sitting at the same spot drawing and wouldn't even realize they left. I think I started drawing even before I could write. My mum would bring home stacks of printer paper from her workplace and I'd fill them up with images of Ninjas in battle, superheroes taking down villains and random free form shapes and patterns that were in my head.
Did you begin with a formal apprenticeship? If not, how did you get started in the field?
Unfortunately I never had the opportunity to start my career with an apprenticeship. All my requests were declined because I was just too young when I wanted to pick up tattooing. My parents were acquainted with tattooers so I was exposed to the world of tattooing at a very young age. I think my interest really started when my parents took me along to visit their friend who was tattooing from his flat. I still remember everything so vividly even though I was only 7 or 8 at that time. I recall it was a very rundown apartment that smelled of Dettol and cigarette smoke. There were a bunch of heavily tattooed guys sitting around, smoking, drinking and getting tattooed. It was extremely intimidating yet weirdly intriguing to be in that room. I sat quietly in a corner, too afraid to utter a word but my mind was filled with so many questions. I managed to catch a glimpse of what was being tattooed on a guy's back. It was a wolf and a moon. That left a huge impact. I wasn't expecting to see something so intricate being drawn on a person's skin. A few years later, I tried asking a few of my family's friends if they would teach me tattooing and none of them agreed. So on my 16th birthday, I asked my dad to buy me a Spaulding and Rogers starter kit from an ad in a tattoo magazine and I immediately started tattooing kids in the neighborhood. It was chaotic and reckless, I was clueless and went through a lot of difficulties trying to figure stuff out on my own without the help of a mentor, YouTube tutorials, online forums, social media and all that stuff that exists on the internet today but I guess it all worked out alright in the end.
Can you talk about your style and your choice to employ electric vs. the traditional application of Tebori? 
In my 22 years of tattooing, I've evolved quite a bit in my style. In the first decade, I was doing a rather modern and experimental version of the Japanese style. As I matured and gained more knowledge, I started focusing on re-creating the 'old' style of Japanese tattooing. Heavily influenced by Masters (Horiuno, Horibun, Horigoro, Yanekuma) from the early to mid 1900s, I started to simplify my work, removing unnecessary details and colors in order to create simpler, more impactful designs. Even though I feel that the quality of a well executed Tebori piece will always be superior compared to anything done with a machine, I don't practice Tebori because I've never gone through a traditional apprenticeship under a Japanese Tattooer.
In regards to the body of work that we see on Instagram, one might come to the conclusion that large scale work is your only way. Do you prefer doing multiple session pieces? Do you ever get requests for anything smaller? 
I definitely prefer doing large scale work compared to smaller, single session pieces. A back piece can take at least 10 sessions and can stretch up to 20 sessions. The approach is very different compared to smaller pieces because there's a lot more planning involved. The outcome is more rewarding because of the amount of commitment required. I do get requests for smaller pieces once in a while but I prefer focusing on larger projects at the moment.
What is the process like in getting a tattoo from you?
It's quite straight forward actually. For the start I need to get to know each client a little before embarking on a journey that will last months or even years. I think it's important for me to evaluate their commitment level and the motivation behind getting a large piece. Without a certain level of mutual understanding, respect and trust, the entire process will be unpleasant for us. The second step would be to do a rough sketch with a sharpie on the client's body to figure out various forms or placements for the subjects and to mark out rough measurements. This serves as a visual presentation of what's in my head. I find it difficult to explain certain things in words so sketching it out is the best way. I'll then take a photograph and do a transfer of the measurement onto paper. Third step would be to do research and explore different angles or forms of the main subject on paper. Even though I can tattoo it freehand on the body, I prefer to take my time to create designs on paper, leave it lying around for a few days and make changes to it if needed. But I always do the background freehand. And the final part is the aging process. One can fully appreciate the beauty of a Japanese tattoo only after 5 years or more. When the gray smoothes, the outline thickens and the pigments settle in. Only then, will the tattoo be a part of the wearer's body.
Now for a fun one. Who sits better, men or women? 
Women definitely sit better than men. Come on, we all know that.
Do you strive towards an end-goal in your work? 
I'd like to create as many bodysuits as I can. It would be fun to see a large group of people fully covered with my designs.
Do you have any projects, events or plans coming up in the future that you'd like to share?
I'm putting out a book with Kintaro Publishing soon. It's something we've been working on for a few years. We're still in the production stage, making changes to the layout and editing images so I'm unable to reveal too much for now. All I can say is that I'm really looking forward to the completion of this book. Apart from the book, I'm hoping to do a solo exhibition at some point but that's not going to happen any time soon. I've yet to produce enough paintings that I'm happy with..
Article by: Mandy Brownholtz