Soft Approach: Interview with Alena Zozulenko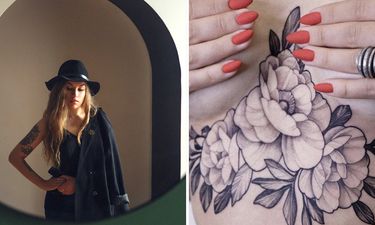 Ta

In this interview with Alena Zozulenko, she talks about being an architect and becoming a tattooer.
Beautifully melding her admiration for architecture and graphic design, Alena Zozulenko has developed a style that is capturing hearts worldwide. Devoted to creating incredible things for incredible people, Alena constantly evolves her skillset in order to give the highest quality tattoos possible. Whether capturing intimate personal moments for clients, or reinventing traumatic scarring into something empowering through tattooing, Alena shares her love of many art forms with anyone who comes in contact with her.
In this interview, Alena describes the process of getting tattooed by her, shares her inspirations, as well as her hopes for the future.
Can you tell us a bit about yourself and your background?
My name is Alena Zozulenko and I am a tattoo master from St. Petersburg, Russia. I graduated from university with a degree in architecture. For many years, I have been working in that profession, I worked at the Olympic construction in Sochi, and I designed large residential complexes in Moscow. I am very much interested in drawing; I had a series of graphic works, which were printed on T-shirts and bags. All these products could be bought in a designer store in Saint Petersburg.
My interest in drawing and graphics gradually led me into tattooing. At first, I began to order sketches, and then I tried to work as a tattoo artist. Since then, I've devoted myself to this activity. Architecture is an amazing background! I think it was one of the best decisions I ever made to study architecture! Studying such a profession systematizes and restructures your consciousness, teaches you to analyze the world. Now I manage to combine two professions; of course, there is not much time left for myself.
How did you get into tattooing? Why was it something you were drawn to?
I began to get frequent orders for tattoo designs, then when I was shown the result, it turned out I was very surprised that the master could not exactly reproduce my designs. So I began to try to do tattoos and got very much involved!
How has your style evolved over the years? Who are the artists, art movements, or visuals that inspire you regularly?
I have always clearly understood that I prefer the black and white tattoo to other styles. Probably this is also an echo of my architectural education. I believe that the black and white tattoo is the most harmonious and stylish look on the body. It goes with any style of clothing and age. With time, I have more correctly picked up the equipment for work, technologies and inks. By trial and error I have developed a palette. It probably sounds very funny, especially if it seems that I only work with black. In fact, there's not just black, but many shades of grey!
And I guess I was also lucky, I lived in the right city. We have a lot of cool tattoo artists and artists in Russia, especially graphic artists! I am very inspired by the works of Vrubel, Perov, Klimpt, Kustodiev, Serov, etc. I can't even list them all.
What is the process like in getting a tattoo from you?
Usually working together is enough to describe your idea and the location of the tattoo, as well as to attach a couple of examples. I have a very soft approach with my clients and now I very rarely encounter a complete misunderstanding of my style! I can say that all my clients are amazing, and I find great inspiration through their ideas as well! I think that if you work hard and cultivate your style, clients see your personality and understand your ideas. One of the most important things in tattoo projects is correct placement and composition.
What advice do you have for people who are looking to be better at tattooing different skin types?
I think that the question of quality of work depends directly on experience! I have one piece of advice: the more hours at work, the more practice and experience you get. As with mostly everything. Based on my experience, I can see that the issue of equipment, skin quality, and materials takes second place if the tattoo master is a professional. If the master has extensive experience even with cheap needles and machines, they could still end up with perfect results. It would take more time, but the quality of work would not be affected. The most important part of the work is the safety and sterility of the process!
Beyond tattooing, what are you really passionate about? What do you do when you have time off?
I try to combine work as a tattoo artist and designer and do design projects for apartments and houses. I do a lot of oil painting, and I am currently taking painting classes at school to improve my knowledge and to practice. I like learning new things and reading! I have been reading medical literature lately. I find it very interesting.
What are your greatest hopes for your career and the future of the tattoo industry?
In the future, I would like to structure my knowledge of drawing and tattooing into a complete book publication. Right now, I am writing articles about tattooing which in the future I plan to put together. In general, I am very interested in the sociological side of tattooing. For example, when tattooing helps people hide not only aesthetic problems but also psychological ones. The hiding of scars, cuts, after traumas, accidents, and surgical scars. I am always most happy to do this kind of project and help someone feel better about themselves in any way possible. It seems to me this aspect of the art is not recognized enough in the tattoo industry.