Super Manly Men Tattoos for You and Your Bros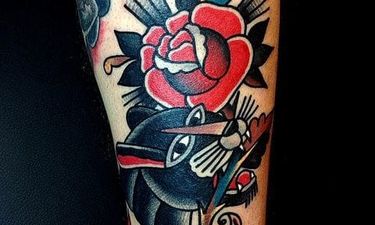 Sit down, get up, no, not there, over there, YEAH — it's time for TATTOOS FOR MEN.
Are you a bro? Do you love a) the gym, b) your other bros, c) your other other bros, d) looking cool as fuck with hot tattoos on your body? Then sit down, shut up, and get ready for some real schooling, because it's time for TATTOOS FOR MEN.
Tribal not your thing? Try a fucking skull tattoo. Skulls are always fucking tough, and I'd beat the ass of any fuccboi that says otherwise. There's literally nothing out there more god damned manly than a skull tattoo.

Not into skulls or tribal? Well, it sounds like you're a fucking dweeb, but that's fine. If you're a dude, you can literally do ANYTHING you want because sexism isn't a thing for you. Men rule the world. Never fucking forget it. You can get a Hello Kitty tattoo if you want to, but because it's on your manly budy, it's fucking manly.

There are tons of sick areas of the body to get a tattoo when you're a dude. Biceps are probably the best, because it draws a lady's (or a dude's, if that's your thing, we don't judge) attention to your most important physical characteristic. Never will anyone say "Does this dude even lift?" Of course you fucking do. Look at that fucking bicep tattoo.


Axe won't cut it, that shit washes away. A nice trim at the barber is a good refresh, but really, you gotta go there every week. You need something more specific, more you, more once in a lifetime. You need TATTOOS FOR MEN.