Tattoo Artist Tries To Troll Demi Lovato, Gets SLAMMED!
GR

Whatever the case, it's extremely refreshing to see a celeb get real, even if it's only for a moment.
Whatever the case, it's extremely refreshing to see a celeb get real, even if it's only for a moment.
Sometimes celebrities are awesome. It's crazy to think that even the high-profilers people despise the most are only famous because people pay too much attention to them. If not for their fans, celebrities would not be the stars they are. Regular people are responsible for famous people. That little bit of common sense can be rather mind-boggling. On the rare occasion where the ones we make famous are actually awesome instead of arrogant or annoying, it's usually because they acted like a normal person. Either they had a revelation about the value of being down to earth and decided to dismount their high horse, or their feet never left the ground and what they do in Hollywood is simply their job.
This not-so-recent yet too good to not talk about incident involves a singer, an intoxicated incident, and her tattoos. Demi Lovato recently bested a tattoo artist who baited her into a verbal sparring.
The tweet tirade happened earlier this year in April when Lovato posted a photo of a black and gray rose on her wrist. Normally, this would be another great tattoo to ogle for a minute or two but the one who inked the singer's wrist prior to a tattoo artist in North Hollywood was not enthusiastic about the new ink.
The original tattoo artist, Ashley McMullen, caught wind of Lovato's "vagina tattoo" comment, and constructed a response of her own. "Cool post @ddlovato," McMullen wrote on in a comment on the singer's Instagram. "Thanks for getting the tattoo covered up I did for free that you specifically asked for. Not to mention you didn't even have the courtesy to offer me any money in the first place. You pissed all over our toilet seat and you made a fool of yourself. What a shame that people look up to you. The tattoo you covered it with kinda sucks too. Looks like you might forever be a goon. #demilovato #scumbag #turd #claimstobesober #drankallthebeer #peepeetoiletseat #yousuck." (US Magazine, Esther Lee)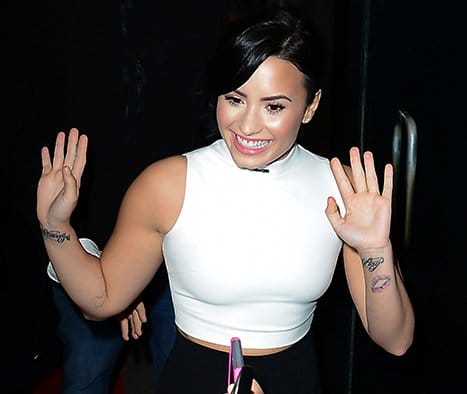 The infamous 'vagina tattoo' Lovato could no longer bear to wear.
At first the singer paid little attention responding comically to McMullen's crass comments with emoji's including a crying face, a toilet seat, and beer mugs. What's that biblical proverb say? Don't respond to a fool's folly. That seemed to be where it would end, but the foolishness of this tattoo artist was not yet over. In a separate comment McMullen proceeds to bash the star's character: "It's a really nice example to people your [sic] setting saying to not do drugs, but honestly you were acting like a full time slob..." she wrote. "You never even gave me a shout out when I dealt with your drunk ass."
It's been a long road for Demi Lovato, former Disney actress turned singer, responsible for the current summer hit Cool for the Summer. She has been open about her struggles with bipolar and eating disorders, as well as substance abuse. MTV did a great documentary featuring her rapid breakdown, epic buildup and all the steps it took to get there. Watch the full documentary here.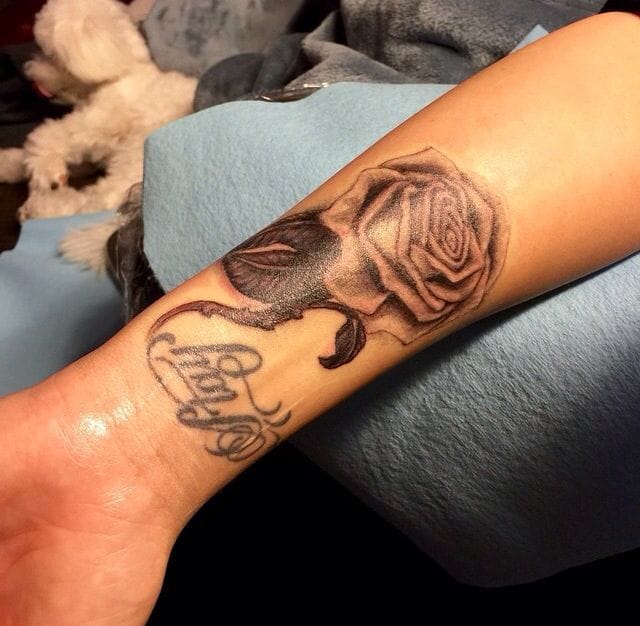 The Unbroken singer has been as vocal about her painful past as she is passionate about her present recovery. Whether or not pop music is your thing, a person like that, someone who was once rubble comes a Skyscraper is someone worth admiring.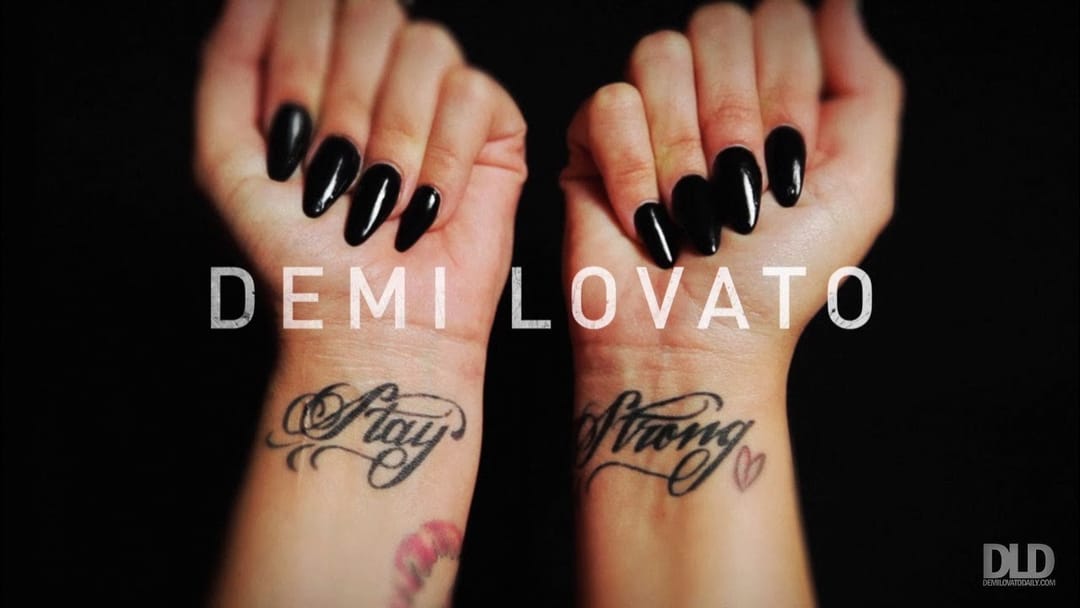 Just when you think she'll go along with her song Really Don't Care, she doesn't do the typical famous thing and respond with silence to the hater. She got real, and then it got really, really good. The original response was posted on Twitlonger and has since been deleted, no worries, Tattoodo has everything Demi wrote right here, clever hashtags and all!
"Dear Ashley McMullen, I wasn't going to acknowledge your bitter Instagram comments but since your side of the story has picked up some headlines, I would like to share my thoughts and send you a proper apology," the Never Been Hurt singer wrote.
"First, I would like to say I'm really sorry I don't remember you or getting tattooed by you, but as you know I was f---ed up and sometimes people act like '#turds' when they're loaded. Second, I apologize for my '#peepeetoiletseat'… That wasn't on purpose, I was simply a drunken teenage girl. Lastly, I apologize for making fun of your work.. But… if I were you, I wouldn't claim that one because it looked more like an open vagina (or even a butt hole as my 8 year old little sister called it at the time.)"
Lovato then called out McMullen for tattooing an inebriated teenager at the time. "I also wouldn't be admitting to the fact that you tattooed a very intoxicated 18 year old on a tour bus without the proper judgement that most legit tattoo artists have of saying 'Hmm… This underage kid is wasted, maybe I shouldn't permanently ink a hot pink kiss mark on this girl's wrist….? Oh well… F--- it, she's famous,'" the singer continued. "I can't blame you for getting the tattoo, I take full responsibility for that but if the issue here is you wanting credit, maybe next time you should wait for the person to get your tattoo sober so they would actually remember getting the tattoo in the first place, or perhaps you could've thought about all of this as a blessing that I forgot everything about you – that was until you outted yourself for the now internationally infamous 'vagina tattoo.' But you're right, I should give credit where credit is due, and you Ashley, surely deserve credit for this one. #justputitonmytab."
Here is where a solid high five is deserved. What's the moral of the story? Get tattoos while sober, don't get something you'll regret, research your artist, and when you make mistakes be honest about them. No one appreciates slander, stating the truth in a loving way is always respectable, and a little sarcasm never hurts.