Tattoodo X Skin Stories: Natural Inspiration with Simone Klimmeck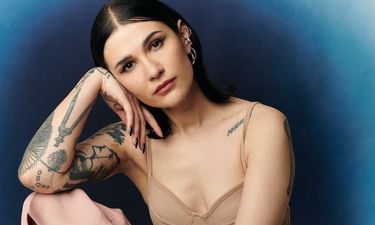 JM

Simone Klimmeck shares the source of her creative output and why every encounter is special.
In this collaboration between Tattoodo and Skin Stories, tattoo artist and illustrator Simone Klimmeck speaks on her connection with nature. Finding inspiration from the diverse offerings of the universe, Simone blends them to create her iconic collage-esque designs.
Can you tell us a bit about your background? How did you become a tattooer and why do you love it?
I grew up in a very artsy surrounding, my parents met in a nude drawing class, so I've basically been drawing my whole life. I later studied fashion design and worked as an illustrator after finishing university, but I felt isolated often and missed social interaction in this job.
In parallel, I got more and more tattooed but always felt like I couldn't find the right artists that did what I envisioned, so I decided to give it a try myself. What started as a fun free-time thingy, soon woke an enormous ambition inside of me, so I searched and found a mentor and dedicated everything to the cosmos of tattooing...which was the best thing that happened to me, as I can do what I love for a living and additionally make someone else feel prettier and more themselves.
I'd love it if you could talk more about your collage-like tattoo style. What artists inspire you? What is the process in creating your pieces and getting tattooed by you?
I'm a huge fan of Max Ernst and his dark melancholic weird surrealism from the early 20th century and I often get lost in old anatomical books with these etching style medical illustrations; they fascinate me. I like to play around with these kind of images, theres no real recipe: it's trying things out until I like a certain shape or contrast and slowly develops. Patience is key. People also often come to me with a motive or tattoo they liked by me, and I'm creating a new similar yet own version for them.
What have been some of your favorite client moments?
Well, I'm basically having a blind date every day and I sometimes feel like a child that gets the chance to ask people from all around the world with all the different occupations and backgrounds about their life, which is super enriching. I couldn't pick a certain encounter, every day is special in its own way.
What have been some of your favorite tattoos that you've collected and why?
I got all my tattoos for aesthetic reasons in the first place, but some are still especially connected to the people who tattooed them, or the situations in life I got them...so, they somehow conserve the poetry of these different chapters of my life.
Do you have any hopes, plans, goals or dreams for the future that you'd like to share?
As Hermann Hesse puts it, 'We barely arrive in a phase of life and already complacency threatens. Only he who is ready to break off and travel, may break from crippling habituation. Perhaps even the hour of death, will dispatch to us fresh and new, life's call to us will never end…'
I consider myself quite happy right now, but I am aware that everything constantly changes; who knows what kind of art I will make 5 years from now. I'm just curious what lays ahead and will probably never stop being hungry for new things.