The 13th International London Tattoo Convention Can't Come Soon Enough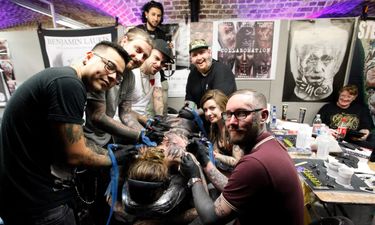 It's the most wonderful time of the year for British tattoo fans. London's biggest and best tattoo event of the year has finally arrived.
I'm not quite sure where 2017 is going. But I AM sure that most of the UK's tattoo enthusiast community have been counting down the days to September. That's because - no, not just the arrival of pumpkin spice latte season - but more importantly, one of the most exciting dates in our packed tattoo calendar is upon us. Watch our video from last year's edition.
This weekend (22nd, 23rd and 24th) September, the gorgeous tattooed people to Britain will flock to East-London's Tobacco Dock to witness art being created by some of the biggest and best tattoo names on the planet. 
The convention is organised by creator Miki Vialetto and the team at Tattoo Life Magazine - after attending their new smaller-scale tattoo event The Tattoo Collective in London earlier this year, I'm now pumped for the sequel - one of the most well-regarded events in any tattoo geek's diary.

Tattooing at the International London Tattoo Convention is - shall I say - no easy accomplishment. 400 of the most well-respected and admired tattoo artists have been carefully selected to attend. For three days, they'll share their work, live, with thousands of tattoo lovers. From traditional to Japanese, photo-realism and geometric, the offering isn't exclusive in terms of style and there are always - as with many tattoo conventions - endless opportunities to discover new artists and new approaches to our craft. 
One of those exciting new approaches comes from a London-based studio called NR Project, who are presenting a programme of live art installations and exhibitions. I've been chatting to curator Inês Valle this week to hear all about what they've been cooking up for the convention. Virtual reality, live performance and art creation, 3D projection... it's refreshing to see something so innovative finding home at a tattoo convention. I can't wait to check them out.
I've got an infinite checklist of tattoo artists to check-out myself. Not to mention Tattoodo boss man Mr. Ami James himself, but also the likes of Henning Jorgensen, Mike Rubendall, Chris Henriksen, Antony Flemming, Aimee Cornwell, Wendy Pham, Guen Douglas, Steve Morante, Jondix, and Deno. The list goes on. 

As well as a competition stage, catwalk and inspiring art exhibits, there will be live music and entertainment - from the likes of Mallory Knox, Fort Hope, October Drift, Pyrohex and the Fuel Girls, and burlesque and circus performance from Janet Fischietto. At The Japanese Gallery, visitors will be able to check-out traditional woodblock prints and learn about the evolution of tattooing and its journey through Japanese history. Nearby, The Kintaro Kite Project will showcase outstanding artwork by 35 of the best tattooing specialising in Japanese style.

Right, that's enough whetting your tattoo appetite for now. I've already given too much away, and nothing beats the real thing. If you're heading on down - stay safe, say hello, be impulsive, enjoy.