The Magic of Nature: An Interview with Lena Fedchenko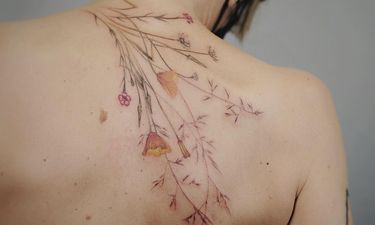 A conversation about powerful emotions and energy, and their role in creating meaningful art.
Lena Fedchenko is an artist that believes that emotions and energy play a key role in creating meaningful art. In this interview she gives us a glimpse of her creative process of using a real flower as a reference and imprint on the skin she will tattoo, and tells us how and why she chose subtle botanical pieces as her signature.
Do you remember the first moment you were drawn to art? Are there any important memories that hint at the artist you would become?
In my later years at university, I experienced many emotions, including falling in love. I also experienced a strong desire to express myself - I began drawing again, as I used to do it back in school. I even painted on clothes and used my own illustrations for a while. Later, when I'd already been tattooing for several years and pursuing my own style, I realized that I had always wanted to draw watercolor sketches. I remember those days spent on sketches, when I was sitting hour after hour until dawn, drawing every little detail carefully. I think that was the moment when I finally understood that tattoo art became a very serious part of my life. I wanted to grow and become someone significant in the industry.
Why were you drawn to tattooing and what made you pick this profession? Who were the tattoo artists you would and still look up to?
I got into tattooing a few years after the first drawings appeared on me. My friend gave me my first tattoo machine as a gift and I started tattooing soon after. In the beginning, it was my second job (I kept working in an office), but I later decided to leave it and pursue tattooing full time. At that time, a site called deviant.art was my main source of inspiration. I made picture boards with images I would be interested in tattooing or offering to my clients. As for the biggest influence, Tattooist Doy was the one. I began to act for real right after watching and being inspired by his subtle miniatures. I was pushed to experiment with equipment and needles and to draw my sketches in large numbers. I wanted to become a unique pro.
Can you talk about your style and how it developed over time?
At the beginning of my career, I used drawings of artists from various Internet resources I liked in terms of content, composition, and contrast. It's really hard to imagine that in a modern tattoo world. Now the emphasis is on the individuality of the sketches. I remember enjoying the process of work and a single thought "I am a tattoo artist" brought me great happiness. After realizing that I needed to go further and develop my own style, I took watercolors in my hands and began to draw my own sketches. I often spent nights doing just that. Botanical sketches had the best feedback, so I decided to focus on this topic. I studied the structure of plants and bought books on botanical illustration. Over time I moved on from works that were easier in composition with simple combinations of colors to more complex ones. I began to draw many plants in a freehand manner, inscribing flowers in the lines of a body. Then I wanted to introduce a certain philosophical idea. This is how the "Portrait of a Flower" project was born. I use a real, full of strength flower, as a reference and imprint it on my client without a preliminary sketch. In such a way the flower's energy keeps on living with this person.
If you are able to pick, which one of your favorite pieces you have tattooed?
Some of my favorite works are large-scale ones. When details fade into the background a little bit and flowers flow over the body, showcasing the flexibility of stems. It looks more like a kind of abstract art. Sometimes I try to make fewer leaves to emphasize my vision.
The next thing is when plants grow from fruits or other objects. I really love this type of combination. I rarely do it and consider such small modern still life to be "my thing".
Many artists have a philosophy about their work or why they create it. What is your artistic philosophy and your goals within it?
Some time ago I traveled around Europe and studied still lifes with flowers and food in museums carefully. I found some of the very first still life which were created by churchmen many centuries ago. A thousand years earlier most pieces of art were subordinated to one goal - religion. It was difficult to imagine flowers as some independent artwork. It was true until one of the monks said that plants, food, and all other objects were once created by a higher power and there was a piece of divine light everywhere. It was a turning point for painting flowers on canvas. I'm not a religious person, but I like how the human mind works and always tries to ignore various limitations.
In addition, I like the idea that nature and its elements are passed on through a form of genetic memory. People have been born for thousands of years, and greenery along with blue skies was the first thing many of them saw. It explains our deep-rooted love for plants. Nature is permanent, and so are its cycles of birth and decay. Flowers are a metaphor for human life in a short time frame. Besides, they are very beautiful and relevant for all seasons.
What are your favorite parts about the tattoo industry and where would you like to see change? How do you feel about the future of it?
I'm very optimistic about the present tattoo industry. I love young tattoo artists and the way they learn things so quickly. It could take a year of my life to do the same in the past. Many gifted individuals experiment a lot and have a wide range of interests. Equipment and single-use tools are being improved every day. These facts keep on pushing me forward and give inspiration. I've decided that I will definitely work as a tattoo artist for another ten years. Although I have a personal challenge - I fail to fully accept the format of the current tattoo conventions. I see room for improvement here. I think it would be cool to have fewer participants and more space for each artist. Originally designed stands would also be a great virtue. I see a process as follows: first an artist fills in an application form with a description of the design. Later a special committee decides whether this person should participate or they shouldn't. Something like that.
Do you have any projects, events or plans coming up in the future that you'd like to share?
I would like to update the line of my transferable temporary tattoos, which I created in collaboration with the small tattoos project. The latest designs were made just before Covid-19 started. By the way, I mention this so often that it might come to fruition really soon. My second dream is to give someone a tattoo in a beautiful place outdoors. It's not a new idea and it would be great to do this as a part of a regular project once a week or a month.