The Photographs of Akimitsu Takagi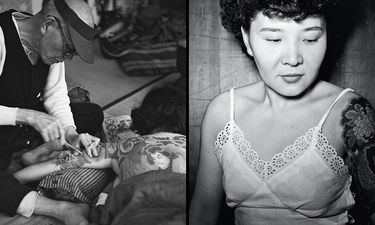 French journalist Pascal Bagot shares the story behind the Japanese tattoo photographer Akimitsu Takagi.
There is a certain atmosphere that radiates from analog arts. Film, especially, can often imbue an essence which is lost with digital. This is especially the case for photographs that capture images of another era. No truer example of this phenomenon exists for Japanese tattooing than the photos of Akimitsu Takagi.
Takagi's works embody the zeitgeist of an age and culture that few people had access to. And although many people are aware of the struggle tattooers face in Japan, few know the exact lengths to which erasure has played a part in that particular conflict. Due to the overwhelming stereotype that has long held tattooing in conjunction with criminals, suppression rather than preservation was always nagging at the heart of Irezumi. Indeed, were it not for the fortune of Pascal Bagot, Takagi's photographs would have been slowly decomposing in a landfill.
Pascal explains further saying, "I didn't collect M.Takagi's photographs but I found them during my research in Tokyo in 2017. Takagi is one of the most famous Japanese detective novel writers of the 20th century. When he died in 1995, he left behind a collection of about 250 stories." Takagi had a keen interest in tattooing and the title of his first book, 'The Tattoo Murder Case' only hinted at the deep regard he felt for the craft.
"I already knew his name, it appeared in several publications of the Japan Tattoo Institute. But, on the occasion of the first French translation of her father's first book, I wanted to know more about his relationship with tattooing and his daughter accepted a meeting in Tokyo. There, Miss Takagi confirmed the passion her father had for tattoos. Then, pointing to a pile of photo albums, she told me he also liked to take photos! That's how I, astonished, discovered their existence."
"Organizing his archives, his daughter told me that one year later, she would have thrown away all the photographs. 'You're lucky', she said. Or maybe the spirit of Akimitsu guided me to them for the great pleasure of Japanese tattoo fans."
A French journalist currently based in Lyon, Pascal Bagot may have stumbled onto these incredible cultural assets by chance, but since the find he's devoted himself to sharing them with the world. Most recently, the photographs were shown at Galerie Écho in Paris.
"They are fantastic, and very rare, pieces of Japanese tattoo history come back to life! They show, from the inside, a time period in Japanese history, I estimate between 1955-1965, that we barely could see, because of a lack of images. Thanks to these, we are introduced to some of the best tattooers in Tokyo of the time, in a way we've never seen them before including the legendary Horiuno II, Horigorô II and his young brother Horigorô III, coming from a tattoo family that could be credited as the first in Japanese history to use the Western electric machine, as well as Horiyoshi II, Azabu, while he was still doing tebori…These photographs are even more precious; they are splendid."
But for Pascal, it's not only the characters captured within the photographs but Takagi as well, who deserves reverence. "They reveal the photographer behind the writer and they prove Takagi as being one of the most important witnesses of Japanese tattoo history in the 20th century...His story fascinated me, he was an extraordinary man. He started writing after seeing a fortune-teller right after WWII in a time where there was no perspective at all. In three weeks, he wrote the first draft of his first book which would launch his career. Not bad for someone who never intended to write!"
"As a former engineer, educated with the elite of the nation, Takagi had an unusual point of view on tattooing. For him, tattooing was art. His passion actually comes from a very young age when, during his childhood, he happened to see in a public bath, for the first time, a tattooed woman. A vision which would stay with him forever."
Takagi's photographs are a great tool not only for community education but cultural protection as well. For Pascal, these historical works are directly connected to preserving a part of our shared history as ardent admirers of tattooing. His advice to safeguard our past and present culture is, "Passion, history, hard work, and respect."
In an effort to do justice to this outlook, Pascal has opened a webstore to sell prints of Takagi's works. "I hope the sales will help me in the preservation of these photos. I have spent a huge amount of time during the last four years trying to bring back together the story of these pictures." Soon to follow will be a book containing never before seen Takagi photographs, something that Pascal, and tattoo nerds around the world, looks forward to with great anticipation.