Think Outside the Box with Charley Gerardin's Contemporary Box Tattoos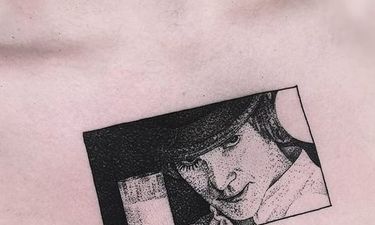 Charley Gerardin encases his striking dotwork portraits and blackwork tattoos in edgy, boxed frames.
We were all told things like we should "think outside the box" or "don't be a square." It has a lot to do with four-sided shapes, doesn't it? Charley Gerardin doesn't like playing by the rules and so, trashed the guide book out of the window and did exactly that: he kept himself in a box. But this is only to step up his tattoo game and challenge himself with unconventional styles.
Charley is a French tattoo artist based in Melbourne, Australia — it's been his home for over eight years.  He already has a quite impressive record in blackwork, pointillism and linework, but he seems to be pushing his limits even further with self-imposed constraints. What makes these tattoos so special aside from uncommon designs, Charley also aims to work using both, a tattoo machine and the handpoke technique. This is mainly to achieve the best dotwork details and the cleanest outlines as possible.
His works mostly consist of landscapes, portraits of historic figures and icons, and lovely linework flashes. Charley isn't too big on pop culture pieces but hey, he's done a Kim Kardashian selfie tattoo. There's that.
Gimme some good old ultraviolence, baby!
You might also like: Simple, Elegant Linework by Victor J Webster
It looks like staying inside a box sometimes can get interesting. Don't forget to check out Charley Gerardin on Instagram.