Top Illustrative Tattoo Artists in NYC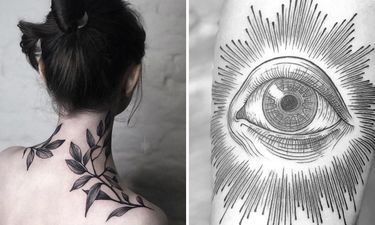 RD
Looking to get an Illustrative tattoo in NYC? Explore 5 local artists who specialise in this style below.
If you love Blackwork tattoos with clean lines and Dotwork shading, but you're not sure which Big Apple studios offer this style, you're in the right place. We've put together a list of our top 5 Illustrative tattoo artists in NYC below, to help you decide where to go for your next tattoo.
Miss Vampira: Red Baron Ink - West Village, New York City
Tattooing out of the Red Baron Ink studio in the heart of NYC, Mary Minahan, aka Miss Vampira, is the only apprentice on this list. However, you'd never know she's a newbie! She's already shining bright due to her stellar natural talent.
With a Fine Arts degree and a talent for Blackwork, as well as Black and Grey Realism, Miss Vampire's unique Illustrative tattoos evoke her love of horror, pop culture and nature.
Her movie character tattoos are particularly impressive, with a choice of realistic portraits or more abstract faceless silhouettes. Better still, she tattoos everything from Disney cartoons to legends like Morticia Addams and even killer clowns, so there's something for everyone!
Read more about Miss Vampira in her interview!
Jesus Antonio: Black Square Tattoo - Williamsburg, Brooklyn
With a background in painting and architectural design, Jesus Antonio moved to the east coast from LA to pursue a career in tattooing. As a resident artist at Black Square Tattoo with over years in the industry, he's now one of the top-rated Illustrative tattoo artists in NYC.
Fineline Black and Grey tattoos are Antonio's go-to style, but he also does bolder styles on request. His single needle designs often feature intricate Dotwork and soft whip shading to create depth and texture.
Whether you're after a delicate butterfly, spooky grim reaper or a classic Virgin Mary, Antonio's Illustrative tattoo design portfolio is very varied. Love contemporary styles? He also creates unique geometric pieces inspired by sculpture art.
Read more about Jesus in his interview!
Galen Bryce: Fleur Noire Tattoo - Williamsburg, Brooklyn
A queer tattoo artist who identifies as non-binary, Galen Bryce wanted to be an artist from a young age. Their love for drawing led to a successful career as an Illustrative tattoo artist in NYC.
Based at the highly respected studio Fleur Noire, Bryce now specialises in unique tattoos that often feature bold colours. More specifically, they describe their broad style as psychedelic, erratic and 'comic book'.
Bryce's quirky designs range from botanical pinups to comic strip panels and kinky anime characters. There's also a variety of girl power and colourful pride tattoos in their inclusive portfolio, for anyone who's ready to be as unashamedly themselves as this talented tattooist.
Zozulenko: Dot. Creative Group - Diamond District, New York City
Originally from Saint Petersburg, Russia, Alena Zozulenko was an architect for several years before she turned her hand to tattooing in NYC. She's also a talented oil painter and her hand-drawn artwork is often transferred onto her clients' skin in tattoo form.
Specialising in Blackwork and minimalistic Fineline tattooing, Zozulenko's designs feel simple and understated, while featuring intricate Dotwork and detailed Linework. Her portfolio contains a variety of designs such as large botanical pieces, Dark Art moths, beetles and snakes.
Zozulenko also creates stunning castle and tower designs with a moody, Gothic feel, representative of her architectural background and unique visual style.
Read more about Zozulenko in her interview!
Ryan Roi: Dukkha Studio - Greenpoint, Brooklyn
Ryan Roi is the owner and primary artist at the relaxed, Buddhist-inspired Dukka Tattoo overlooking the East River in Brooklyn. Having previously studied a degree in jewellery craft and metal-smithing, Roi's passion for art and design eventually led him to tattooing.
With almost a decade's experience under his belt, Roi is now one of the top Illustrative tattoo artists in NYC. He specialises in Fineline Blackwork, with a focus on nature-themed pieces, and every one of his tattoos is a custom piece.
From insects, birds and sea creatures to geometric styles, florals and anatomical hearts, his distinctive linework and cross-hatching is clear throughout. And if you'd like something more obscure, Roi also works on projects that are a little more out-there too. Just take a look at some of his occult-inspired designs.
Ready to speak to one of the top illustrative tattoo artists in NYC about your very own design? Book a consultation today.