Tracking Our Lineage Through Stories and Live Tattooing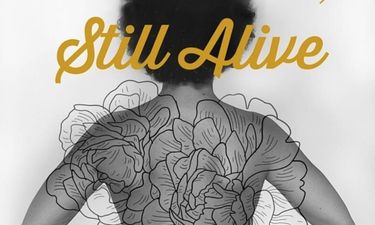 HK

"Honoring ancestors in an exchange that breaks through the surface of skin and questions the temporality of art and life."
"How can we create a lineage for 'othered' bodies when our legacies may not be carried on by children of our own?" This was the question Brooklyn tattooist Emily North and Puerto Rican artist Awilda Rodríguez Lora set out to answer on February 17 at SOHO20, an artist-run space dedicated to promoting women artists. Entitled Still Life, Still Alive, North and Rodríguez Lora's performance was an intersection of media old and new — the artists set up a camera that livestreamed right to Facebook, bantering as North prepped her station and Rodríguez Lora paced about.
Surrounded by art, Rodríguez Lora sits elegantly in a swiveling tattoo chair, her back to the camera for prime tattoo viewing. North freehands flowers into place, the act becoming doubly, even triply artistic as the movements become performative — for the gallery attendees, for the viewers on Facebook, for the tattoo itself. Clocking in over three hours, the artists expose themselves artistically and emotionally, increasingly, throughout the performance. Rodríguez Lora, nude from the waist up, and North, gloved and with a buzzing machine, discuss family origins, artistic origins, histories and futures of the body, and how all of these things intertwine.
Featuring North, Rodríguez Lora, as well as other SOHO20 2016 Residency Lab artists Maya Jeffereis and Alli Miller, Vestiges is closing this Sunday, March 12, with a reception and last chance to see the works. Being able to view the temporal nature of Still Life, Still Alive both in a gallery and via livestream allowed it to be voyeuristic and cold, while also feeling intimate and warm, as impossible as that may sound. Rodríguez Lora and North's collaboration truly did play with all aspects of lineage.