Trash Polka
Je

Trash Polka has been invented by Volko Merschky and Simone Pfaff, two tattoo artists, in the well-known Buena Vista Tattoo Club.
The name was originally combined by 3 factors: Realistic images mixed with graphics, letterings and other artistic layers which refers to Trash. To tie it together as a musical composition, Realistic Trash Polka. After a while, they shortened the name to Trash Polka because they did not want to set any rules for the style in terms of color, motifs or styles.
Indeed, the genre is highly recognizable and is either loved or hated. Mixing both bold and fine black lines, grey shadings and dramatic touches of bright colors, mostly red, it looks more like a collage of various elements which, by all appearances, are not directly linked, and meaningless.

Realistic Trash Polka pieces often focus on realistic images, portraits coming from cinema, fashion and horror movies. Most of the pieces are showing beautiful ladies next to skulls. The perfection of those portraits contrasts  with a chaotic composition, mixing blood or paint stains, drips, brush strokes and geometrical designs. Intertwined with the designs, are words, which look like letters cut from newspapers, or typewritten texts . The result is discordant yet aesthetically pleasing, reminding of the daring style of German contemporary graffiti art.
One thing to remember. Realistic Trash Polka is a trademark only Buena Vista Tattoo Club owns, but of course it didn't prevent other artists to be inspired by the concept. First geographically limited to Eastern Europe but now spreading, even in America, you could always find someone to do a average copy of it. But of course, it doesn't take only black and red ink to make real Trash Polka. It does need talent.

But is it just a fad? Some cautious tattooer highlighted that the vivid aspect of Realistic Trash Polka doesn't last. Black and red inks are fading quickly with time, and they could leave the body with just a dark mess. So, are you bold enough to take the risk or do you trust the artists?
If you are interested in Realistic Trash Polka, check Buena Vista Tattoo Club FB page.
On that sleeve, you can easily recognize American actor Steve McQueen.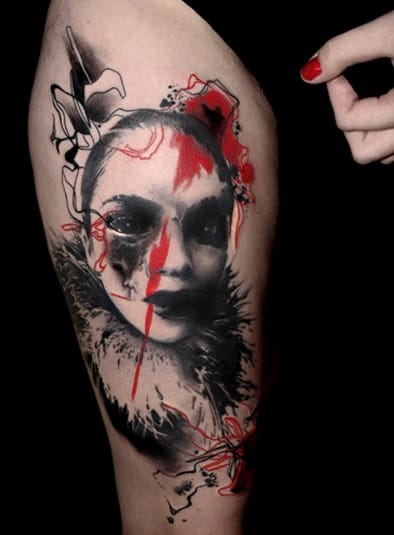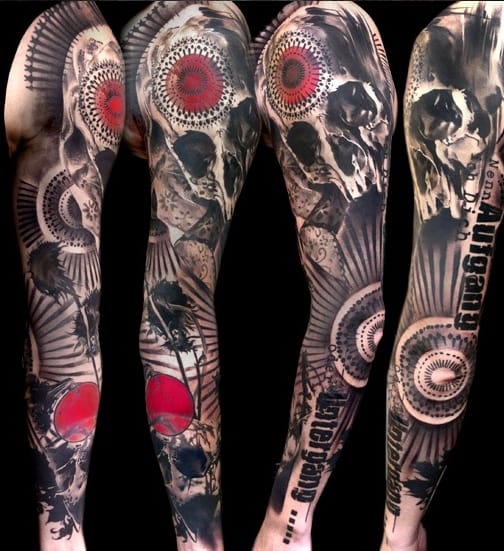 This chest piece and sleeves are impressive.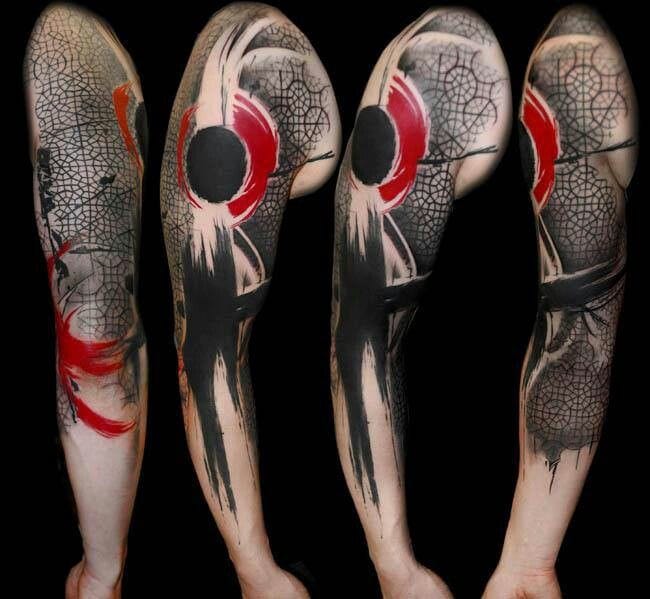 No realistic element here, but the pattern is gorgeous.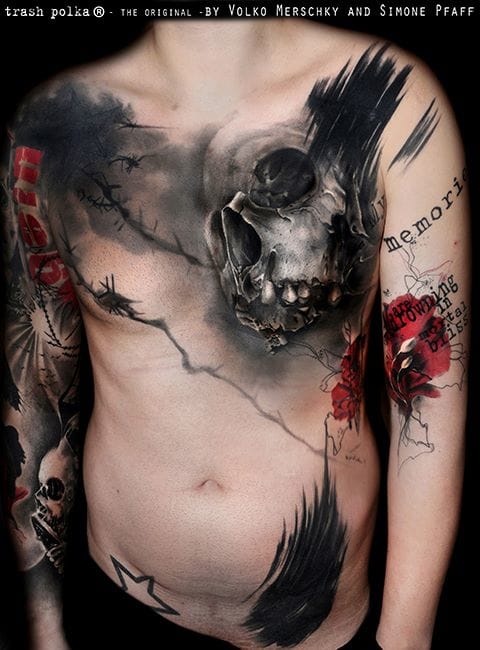 The skull is impressive and the barbwires are just suggested.
This picture of Volko and Simone's work on one of their clients, by Michael Kutzia, is very nice.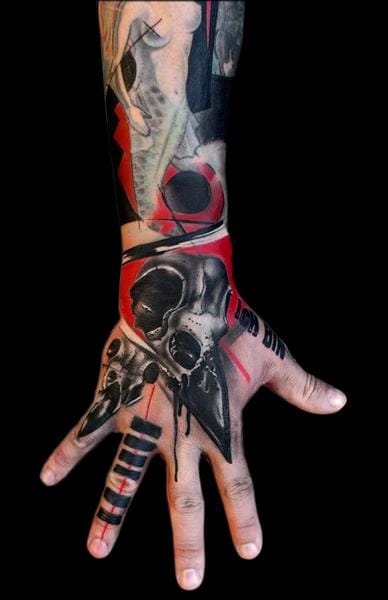 Of course, blue is evident with a lighthouse and seagulls. All the tattoos above are copyright of Volko Merschky and Simone Pfaff of Buena Vista Tattoo Club, do not copy.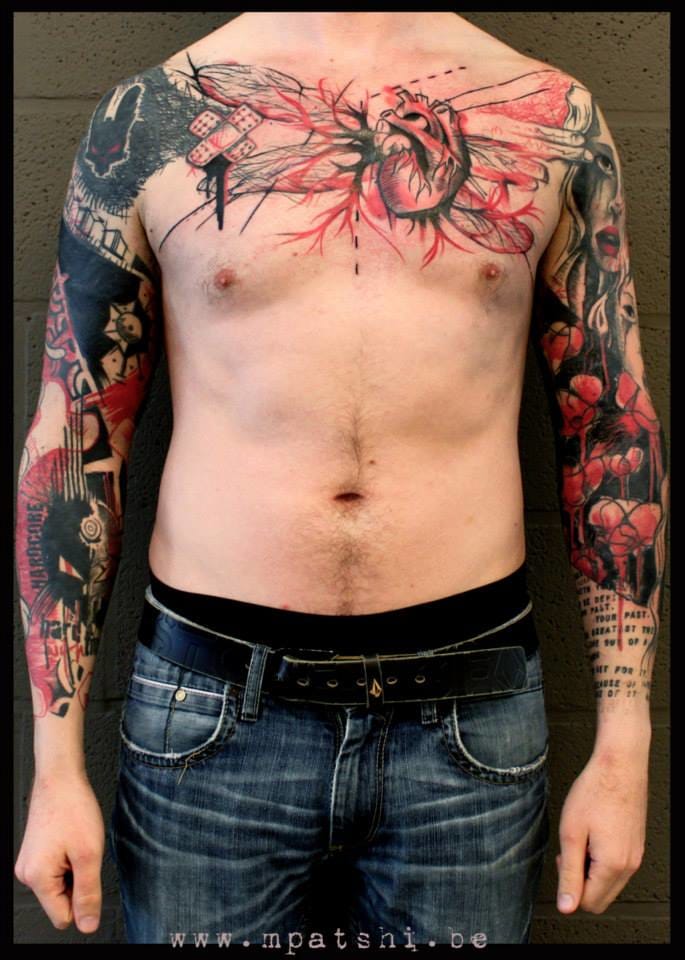 A chest and sleeves tattoo imitating Trash Polka by Eva Mpatshi (Belgium).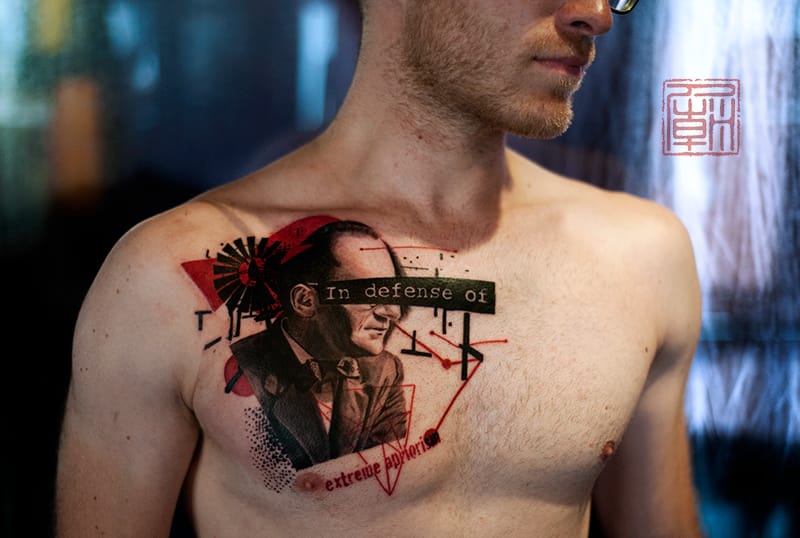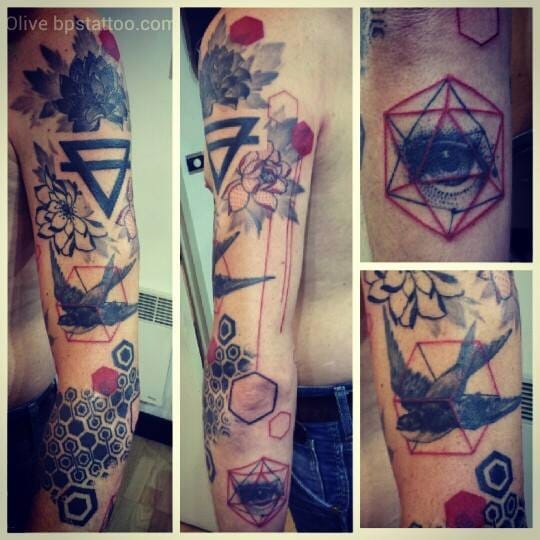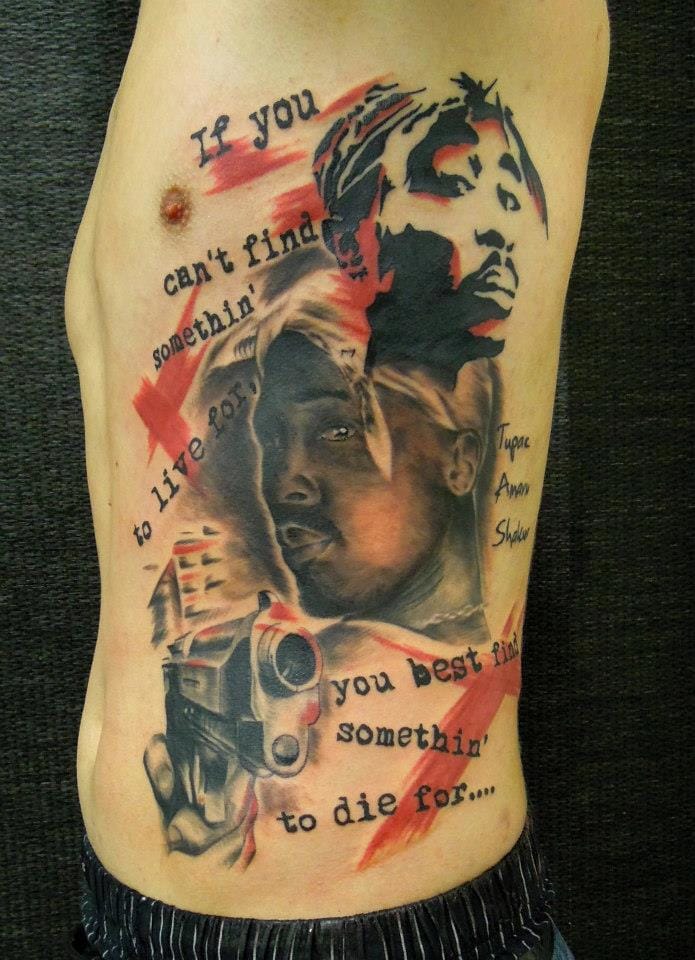 Portraits of Tupac by Vlado of Aries Tattoo (Czech Republic).