Want to be a part of Tattoodo? We're crowdfunding!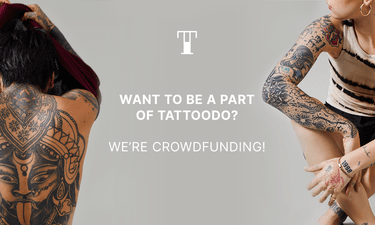 Here's Everything You Need to Know
Tattoodo is Crowdfunding!
Exciting news! 🎉 We're embarking on a crowdfunding journey and launched the pre-registration two weeks ago. We're offering everyone an exclusive opportunity to become a co-owner of Tattoodo and join our mission to redefine how people discover and book tattoos.
It has been amazing to see the o positive response we've received since we initiated the pre-registration phase of our crowdfunding campaign. We are truly grateful for your support and eagerness to be part of this exciting journey.
With the campaign anticipated to go live in the second week of November on Seedrs, we want to dedicate this blog post to addressing the most common crowdfunding questions we've collected over the past few weeks. Whether you're contemplating joining our community or are sharpening your pencils ready to make your pledge, this post is designed to clarify all your questions.
FAQ:
Why are we crowdfunding?
We want to expand our Tattoodo family with passionate investors who share our mission to redefine the way people discover and book tattoos.
What are the benefits of investing?
You are supporting our mission while also having the potential to increase your investment's value as the company grows financially. Investors also get perks, such as discounted tattoo bookings and exclusive access to Tattoodo events.
What is crowdfunding?
Crowdfunding is an easy way to become a shareholder of Tattoodo. As a shareholder, you'll have a piece of the company and have the potential to benefit if we grow financially. When investing, your capital is also at risk.
What is Seedrs?
Seedrs is the crowdfunding platform that will enable you to invest in Tattoodo. Seedrs has funded +1,800 deals to date. The top companies they have funded include Revolut, Allplants, Cheeky Panda, Manilife, Oddbox, Mindful Chef, and TransferGo.
How is this going to benefit artists?
Our upcoming crowdfunding campaign will support our expansion in the UK and US, allowing us to help more artists grow their businesses. We'll also be improving our scheduling software for tattoo artists, streamlining their workflow so they have more time to focus on their craft.
Will the investors have knowledge of what happens with their contribution?
Of course! All investors will receive quarterly updates where our KPIs and financials are shared.
Can I invest from the USA?
Unfortunately, the Seedrs platform is only available for residents of the EU or UK. We wish we could open this campaign to our US community and we hope that will be possible in the future.
How much can I invest?
You choose the amount you wish to invest and decide whether you'd like the investment to be public or anonymous. You will receive an Investment Agreement, which is a standardized agreement between you and Seedrs with respect to your investment. If you're happy with it, click to accept, and that's it – you've made an investment!
Can I cancel my investment or change my mind?
You can cancel an investment at any time before a campaign closes from within your Seedrs Investment Account. You have a minimum of 7 days to cancel your investment. By canceling, funds already paid will be returned to your Seedrs account to be paid into other investments, if you like.
If you have funds in your Seedrs account that are not currently committed to an investment, you may withdraw them at any time from your Investment Account. This can take up to 48 hours and must be returned to the account from which they originated.
If you haven't secured your spot yet, there's still time to join our pre-registration list. This will give you early access to the campaign before it becomes available to the public. We're so excited about bringing on new passionate investors into the Tattoodo family. If you have any questions, please reach out to us at hello@tattoodo.com.