15 Impressive Caduceus Tattoos
Je

People familiar with the medical world indeed know the caduceus symbol.
It is a staff surrounded by two snakes and sometimes a pair of wings at its top. In North America, it is the symbol of medicine and medical professions in general. Caduceus is often mistaken with the rod of Asclepius, who was the god of medicine in Ancient Greek mythology. This other medical symbol is made of a staff with only one snake, and nothing else and is the symbol of medicine in other countries. The caduceus is the attribute of another Greek god, Hermes. It had the power to heal snake bites, hence the snakes on it. It is also used as a scepter and a symbol of business and politic. In esotericism, the caduceus represents the human body. The staff is the spine, where the energy flows. The two snakes are the moon and the sun, and their intertwined bodies are controlling the organs.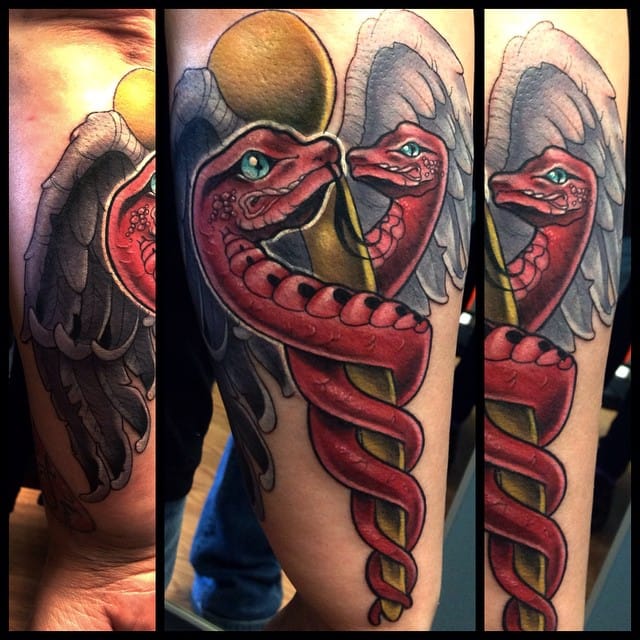 Caduceus tattoos can be inked for medical reasons, by survivors of diseases or people with chronic illnesses such as diabetes. It is believed to protect from evil too. Indeed, medicine students, nurses and all types of doctors are really proud to get caduceus tattoos and rod of Asclepius tattoos to show their dedication to science. It also makes a cool snake tattoo, and many variations can be made for badass ink. If you too have experienced the power of the body, both with science or spirituality, you may want to illustrate this with Caduceus tattoos (or rod of Asclepius tattoos). Here is some inspiration for you.