20 Minimalist Cat Tattoos for the Subtle Cat-Lover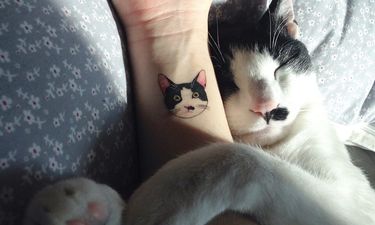 Forget Hello Kitty, here's some better tattoo ideas than the damned cat.
Kidding aside, when you love tattoos almost as much as you like cats, getting a cat tattoo isn't something you say no to. But not everyone are willing to commit to large and elaborate tattoos dedicated to their little lovelies their whole lives. But here are some minimalist cat tattoo ideas that you won't actually mind getting.
Or perhaps a teeny-tiny portrait like this one.
Maybe not the best location, but if it won't cost you a job or anything, by all means go for it.
Perhaps you can take cue from this one and get a small cat tattoo filler for your sleeve, instead. That is, if you're heavily tatted already.
An adorable reference to The Aristocats.
Maybe you can do a Cara Delevingne and get a finger tattoo featuring your own beloved feline.
I don't know, but there's something about geometric tattoos that almost automatically categorises themselves into 'minimalist'. Perhaps, it's the clean and often precise linework.
Not the most minimalist out there, but we love the animé-style in here!
Nothing wrong with a dash of colour!
The tattoos above are temporary tattoos, but they sure are good enough for small tattoos!
Not the best cover up there is, but hey, this one is done in the most adorable way possible so we'll have to let it pass.
This has to be the most adorable thing you'll ever come across with today.
Many of those who come to me for 'minimalist' tattoos have either abstract or semi-realistic in mind. That's why this particular tattoo struck to me as something that would work on minimalist tattoos. They're not too elaborate nor too boring. They have just the right tastefulness and subtlety in them.