23 Bike Tattoos For The Hardcore Cyclists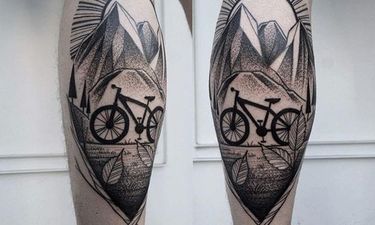 Get your two wheeled babies all spiffied up and shiny because we're going for a ride with these dope tattoos dedicated to your prized bikes.
Cyclists everywhere are saving the world in style, two wheels at a time! Riding grew in popularity in the past couple of years due to lifestyle changes, the boom of fixie bikes, and subculture influence. I've witnessed it — friends getting too broke from buying bike parts for booze and cigarettes, strong cyclist communities, and having leg day every day.
It also resulted into some interesting and fanatic tattoos from my rider friends who look pretty good showing off their tattoos while out riding with their gear! Riders all over the world seem to have caught the ink fever too with all these bike tattoos shared by enthusiasts and their artists! Looking great with all that tan and fit bods!
Oh and don't forget to go heavy on the sunblock to keep those tattoos looking sick and sexy! Just like your two-wheelers!
Dig in for some tattooed chicks and fixies here: