Choosing a Tattoo Font That Stands the Test of Time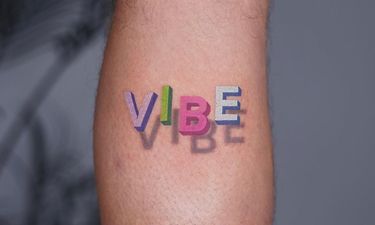 Kiss Goodbye to Comic Sans. We're getting creative with tattoo fonts in 2023.
When we land on a tattoo idea that we love, getting it done as soon as possible is always tempting. And in the world of tattoo script (aka ink that involves writing), our excitement can often have us trawling through the fonts that are most easily accessible to us: on a computer. The problem with computer fonts is that, over the years, they become incredibly recognizable. Even the lesser-known options have that overly familiar feel that anyone with a computer has seen before.
While it's not the end of the world to have a tattoo font that people recognize, for many of us, part of the fun and culture of tattooing is to come up with a design that is unique to you. So, if you're at a loss for where to find the perfect font but still want something that's distinctive and rare – as well as how to end up with the perfect script – keep reading…
Visit your local tattoo parlour.
Tattoos are an ancient ritual and frequently, the old ways remain the best. More often than not, the place where you'll find the largest collection of tattoo scripts will be in a studio. Most parlours will have book after book of scripts and fonts, split into categories like cursive, handwriting and gothic lettering, so you can narrow down your search based on the style you're after.
Speak to a tattoo artist.
You'll discover a similar wealth of font expertise by speaking directly with tattoo artists. Not only will some of them specialize in particular fonts, but they'll also be able to give you advice on the size and layout of your tattoo script. For example, though small, delicate tattoos are currently all the rage, get them done too small and the gaps in the font (between letters like 'a' and 'o') can bleed together over time. Your artist can advise you on the perfect size to keep every letter intact.
Explore fonts online.
If you're still in the exploration stages of your tattoo, there are lots of places you can find fonts online that don't involve Times New Roman and Comic Sans. Sites like FontSpace have a special section for tattoo scripts—many of which are free to download and use as long as they are only for personal use.
Get creative.
Of course, not every tattoo font is pre-made. If you or someone you know has beautiful handwriting, or you simply want to get something that has that authentic, unique handwritten feel, you can always take a copy of some writing for your artist to ink permanently. Perhaps you have a sentimental note from a loved one, or a signature from someone you admire. It's easy for a skilled artist to transform these kinds of pieces into a beautiful tattoo.
Want an easy way to communicate with tattoo artists who specialize in fonts and scripts? Tattoodo has a rich community of verified artists for you to easily browse through and book with. Visit Tattoodo.com to get started chatting with a world-renowned artist in a matter of moments.