Come to Tattoodo's Spooky Halloween Flash Weekender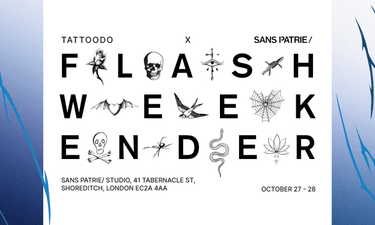 Tattoodo returns to London with another flash tattoo event!
Where and when?
To mark this spooky occasion, we've collaborated with the amazing Sans Patrie/ Studio, taking over their Shoreditch location for a night of Halloween-inspired flash tattoos.
Over the 27th and 28th of October from 11 am to 7 pm, walk-ins will get the chance to be tattooed by 14 world-renowned artists, with a selection of expertly crafted, delightfully creepy, classic and exclusive designs.
Every flash tattoo on offer will cost just £100, giving customers the chance to get a premium tattoo at a price well below the industry average. The two-day event will run on a first come first serve basis, so you're encouraged to get down early to ensure you get the ink of your dreams…or should we say nightmares!
What can I expect? 
At Tattoodo, we represent verified diverse and talented artists, so you can rest easy knowing we got you covered for your next tattoo. At this flash event, you'll get the chance to meet and be tattooed exclusively by artists that we represent on our platform — who are some of the best out there.
How do I attend? 
There's no need to get a ticket for this event—just drop by! As a reminder, all flash tattoos will be first come first serve, so we'd recommend you come early because once our artists are booked up, they're booked up.
For more information about this event and to stay updated on our mission to revolutionize the tattoo industry, follow us on social media @tattoodo.
In summary:
What? Tattoodo X Sans Patrie/ - Spooky Flash Weekender
When? 27th and 28th of October from 11 am to 7 pm
Where? Sans Patrie/ Studio (41 Tabernacle St, Shoreditch, London EC2A 4AA)
How much? Flash tattoos will be priced at £100 each.
About Tattoodo:
Learn more about Tattoodo here.