Janis Joplin: The First Tattooed Celebrity
ka
Nowadays tattoos are seen on a lot of celebsWho was the first tattooed celebrity?
Nowadays tattoos are seen on a lot of celebsWho was the first tattooed celebrity?
These days, it isn't too shocking to see a somebody with a tattoo. In fact, it's not really shocking at all. Tattoos, finally, have become an (almost) universally accepted part of modern day culture- with more and more people each day, from all walks of life, choosing to adorn themselves with all sorts of beautiful ink. While yes- there are still a fair amount of people who believe tattoos are "bad" or whatever the fuck, they've become pretty mainstream. But as we all know, that hasn't always been the case.
Celebrities are constantly in the public eye, so with the rise of popularity in tattoos- it's no surprise that we have started to see many of these beautiful people hop on the wagon and begin donning some pretty serious ink themselves. Adam Levine, Lady Gaga, David Beckham, Angelina Jolie, Johnny Depp, even Justin Bieber- just to name a few- proudly wear their tattoos for all to see. We don't think twice about it.
It doesn't phase us to see celebrities sporting tattoos in the public eye today, just like everyone else- however, this is a fairly new development. While the art of tattooing has been around for thousands of years (remember that ice man?) it wasn't until about 1970 that the first big-time celebrity publicly donned a tattoo- and that badass lady was Janis Joplin.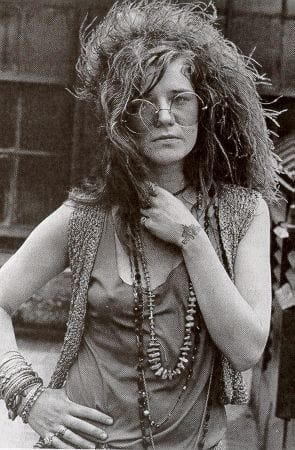 Joplin, born in 1943, is known as the "Queen of Psychedelic Soul." Along with being perhaps the most well-known woman in the Blues-Rock genre, she was also a painter, dancer, and music arranger. To this day, she continues to top lists of Greatest Artists of All Time, and in 1995 she was inducted into the Rock and Roll Hall of Fame- 25 years after her untimely death. And, to top off all of these amazing accolades (and more)- she was a completely badass tattooed babe- and you know how much we love those. 

In the late 1960s just prior to Joplin's death, there were, without a doubt, many rebellious young people running around with tattoos- but none of those people were celebrities, and nobody was really seeing them. Joplin changed that though. In early 1970, she received a tattoo from famous American tattooer and now Historian on the topic, Lyle Tuttle. He placed a decorative symbol on her wrist, which was to her, representative of the liberation of women, at his shop on Seventh Street in San Francisco. He also tattooed a small heart on her left breast. Janis said about her tattoos: "I wanted some decoration. See, the one on my wrist is for everybody; the one on my tit is for me and my friends. Just a little treat for the boys, like icing on the cake." Thatta girl.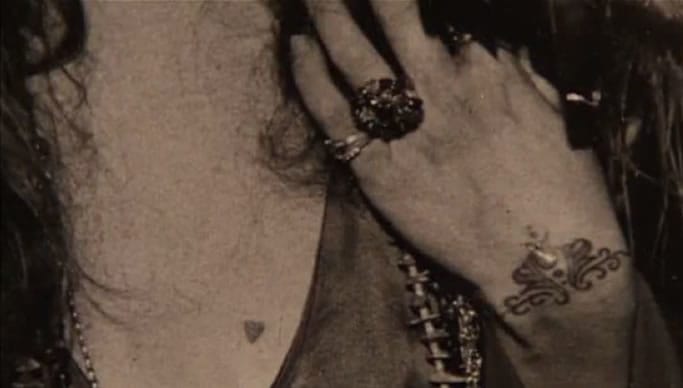 Lyle spoke of his experience tattooing the celebrity:
"When Janis came into the shop I didn't recognize her. She was this groovy little hippy chick with the clothes and all these bracelets and necklaces. I liked her. She wanted two tattoos. Now any smart tattoo artist should know that when a customer wants two tattoos, you always do the biggest one first. The tattoo on her wrist was patterned after one of these bracelets that she was wearing, one that she had picked up on her tour in South America. I just freehanded it with a ballpoint pen and that was that. Now Janis was a Capricorn and Capricorn women can be tough as hell. But she told me that getting a tattoo was just about the worse pain she could imagine and she wasn't going to get the second tattoo. She said it in a lot more colorful language than that, I can tell you! In a situation like that, you have to tell your customer that years down the road, you'd look back on the experience and regret not getting something that you walked into the shop wanting. Unfulfilled desires! So I told Janis to go downstairs and get a drink and come back. Let me tell you, Janis threw those boys for a loop. They were all shook up. It was a real working class bar and she walked in with her ensemble and one of those things - a boa - wrapped around her neck. They hadn't seen the like! Anyway, she came back and I did the little heart on her breast. Just a small thing that I drew by hand."
After Joplin's experience with Tuttle at his shop, she decided to throw a party at her home - and he was the main attraction. 18 of her friends received tattoos from him that night. Tuttle, now 84 years old, has since stated that after her tragic death in 1970, he has tattooed hundreds of replicas of Joplin's tattoos in memory of the late rock star. He later went on to tattoo many other influential men and women, one of the most notable being another female powerhouse, Cher.
Now, in honor of Janis and her badassery, I suggest you all go challenge your inner rock star and sing (scream) "Piece of My Heart" into your hairbrush immediately. You know, if it makes you feel good.