My First Tattoodo Tattoo, With Musician Josie Man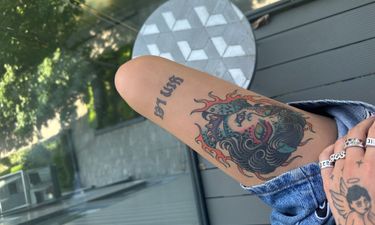 We followed the journey of Josie Man who called on Tattoodo to find her perfect tattoo artist.
In this edition, we caught up with London-based singer-songwriter, Josie Man, to see how, what and why she got inked…
Hi Josie! First of all, can you tell us a bit about yourself?  
Hello! My name's Josie. I'm 25 from South East London and I love to sing and write songs.
Tell us about the tattoos you have. How many have you got, and do you have a favourite? 
I have around 40 tattoos overall now. I love them all but my favourite one is my newest one, done by Adam Ruff through Tattoodo. It's healed amazingly and the colours he used sit so well with my chosen tone and with the rest of my tattoo collection in general.
Do you feel like your tattoos have significance and meaning, or are they mostly just for fun?
Tattoos make me feel good about myself. They make me not want to hide my wonderful body, and they empower me to decorate my outer shell. I love that they have the power to do that. Some of mine have more meaning than others—some I just love the look of. For example, I have a large tiger tattoo because I'm the year of the tiger. I have mine and my sister's Chinese names and a little self-love reminder on my fingers. The rest are just fun and I want them on my body forever. I can't wait to be a cute little grandma with sick tattoos!
What are your favourite tattoo styles?
For me, I love traditional colour and black and white. All of mine are done in these styles.
With your new Tattoodo tattoo, what design did you go for and who did you work with?
I got a bright traditional cat-devil lady face with flames around it. It's hard I can't lie! The artist in question was Adam Ruff. I've wanted one of his designs for ages—my boyfriend also has a few from him, including one on his head that I adore. As an artist, he's gentle, kind and just a great tattooist who knows what he's doing. It's been done really well and you can tell by the way it's healed that Adam is a true talent.
How did you find the Tattoodo platform? Did it make the search for an artist any easier?
Absolutely. Tattoodo makes it so much easier to contact the artist. Sometimes, if you find an artist on Instagram, it can be daunting to DM them in case they prefer to be contacted another way, or they don't have availability. On Tattoodo, you know that you're free to approach them.
I feel like the platform also allows me to find artists that I wouldn't necessarily come across elsewhere, and I can search by location which I like. And it makes the process of choosing and connecting with an artist easy and safe. What more could you want?
Any plans for more tattoos in the near future?
I want so many more! In particular, I want another traditional dog head on my body somewhere. But I'm going to wait a bit—I'd like to give my body a little nervous system reset before I get another one!
See more of Josie's journey here.
Got an amazing new tattoo design in mind? Get connected with the perfect artist for you on Tattoodo.