The Best Rock Star Tattoos Ever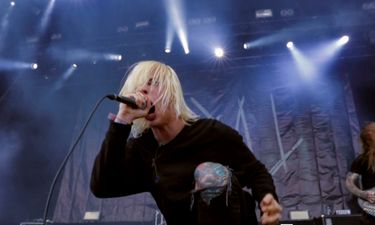 Tattoos have long been part of the music scene so here's our pick of the ten best rock star tattoos ever!
While it seems that every celebrity now has a tattoo, ink used to be more commonly associated with the rebellious rock genre. In fact, some of the best ever body art can be found on the skin of famous punk-rockers and metalheads. Here are our top ten rock star tattoos ever…
10. Pete Wentz
This Illinois-born bassist is best known for his role in pop-punk band Fall Out Boy. While Wentz admits that some of his body art isn't finished due to him hating getting tattooed, his Nightmare Before Christmas sleeve is pretty iconic and perfect for the gothic, emo phase during which Fall Out Boy made the big time. He also has a unique Japanese design on his left forearm dedicated to his son and the quote "Stay Gold" on his right wrist in reference to classic 80s teen movie The Outsiders, as a reminder to always be yourself.
9. Tommy Lee
Since they formed in 1981, Tommy Lee has been the long-serving drummer for classic rock band Mötley Crüe. Having had a long career in rock music, it is not surprising that this old-school glam rocker has amassed a large collection of ink over the years. He has two colorful full sleeves featuring a dragon on his right arm, Japanese koi fish on his left, bold stars on his hands and cheetah print to tie his rock star tattoos together. Lee also has a large script tattoo across his stomach that refers to the rap-metal band Methods of Mayhem he formed in 1999.
8. Billie Joe Armstrong
Having started his music career on the East Bay punk scene thirty years ago, Green Day's frontman Billie Joe Armstrong is well-known for his punk-rock style. Often dressed in all black with spiked hair and dark eye liner, Armstrong also has a myriad of tattoos. He has "All Ages" on his right bicep, paying homage to the music club which acted as a springboard for his band in the early days. Most notably, he has a photo strip of his wife Adrienne, a Jesus of Suburbia tattoo on the back of his arm referring to a song he penned and a smoking Baby Herman from 1988 film Who Framed Roger Rabbit and both forearms are dedicated to his kids.
7. Dave Navarro
Dave Navarro is lead guitarist for Jane's Addiction and a host and judge on American tattoo competition Ink Master. His black and grey ink includes classic rock star tattoo designs including a skull and crossbones, bats on his shoulders and a large sacred heart in the middle of his chest surrounded by a ring of thorns. However, he also has some more sentimental tattoos. As well as his late mother's portrait, he has tattoo dedicated to a holocaust survivor he met on a flight. She showed him her only tattoo - a number inked on her arm in Auschwitz when she was a child. Moved by her story, Navarro got the quote: "I have one, but not by choice" tattooed on the top of his right arm with a rose representing the woman's name.
6. Brandon Boyd
As well as being the lead singer of Incubus, Brandon Boyd is also a successful artist. He has a range of tattoos, including an all-seeing eye in a pyramid across his shoulders, a peacock on his left arm inspired by his favorite piece of art and a stunning mandala design covering the majority of his back. However, his most notable tattoo is his red ink Buddhist mantra on his right forearm. The mantra "Om Mani Patme Hum" is all about growth and compassion and refers to qualities such as generosity, wisdom and patience. Despite its deep significance, this rock star tattoo is not a professional one and was in fact tattooed in his friend's living room.
5. Frank Carter
Frank Carter is the lead vocalist of British punk band Frank Carter & The Rattlesnakes formed in 2015. Known for his ginger hair and striking tattoos, Carter is a tattoo artist by trade and has even inked the next vocalist on this list! He also designs his own album art and takes inspiration from classic 1950s tattoo designs for his artwork. His most notable tattoos are the snake that winds around the back of his head and the large double-headed eagle on his chest, along with his mother's name "Bernadette" in traditional cursive font just above it.
4. Jacoby Shaddix
Since forming Papa Roach in 1993, lead singer Jacoby Shaddix's appearance has changed quite significantly. With barely any tattoos in his first music video, he is now heavily tattooed. In an interview with Beyond Ink, Shaddix explains that commitment is important to him and his tattoos are merely an extension of that, hence why his first tattoo was his wife's name. His largest piece is a colorful tattoo across his chest depicting a Queen surrounded by water and a King backed by flames, to represent good vs evil. He also has "Born to Rock" written across his chest, a microphone on his forearm, stars either side of his eyes and several tattoos dedicated to his songs. As a fan of the Clash, he also has love and hate across his knuckles.
3. James Hetfield
Co-founder of heavy metal band Metallica, James Hetfield is known for his powerful vocals and unique rhythm guitar technique. His rock star tattoos are classic black and grey and tell the story of his eventful career in music. On his left bicep, he has four playing cards that make up his birth year with a background of flames and the phrase "Carpe Diem Baby" in a banner. It is a reminder to make the most of life, following a pyrotechnic accident in which he was engulfed in flames at a Montreal show in 1992. He also has his kids name on his chest, "RIFF LIFE across his knuckles and several Christian tattoos. Perhaps his most meaningful tattoo is the angel on his left forearm, depicted handing down a music note to a pair of hands modeled off his own, to signify how music helped him overcome many struggles, including addiction.
2. Travis Barker
Travis Barker became famous as Blink 182's drummer, after the pop-punk band achieved mainstream success in 1999. He is heavily tattooed, with the only blank space left on his body being a spot on his thigh, where he lets his kids tattoo their drawings. Notable tattoos include a large boombox on his stomach in reference to his love of break-dancing during his childhood and "Can I Say" across his chest paying homage to one of his favorite songs. Following a plane crash in 2008, of which he was the only survivor, Barker needed to get his leg tattoos redone as his skin was badly burnt. He also got a number of realistic family portraits on his back and a striking Virgin Mary design on his head, as he believes that he was saved by a higher power that day. Speaking about his tattoos, he explains: "for me it's documenting part of my life, or people, things, times in my life" – a concept that many of us can relate to. If that weren't enough, Travis even puts together a celebration of music and tattoos with his annual rock star convention: Musink.
1. Ozzy Osbourne
Born in Birmingham in 1948, Ozzy Osbourne aka the Prince of Darkness, has had an incredible fifty-year career in music. Considered the Godfather of Heavy Metal by many, Osbourne rose to fame as the lead singer of Black Sabbath in the 1970s and later went on to have a successful solo career. He is a member of the Rock and Roll Hall of Fame and has a star on Hollywood boulevard. Although his tattoos aren't amazing quality, they are certainly legendary. On his chest is a Chinese dragon and a vampire skull, often seen during his shows in the 80s. He also has a gargoyle on his shoulder and a dagger on his forearm. His most well-known tattoo is OZZY written across his left knuckles. A home job at the age of 16, this tattoo has stood the test of time and is now one of the most iconic rock star tattoos in history!
Still looking to rock? Check out the video we made at Copenhell with frontman Andreas of the Copenhagen based CABAL!