The Quest For Cool - What Defines Cool Tattoos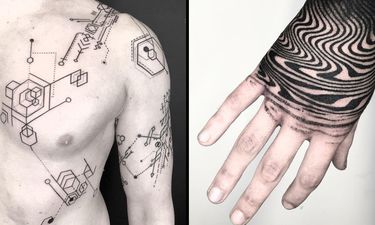 We finally set firm, undeniable guidelines for which tattoos are cool tattoos.
What is cool? Perhaps no topic has been more greatly debated over the last 50 years. There is no governing body to help set regulatory guidelines as to what is cool and what is uncool. Sadly, it's subjective, which leads to many arguments over coolness. One specific area that is wrought heavily with this raging debate is the world of tattooing. What exactly makes for cool tattoos? What makes a tattoo uncool? Well, we think we may finally have the answer.
Check this out. We rounded up a few pictures of cool tattoos. We could have picked literally any tattoos for this, because all tattoos are cool tattoos. Just kick back and enjoy the coolness.
We dug super deep into the Wikipedia article on coolness to finally settle the argument of what makes a tattoo cool. Did you know there are several different theories regarding what coolness is? According to the "Coolness as a Positive Trait" theory "coolness is a subjective, dynamic, socially-constructed trait, such that coolness is in the eye of the beholder."
This means that any one of us can decide what is cool – and what is not cool. We don't particularly like this theory, because we here at Tattoodo definitely need to have some authority on what makes for cool tattoos, and this theory puts that authority firmly in your hands and frankly we don't feel like you can be trusted with that sort of power.
Coolness should be measured and doled out by a ruling authority – in the case of tattoos, that needs to be us. So, we all put our heads together and decided once and for all to finally set in stone some firm guidelines for determining what makes a cool tattoo. Are you ready?
All tattoos are cool.
That's right. In and of themselves, all tattoos are fucking cool. A tattoo is a cool thing by nature – coolness is the essence of a tattoo. It doesn't matter if you have a 30 hour back piece or a 10 minute stick and poke. They're both cool. To paraphrase the late, great Chris Farley, if having shitty tattoos is cool, call me Miles Davis.
.