We're launching in London. And you're invited.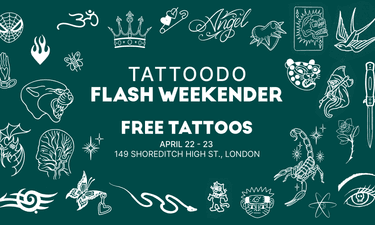 Tattoodo is hosting a Tattoo Flash Weekender in Shoreditch April 22nd-23rd 2023
The world's most downloaded tattoo app (and the easiest way to book your dream tattoo) is launching in the UK capital. That's right, Tattoodo is officially live in London – connecting you to the city's most talented and celebrated artists – and we're holding one hell of an event to celebrate.
From the 22nd to the 23rd of April, we'll be taking over 149 Shoreditch High Street for a Tattoo Flash Weekender. Ten of London's best tattoo artists will be in attendance and giving away flash tattoos for the duration of the event—for free.
And if that wasn't enough, we'll also be throwing in live music, merch, competitions and delicious drinks courtesy of our event sponsor Sailor Jerry.
So, if you've been mulling over that new ink idea or love the idea of getting a spontaneous tattoo in time for summer: this is the event for you.
Throughout Saturday (12-7pm) and Sunday (12-6pm), guests will be treated to live music, free drinks, goodies galore and – most importantly – exclusive tattooing slots with some of the UK's most renowned tattoo artists. We'll be taking as many walk-ins as we can manage, on a first come first serve basis. We expect to be pretty busy, so get there early to ensure you get a chance to be tattooed by one of our resident artists!
To grab a free ticket head over to the official Eventbrite page.
With an estimated 3000+ studios across the UK, employing over 10,000 tattoo artists, it's hard to know where to begin when searching for a tattoo artist—even if you've got a design in mind. Tattoodo allows you to narrow your search down, look at examples of artists' work, check locations and availability and, ultimately, puts you in touch with your dream artist.
Getting a tattoo can be an intimidating and overwhelming experience, but the Tattoodo platform allows you to easily approach your favourite artists and gives you information upfront, so you know their availability and the kind of projects they take on.
Want to begin searching through our catalogue of talented artists and studios? You can create a free account quickly and easily via our website and get chatting with some of the UK's best artists in a matter of moments.