What to Look for When Finding Your Perfect Tattoo Artist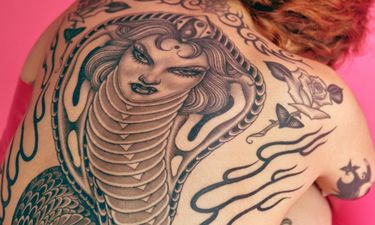 So you've decided you want to get a new tattoo, and you want it done right. What now?
Finding the perfect tattoo artist isn't too dissimilar from finding a new job. It takes time, communication and lots of research. We at Tattoodo take on most of this workload and help you skip to finding the most suitable artists for the tattoo you want. To make the final decision on just the right one - from the right technique to price to location - this article will walk you through everything you need to consider.
Whether your tattoo is fully formed in your mind or just a vague idea, the chances are you'll have a style in mind. Tattooing 'style' references the type of craft used by your artist and how it will look on the skin. Styles can include Black & Grey, Stick and Poke, Neo-Traditional, Blackwork, Tribal, Realism and countless others.
Generally speaking, tattoo artists will have a specialism when it comes to style. While almost all tattoo artists will be able to do you a simple line-based tattoo, for anything more complex, it's worth choosing an artist that uses your preferred style frequently. You want the very best, after all.
It's always a good idea to budget for the tattoo you really want, rather than rush into one that you don't. If your dream tattoo artist is a little more expensive or booked up than you planned, it may be worth joining their waiting list and saving up for something truly special. Artists that are more experienced (and yes, sometimes just especially talented!) will inevitably cost more. Ask yourself what you're willing to spend and how long you're willing to wait.
It's also worth remembering that your dream tattoo artist may not be in your immediate area, so don't forget to budget for potential travel. While some tattoo enthusiasts fly all over the world to get inked, you might just need a little extra to hop on a train.
Research, Research, Research… 
The most crucial part of this process? Research. These days, there are thousands of tattoo artists in most cities, which can be very overwhelming when you're first starting to look for your dream artist. Luckily, there are also many more efficient ways to find them. Tattoo directories like us - Tattoodo - can help you narrow down the vast pool of tattoo artists and also helpfully do the work of vetting them. The internet can be a deceptive place, so it's always handy to ensure the artist you go for has the right qualifications as well as legitimate examples of work they have done on others. Our platform also helps you research artists based on tattoo style and location, taking out the arduous process of researching people online, only to find their studio is half the world away.
Any tattoo artist worth their salt should be happy to communicate with you, hear about your ideas and offer their expert advice. So, if you think you're being a pain by reaching out to ask questions, trust us, you're not! If your tattoo is particularly artistic or complex, your artist will usually take the time to draw out a few different versions for you to look at. Remember, this is not the time to be polite. If it's not what you want, speak up or forever, you know, be tattooed…
If you're lucky enough to live near your chosen artist's residence, you could even ask to see a tattoo being done in person. Just remember to ask permission first, don't just show up!
We've said it before and we'll say it again: take your time when choosing your tattoo artist. Unlike choosing a job, it will be with you forever. It's worth spending time getting to know your style, artist and budget before making that booking. Trust us, it will be all the sweeter if you do.
Article by: Alanna Duffield
Cover image: Sara Rosa