Never Take it Off: Stunning Floral Bracelet Tattoos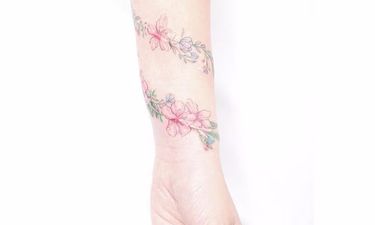 Xa

Designed with gorgeous fine lines and soft hues, these floral bracelet tattoos are the perfect accessories.
Is there anything more beautiful than a bracelet made out of fresh, fragrant flowers? That was a rhetorical question, but the answer is yes, a floral bracelet tattoo is far superior. Flowers wilt. They get gross. They get moldy. They'll fall apart within a week. Flowers were never meant to last, but these tattoos by skilled artists including Sol and Zihwa will stay beautiful forever. 
Fine line floral tattoos are a refreshing break from all the bold and heavy blackwork and American traditional. Popular in the Far East scene, these gorgeous subtle designs are picking up momentum in the rest of the tattoo community as everyone's falling in love with its sweet simplicity. Along with crescent moons and micro tattoos, bracelet tattoos are also something that's pretty big in the Asian tattoo scene — mainly South Korea and Hong Kong.
Friendly reminder: Before getting tattoos similar to these, consider how they will possibly look in the long run as tattoos tend to heal differently depending on how the skin will hold the ink as the years go by.

Let the flowers bloom in your skin:
Sure, you can make your own floral bracelet, but it'll just fall apart and leave you sad. Why not head out and get a tattoo like one of these, they will last until you are worm food.