Perfect Imperfections and Ancient Rituals: An Interview with Tess Pokes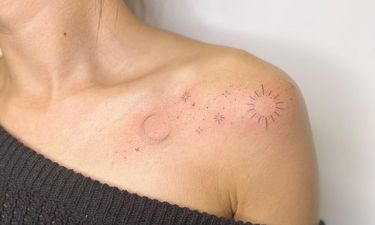 In this artist feature, we catch up with one of our favorite London handpoke tattooists...
For London-based Tattoodo partner and handpoke artist, Tess Bradshaw aka Tess Pokes, tattoos and art are one and the same. Both are born from ancient crafts and are made perfect by their small, unique imperfections. Working out of Sacred Gold Tattoo in North London, Tess is an advocate for realness in an industry - like so many others - that is now battling the airbrushed world of social media.
We caught up with Tess to discuss her craft, philosophy and taking a leap of faith to become a tattoo artist.
Do you remember the first moment you were drawn to art? Are there any important memories that hint at the artist you would become?
One of the first memories I have of being drawn to art is actually one of the earliest I have—ever. I must have been 4 or 5 and I was in school drawing on a piece of paper with some colouring pencils. I was immediately drawn to it, no pun intended! I remember all the other kids were playing with toys while I was just sitting at a table by myself for what seemed like ages until one of the teachers approached me and said "Wow you really love drawing!" I had spent the whole morning drawing and colouring in without a care in the world.
I also remember seeing my mum being very crafty. She would either be painting or making things like handmade cards, candles, soaps and doing any sort of crafts. Later on, I took up art classes with a local artist where she taught me the basics of drawing painting and sculpting. I think I loved the feeling of completing something—of creating something that didn't exist before and finding a sense of accomplishment.
Why were you drawn to tattooing and what made you pick this profession? Who were the tattoo artists you would and still look up to?
I always thought that it would be difficult to make a career in an artistic profession, so I kept drawing and painting as a hobby. But, eventually, I came to realize that it wasn't making me very happy, so I took up Graphic design. I spent a year studying, then did it as a profession for a few years after that.
One day my sister and I were in the car and she said to me "Hey, why don't you learn how to tattoo?" I immediately thought I wasn't good enough, but it got me thinking about just giving it a try. You never know what might happen.
I just kept imagining how cool it would be to be able to create art and make people happy by doing so. I mean doesn't that sound great? I would love to spend time looking at artists like Marta Bocharova, a tattoo artist from Ukraine. I was drawn to her clean, simple lines and the use of negative space in her art. She's truly amazing. Viona Mallory is another artist I admire who is based in Bali and of course arn_o_ne in Koh Phangan, his freehand pattern work is truly inspiring.
Can you talk about your style and how it developed over time?
I tattoo fine line handpoke, mainly ornamental and jewellery-inspired pieces. Compositions that look decorative on the body. It developed from my originally being drawn to Japanese and Balinese fabric patterns and geometric shapes. I also lived in the middle east for two years and loved the Arabic architecture and use of sacred geometry.
What drew you to this style specifically?
When I decided to try tattooing I immediately wanted to try handpoke. I had been reading and seeing this style emerge in the mainstream tattoo scene and fell in love with the process. Its ancient background and ritualistic process had me entranced. It's such a pure and meditative experience.
Does your tattoo style say anything about who you are as a person? 
My style is definitely simplicity, tranquillity and a less-is-more philosophy. I'm a person that enjoys the small and simple things in life. I appreciate all the small moments that we encounter, whether that's a good cup of tea or the courtesy of a stranger on the tube.
If you are able to pick, which is one of your favourite pieces you have tattooed?
Picking a favourite tattoo is like picking a favourite child! But I think if I had to choose a handful, based on the overall experience of the tattoo, the design process and the outcome, it would be the following pieces:
What are your favourite parts about the tattoo industry and where would you like to see change? How do you feel about its future/culture?
I love being able to make a connection with people and see their ideas come to life. I have pieces on myself that I absolutely adore and look at them every day with a smile on my face, so I want to be able to offer the same to my clients.
The downside of tattooing, at least nowadays, is social media. It's a great tool to showcase your work but, as we all know, it can be quite damaging to your mental health. I've had to learn over the years to not put so much importance on how many likes/views/followers I have, as this is actually of no importance at all! Sometimes the lines are blurred and I have to keep reminding myself that what we see through a screen should not define a person or their intentions. But overall I think the future of tattooing is a bright one that I am extremely honoured to be a part of.
Have you noticed any interesting trends in what people are after when it comes to tattoos in 2023?
One of the trends I have noticed is the need for perfection. A tattoo is not meant to look perfect—that's impossible. The handmade process of tattooing is the beauty of it. You would not expect perfection from a painting or even a handmade piece of pottery. There will always be some sort of imperfection, which is ok!
It's a shame to see some clients be very precious or particular about their tattoos. After all, they are living breathing pieces of art that inhabit living, breathing skin—so they're not going to look like a printed sticker or a vector. Social media has definitely not helped with this, as we expect tattoos to heal perfectly and look exactly the same as if they were fresh ones that have been photographed with good lighting and (yep, often) edited.
Contentment in perfect imperfections is a beautiful thing. Our skin will change over the years, so our tattoos will too. It's not something that will stay the same, but what does? Evolution is not only necessary but unavoidable. I guess my message would be to not always believe what you see online and trust your artist to guide you in the right direction. Not all art pieces translate as tattoos.
You currently work out of London, what is the London tattoo scene like?
I love London. It's such a fusion of cultures, experiences and overall amazing art. I am very proud to be a part of the London tattoo scene. The shop that I work in, Sacred Gold, has such an amazing culture and outlook on tattooing. There is honestly an artist for pretty much every style you can think of. I love watching and learning from some of the most experienced and easygoing artists I have had the pleasure to work with.
Do you have any projects, events, or plans coming up in the future that you'd like to share?
2023 will be full of cool projects! My main goal for this year is to travel (guest spots, conventions) which will hopefully help me grow and expand my tattooing journey. I'm very very excited for 2023.