Top Traditional Tattoo Artists in London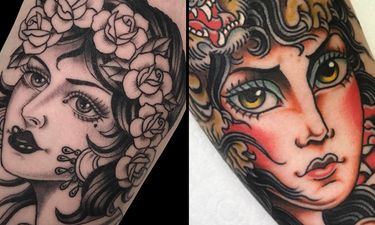 RD
Need help choosing a traditional tattoo artist in London? In this guide, we cover some of our favourites…
Traditional tattoos with solid black outlines and vibrant colours, have been popular amongst tattoo collectors and clients for decades. Many London tattoo artists offer this style, often adding their own stamp on classic designs to create unique tattoos for their clients. Wondering which studio is best? Discover our top Traditional tattoo artists in London below.
Leti Mortimer: Seven Doors Tattoo
Having started out as an apprentice under Rose Harley at Vagabond Studios, Leti Mortimer now works out of the world renowned Seven Doors Tattoo, just off Brick Lane in London.
Her black and grey Traditional designs include roses, daggers, snakes and dragons, each of which feature bold lines and intricate detailing. However, her trademark tattoos have got to be her lady's heads.
Mortimer creates illustrative ladies with a slight caricature feel and bags of attitude. She adds new motifs to give the classic design a more contemporary feel, and even incorporates animals like peacocks and butterflies into her lady head designs as headdresses.
Alberto Lelli: Seven Doors Tattoo
Alberto Lelli, aka Albertinodabologna, is an Italian Traditional tattoo artist now based in London. His distinctive tattoos are inspired by 20th century Bauhaus and Futurism art styles, known for their angular components and links to technology and industry.
Lelli's striking designs range from abstract faces to geometric housing modules, as well as classic geisha girls, animals and daggers, each with their own futuristic twist. His tattoos feature thick black outlines and flashes of primary colours like red and yellow, which bring a hint of nostalgia to his contemporary designs.
Like his style but not ready to get permanently inked? Lelli also sells rugs and t-shirts featuring his unique designs.
Manu Santana: Seven Doors Tattoo
If you're a lover of heavy metal and you don't take yourself too seriously, then Manu Santana is your man. Originally from Spain, Santana is now one of the top-rated Traditional tattoo artists in London, tattooing at Seven Doors alongside Lelli and Mortimer.
Specialising in colourful American and Japanese traditional tattoos, Santana uses bold colours and thick black lines to create Traditional designs including cobras, panthers, ships and gypsy women.
However, his signature style has a fantasy horror feel evocative of heavy metal album art. Think fiery skulls, vampires, demons and even possessed nuns!
Alessandro Giacomel: London Classic Tattoo Parlour
The second Italian on this list, Alessandro Giacomel has worked in the industry for over 25 years. Offering tattoos and piercings from his independent London studio in Elephant and Castle, Giacomel specialises in Old School, Japanese and geometric tattooing.
From sleeve tattoos to full body suits, his colourful Japanese designs are arguably the most impressive. Classic dragons, hannya masks, geisha girls and koi fish are backed by wind bars and bubble clouds to mimic traditional Japanese body art, without the need to travel to the other side of the world.
Or, if you prefer black and grey designs, Giacomel's talents also extend to stunning geometric pieces, intricate Dotwork mandalas and Polynesian tribal designs.