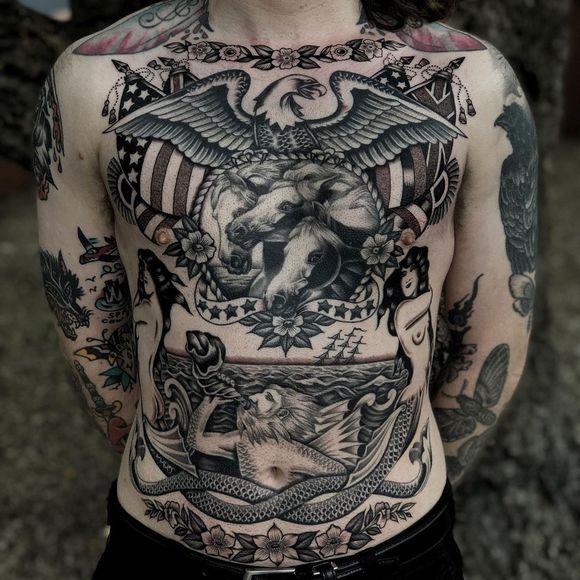 Style Guide: Traditional Tattoos
Explore the history, classic motifs and founding artists within the Traditional tattooing style.
Bold black lines that etch out the image of an eagle in flight, a rose encrusted anchor, or clipper ship at sea...these are some classic images that may come to mind when one mentions Traditional tattooing. Part art movement, part social phenomena, the United States succeeded in creating a style of tattooing that is all its own. Truly an important facet of American arts and culture, we expound upon the history, designs and founding artists of this famed tattoo aesthetic.
The History of Traditional Tattooing
To start, Traditional tattooing has a foundation in many cultures, and many countries.
It's true that sailors and soldiers were some of the first Americans to commit to tattoo-wearing. Part of the tradition of these service men getting tattoos was not only to carry symbols of protection and reminders of their loved ones, but to also mark the body with identification if their lives were lost in war.
Their consistent travel to new lands (Japan, we're looking at you!) guaranteed cross-cultural experience with new styles and ideas, thus directly influencing both flash and the iconography we have come to know and love today.
The electric tattoo machine, invented by Samuel O'Rielly, helped revolutionize the industry in 1891. Sam took Thomas Edison's electric pen, and modified it to create the forerunner of the machines now used by the world over. By 1905, a man named Lew Alberts, known as Lew the Jew, was selling the first commercial tattoo flash sheets. With the invention of the tattooing machine and flash sheets, business had been growing for tattooists, and the demand for new designs and more ideas became imminent. Soon this specific style of tattooing spread across borders and states, and as a result, we saw a unified aesthetic of Traditional Americana.
Style and Technique
As for the actual visual style of Traditional tattooing, clean, bold black outlines and use of solid pigment all have rather rational uses. Fundamental black outlines were a technique taken from tried-and-true methods of tribal tattooists belonging to both Polynesian and Native American peoples. For centuries, this carbon based ink has proven to age incredibly well, aiding the foundation and holding the shape of a design.
The array of colored pigments Traditional tattooists used were tied mainly to what was available when tattoo ink was not just at its highest quality or technological advancement yet. Often due to the lack of availability and demand, the only colors that were available were primary red, yellow and green – or ketchup, mustard, relish… as some old-schoolers would say.
Flash and Motifs
In 1933 the book 'Tattoo: Secrets of a Strange Art' by Albert Parry was published and helped capture the growing industry. As the New York Historical Society states, "According to Albert Parry's book….tattooists of the time were so inundated with requests that it was difficult for them to keep up with the demand for new designs. But the exchange of tattoo flash during the late 19th and early 20th centuries, which were largely distributed with other supplies through mail order catalogs, helped artists keep up with the growing marketplace." These flash sheets preserved motifs that artists had been tattooing for decades: religious iconography, symbols of courage and strength, beautiful pin ups, and more.
Founding Artists
There are many people who aided in the preservation and popularization of Traditional tattooing, including Sailor Jerry, Mildred Hull, Don Ed Hardy, Bert Grimm, Lyle Tuttle, Maud Wagner, Amund Dietzel, Jonathan Shaw, Huck Spaulding and "Shanghai" Kate Hellenbrand to name a few. Each within their own way, with their specific story and skills, helped shape the style, designs, and philosophies of American Traditional tattooing. While tattooists such as Sailor Jerry and Bert Grimm are considered the "first wave" forefathers of Traditional tattooing, there were those such as Don Ed Hardy (who apprenticed under Jerry), and Lyle Tuttle who went on to define the societal acceptance of the art form.
Soon, these designs within what was once considered an underground, low-brow form of art graced the mainstream fashion space in the form of Don Ed Hardy's clothing line, which elevated and created American (and later worldwide) awareness surrounding the craft and further influenced the movement.
Today, we know American Traditional tattoo style as time-honored and classic, something that never goes out of style. A simple search done on the topic will yield hundreds of thousands of results still often referenced in countless studios across the country.
If you're interested in collecting a Traditional tattoo of your own, we can help.
Submit your brief on Tattoodo and we'll be happy to connect you with the right artist for your idea!