Scales, Snakes and Sketches: An Interview With Sophie Rose Hunter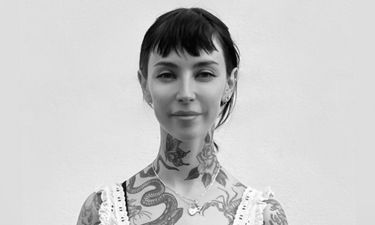 We caught up with Sophie to find out more about her journey, inspirations and future.
For Tattoodo partner Sophie Rose Hunter, the idea of being a tattoo artist felt like an unattainable fantasy when she was young. But a lifetime of passion for drawing and tattoo culture eventually put this dream career in her path. Today, she is one of London's leading artists for Black and Grey, her signature snake tattoos coiling up the arms of countless enthusiasts. In a nice twist of fate, Sophie now works at The Blue Tattoo in Hammersmith, the same studio she frequented when she was a teenager to sit, draw and imbibe the bustling chaotic culture of London's tattoo scene.
We caught up with Sophie to find out more about her journey, inspirations and future.
Where did your passion for tattooing begin? Was there a particular moment or time you first felt drawn to the art? 
I was never much good at academia and I struggled in school. The only place I felt comfortable was in art classes. There I felt confident and the work came naturally. When I found out there were people out there in the world working as tattoo artists for a living, it immediately felt like a dream job.
My passion for the craft goes back a long way. As a teenager, I would hang out at a shop called Primitive Origins near where I grew up. I'd go there and just draw or admire the Cherry Creek flash on the walls. Funnily enough, that shop is where I work now, The Blue Tattoo. It's like I've come full circle.
When did you decide to take the leap of faith and become a tattoo artist? 
As I got older, the idea of actually becoming a tattoo artist seemed more and more unattainable. I felt uncertain about what to do with my life so I decided to do a degree in Criminology. It wasn't something I was particularly passionate about, but I think we often choose something that we see as 'sensible' over our real passions. During university, I was using drugs a lot and it developed into an addiction. By the time my degree was over, it had become really bad.
I managed to get sober when I was 23, and I started getting my life together again. As things began to calm down, I remembered what tattooing meant to me and realized I'd never know if I could do it unless I tried. I went around the shops in London with my book of illustrations and kept pushing for months until I finally found an apprenticeship.
Can you talk about your style and how it developed over time?
When I was younger, whenever I drew it would always be with pencil and black pen, so when I explored different styles of tattooing, it was natural for me to be most interested in black and grey. I feel like tattoos should have a dramatic or sinister quality to them. There are so many ways you can play with tones and textures in black and grey that give the design more depth.
Who are your biggest inspirations in the tattoo world? How does your work reflect this?
I was always really drawn to Sarah Schor's work and was lucky enough to be at the same studio as her during my apprenticeship at Sang Bleu. I thought the way she included surrealism and disturbing imagery in her black and grey designs was incredible.
The way I tattoo now is very much influenced by the time I worked with Oliver Macintosh. He was drawing a lot of snakes when I arrived at Frith Street and showed me how to draw them—connecting the scales and belly perfectly and explaining how the snake should and shouldn't coil. Drawing scales in such a technical way became an obsession which I'm still not over.
Does your tattoo style say anything about who you are as a person? 
I love natural imagery and how some creatures, animals and plants look other-worldly. Another passion I have is sci-fi and nature documentaries, so it makes sense that my love for these things shows through in my tattoos.
If you are able to pick, which is one of your favourite pieces you have tattooed? 
I drew a snake on a customer recently who'd never been tattooed before. He made it seem easy to sit for these long sessions and came back every couple of weeks until it was finished. I also think it's just very cool to get something so big for your first tattoo.
Many artists have a philosophy about their work or why they create it. Do you have one?
I don't know if I have an artistic philosophy, but I think tattoos serve a purpose to be decorative and to make the body look good. They need to be positioned in the right way and fit along the shape of the body, otherwise, you've missed the point. I also think it's crucial to make your customer feel comfortable and listen to what they want.
What are your favourite parts about the tattoo industry and where would you like to see change? How do you feel about its future?
The best part of the tattoo industry is the shops. When you have the right mix of people and great art on the walls, it creates an environment you can't find anywhere else. For the future, I hope the chaos of the tattoo shop continues and they don't all start looking like offices.
Have you noticed any interesting trends in what people are after when it comes to tattoos in 2023?
It seems like the trend of getting things as tiny and invisible as possible is drifting away a bit. People seem more interested in getting bolder tattoos that will heal well over time.
You've worked out of London for your whole career. What is the London tattoo scene like?
The great thing about it is that most people know each other. I love that and it's meant I've made some solid friendships over the years. The other amazing thing about tattooing in London is the events: the exhibitions, the shop openings and the drawing nights. You know you're going to see a bunch of good people you haven't seen for a long time.
See more of Sophie's work, or get directly to requesting a booking with her in London here.
Article by: Alanna Duffield