Fine Line Intricacies: An Interview with Delphin Musquet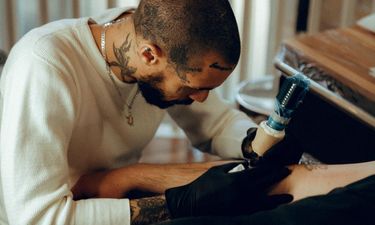 In this artist feature, we caught up with London fine line extraordinaire Delphin Musquet.
Known for creating realistic fine line renditions in black & grey, Tattoodo partner Delphin Musquet is a tattoo artist based in London, working out of SANS PATRIE tattoo studio in Shoreditch. Currently concentrating on evolving his personal tattoo style, Delphin talks about his aesthetic inspirations, and his plans for using different media and mediums in the future.
Do you remember the first moment you were drawn to art? Are there any important memories that hint at the artist you would become?
My parents were bringing me to visit a lot of cathedrals and churches in the south of France and Brittany when I was young. All these images and artifacts sparked some curiosity about art into my life I suppose.
Why were you drawn to tattooing and what made you pick this profession? Who were the tattoo artists you would and still look up to?
Weirdly I don't remember an age where I wasn't fascinated about body art. That it was jewelry, clothes or tattoos I've always been fascinated by it. When I was 16 I had a friend with a lot of tattoos and I took him as a role model. When I was 17, a month before my 18th birthday my mother allowed me to get my first tattoo. I got 3, 2 of which I hid from her.
About 10 years later when I was 27, I bought a cheap tattoo kit on eBay to do some doodles on myself and I realized I could make this a profession.
There are too many tattoo artists I look up to, as long as they do great art and are good at business I think I will always be interested in and have a lot of respect for them.
Can you talk about your style and how it developed over time?
This is a topic that I haven't still figured out properly. I suppose I do some fine line realism with the a lot of inspirations from renaissance art and Japanese imagery.
I started with very ignorant style (french prison tattoos) at the beginning 'cause I didn't know how to draw when I started tattooing, and the more I've learned the more intricate my work became.
If you are able to pick, which is one of your favorite pieces you have tattooed?
The next one I'm about to do.
I'm in the transition to change or amplify details in my work so I don't have any old work that I would favoritise right now.
Many artists have a philosophy about their work or why they create it. What is your artistic philosophy and your goals within it?
I want to be able to prove my artistic taste to the world and combine all artistic medias into one. By that I mean I would love to use my artistic taste and aesthetic to design not just tattoos, but any sorts of ideas and projects, from clothing to jewelry to furnitures and one day even houses or spaces. I think with designing there are no limits of media and that attracts me a lot.
What are your favorite parts about the tattoo industry and where would you like to see change? How do you feel about the future of it?
My favorite part of it is how eclectic it is and how many other industries it's merging. I personally really want to bring my knowledge of designs and my vision of the world into any aspect I can and tattooing allowed me to do it.
This industry is constantly evolving even if it's one of the oldest art forms on this planet. I'm not sure where it will lead, but I'm eager to discover its path.
Do you have any projects, events, or plans coming up in the future that you'd like to share?
As I said before, I'm into merging industries together and designing products. So I've got a brand of myself 'Sans Patrie' I've been working on for a while now, it's a challenge of time and money, but I'm very excited for what's to come.
I would love to collaborate with other brands also, so I've been working on a couple collaborations which should come out by the end of the year. Stay tuned.