The Burning Devotion Displayed By Sacred Heart Tattoos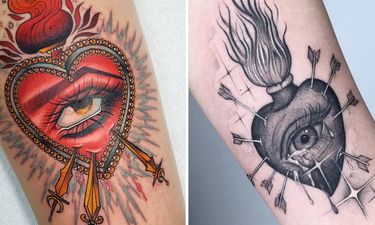 These sacred heart tattoos display a beautiful love and devotion.
Sacred hearts are easily one of the most iconic and beloved Christian symbols, commonly depicted in paintings, sculptures, stained glass windows, jewelry, and tattoos. To followers of Catholic and Christian faiths, the symbol of the sacred heart is a powerful emblem of Christ's enduring love for humanity, despite the suffering of the past and present.
Traditionally depicted as a flaming bleeding heart encircled by thorns, each facet of the sacred heart design is intended to convey a special meaning in relation to Christ's sacrifice and divine love, making it a perfect choice for a tattoo honoring your faith.
Top Sacred Heart Tattoo Questions
What is the meaning of a Sacred Heart tattoo?
While a sacred heart tattoos meaning is entirely up to the wearer, most people who adopt this symbol in tattoo form are using it to commemorate a connection to Christ or Mary. The flame emerging from the sacred heart tattoo symbolizes the eternal and undying love of Christ towards humanity while the thorns, swords, and blood symbolize the inevitable pain and suffering of Christ's earthly existence.
Wearing a sacred heart tattoo can be a symbol of Christian or Catholic faith, a representation of Christ's sacrifices and love for humankind, or an ode to Mary, Christ's mother. Depending on what elements you utilize within your sacred heart tattoo will determine its meaning. For example, a sacred heart surrounded by thorns is traditionally used to represent Jesus, while a sacred heart encircled by lilies or white roses is for the immaculate heart of Mary.
Why do people get a Sacred Heart tattoo?
Many people get a Sacred Heart tattoo because they want to show their love and devotion to their religious faith in a permanent way. However, because the Sacred Heart design is so iconic, many people choose to get this design tattooed on them simply because it is beautiful. There is also the fact that Sacred Heart tattoo designs incorporate many of peoples favorite motifs in one perfect image: roses, swords, fire, and hearts are all full of meaning that empowers a lot of people. Remember, getting a tattoo is a very personal thing, but it doesn't necessarily have to have meaning. Sacred Heart tattoos are a perfect example of that: whether you're religious or not, this tattoo is a great looking piece.
Can you get a Sacred Heart tattoo if you're not religious?
You can definitely get a Sacred Heart tattoo if you're not religious. If you're like us, you may have grown up in a Christian hippy commune where people spoke in tongues, believed in prophecies, and prayed on their knees every single night. And although the power of Christ no longer compels us, we can still really appreciate the beauty of religious icons...especially that of the Catholic persuasion. Some of these Sacred Heart tattoo designs definitely carry the bold imagery that hits home, but there's tons of other art that depicts the same aesthetic. Think about it: a whole lotta Catholic imagery involves brutal forms of torture, or super strange happenings like Stigmata.
The History of the Sacred Heart Symbol
The earliest known usage of the sacred heart symbol occurred in the 11th century when Saint Bernard proclaimed that Jesus's death on the cross was symbolic of his unconditional love for humanity.
The symbol then became popularized in 17th century France where it was promoted by the Roman Catholic Church as a symbol of Christ's eternal love for humanity. Since that time, the sacred heart's popularity has endured and the symbol has been used throughout the years by believers in the Catholic and Christian faiths in fine art, jewelry, and tattoos.
Top Sacred Heart Tattoo Motifs
If you're interested in a sacred or immaculate heart tattoo, it's important to explore the design elements you'd like to include within your piece. Since sacred heart tattoos can be used to represent Jesus, Mary, and Joseph independently, we will review the different tattoo motifs that can differentiate these designs, as well as common accents to the Jesus heart tattoo.
Jesus Sacred Heart
If you're looking to honor your connection to Christ through a sacred heart tattoo, a piece featuring Jesus holding or wearing the sacred heart can be very powerful. If you're not looking for something as large-scale or detailed, you can always represent Jesus and the concepts of his love and sacrifice through a sacred heart of Jesus tattoo, which is defined as a bleeding and flaming heart with thorns circling it, shining with divine light.
Mary Sacred Heart
If you are looking to honor Jesus's mother Mary, you can explore what is known as an immaculate heart of Mary tattoo. Similar to the sacred heart of Jesus, the immaculate heart differs in that it is wrapped in white roses to symbolize Mary's purity of spirit and the miraculous conception of her son. In some designs, lilies are used to represent this innocence and virginal quality. The next design element in the sacred heart of Mary tattoo is the sword which is typically piercing the heart, symbolizing the pain and sorrows Mary suffered in her lifetime. Lastly, the heart is encircled by rays of the sun, meant to depict a greater connection to God. Similar to the sacred heart of Jesus tattoo, the immaculate heart is also showcased with a burning flame meant to represent Mary's love, passion, and devotion to humankind. For those interested in a larger-scale immaculate heart tattoo, you can also include portraits of Mary in your piece.
Roses Sacred Heart
If you are looking to represent Jesus's mother Mary, encircling your sacred heart tattoo with roses is an excellent design addition. Traditionally, white roses have been used to symbolize the purity of Mary's heart and her divine conception, but you can use any color you choose. Roses have different meanings depending on their color, so you can further personalize your piece by choosing a color that represents something about you.
Daggers Sacred Heart
When you add a dagger to your sacred heart tattoo, it works to represent the earthly pain and suffering of Mary, Joseph, or Jesus, depending on your intended meaning. Some sacred heart tattoos feature only one dagger, while others show many piercing through the design.
Thorns Sacred Heart
A common addition to sacred heart tattoos is thorns as they work to represent Jesus's crucifixion and the pain and suffering that he has endured throughout his love for humanity.
Lilies Sacred Heart
If you don't prefer roses, or you'd like to add extra flowers to your sacred heart tattoo, you can incorporate lilies into your special piece. Typically showcased as white lilies, these flowers are the embodiment of Mary's innocence and purity.
Third Eye Sacred Heart
Blending the third eye with the Sacred Heart is a beautiful way to say that your eyes are open to the power of love and devotion. A third eye Sacred Heart tattoo also has a touch of Surrealism, which is always a plus in our book!
Skull Sacred Heart
This design becomes a bi of a memento mori: it reminds us of the ever present reality of death and the importance of undying adoration for truth and heart.
Best Placements for Sacred Heart Tattoos
If you've decided on your sacred heart tattoo design, your next consideration will probably be the placement of your tattoo. When deciding on placement, is important to contemplate your body shape, how visible you'd like the tattoo to be, and how large you'd like it. When you're unsure, always consult your artist and explore their suggestions on placement and size!
Sacred Heart Back Tattoo
Because this particular design is perfect in any size, a Sacred Heart back tattoo is a good idea whether you want it large or small! It's also seen as a form of protection for some, and a lovely reminder that God has always got your back.
Sacred Heart Neck Tattoo
If you're not afraid of a bold placement and constant visibility, a sacred heart neck tattoo may be perfect for you! Whether you place your design on the front, side, or back of your neck, the sacred heart tattoo has incredible impact and looks stunning.
Sacred Heart Chest Tattoo
Whether you're interested in a large sacred heart with wings tattoo, or a heavily detailed Ornamental style piece, the chest is a wonderful placement for this powerful design. Sacred heart chest tattoos can easily be adapted to incorporate many elements, so your design is entirely up to you.
Sacred Heart Hand Tattoo
Sacred heart hand tattoos are a popular placement, thanks to the shape and power of this particular design. When choosing a tattoo in a high visibility area, many people elect for pieces that represent strong areas of connection in their lives, like symbols of faith.
Sacred Heart Palm Tattoo
Though this placement can be prone to fading and high on the pain scale, sacred heart tattoos look pretty incredible on the palm. If you're brave enough, this can be a high-impact design to represent your faith.
Sacred Heart Forearm Tattoo
If you're interested in a medium to small sacred heart tattoo, the forearm can be an excellent placement for this design. The sacred heart can easily be worked into a sleeve design and combined with other religious iconography and symbols.
Sacred Heart Finger Tattoo
With such a small space to work with, you'll definitely want to find an artist who knows their stuff. Fineline is usually best for Sacred Heart finger tattoos, but there are tons of artists out there who do Micro Realism that can pull off a piece you'll love to look at all day long.
Top Styles for Sacred Heart Tattoos
Whether you want to select your design from sacred heart tattoo flash, or you want to create a fully custom piece with your artist, it's important to figure out which style you think would work best. Listed below are the top styles for this motif!
Chicano Sacred Heart Tattoo
The Chicano tattoo style has only grown in popularity since it came to the mainstream, perhaps because the religious iconography used within the style is so powerful. Because the Chicano style comes from Mexican culture, Catholic imagery is very often used. Over the years, artists have refined, explored, and evolved the different ways things like Sacred Hearts can be designed, making a Chicano Sacred Heart not only beautiful, but full of culture and meaning.
Traditional Sacred Heart Tattoo
Sacred heart tattoos look great in a Traditional style, thanks to the vintage feel, strong colors, and bold lines of the aesthetic. If you're thinking of an Old School style sacred heart tattoo, make sure to find an artist who specializes in this style. Traditional style sacred heart tattoos can also be rendered in all-black for those who don't prefer color.
Neo Traditional Sacred Heart Tattoo
If you love the bold colors and strong lines of Traditional tattooing, but you're searching for something a little more feminine, Neo-Traditional sacred heart tattoos are a wonderful choice! Experiment with Ornamental accents, detailed flowers, or mesmerizing jewels to help enhance your design.
Blackwork Sacred Heart Tattoo
Blackwork sacred heart tattoos possess a special fierce yet somber quality, making this a perfect style to showcase the eternal love and suffering of Christ. From hearts featuring the eye of Providence to stunning etch style rays and jarring thorns, Blackwork style sacred hearts feel intense and look beautiful.
Black and Grey Sacred Heart Tattoo
For those who enjoy Fine Line styles, and smooth shading, Black and Grey sacred heart tattoos are a prime selection. Not as high-contrast as Blackwork, Black and Grey styles provide a slightly more subtle and shaded look. This style works wonderfully for those looking to portray a Realistic sacred heart tattoo.
Geometric Sacred Heart Tattoo
If you are interested in a modern style sacred geometry heart tattoo, rest assured that this style really works to accent the beauty of the sacred heart design. Many have used this style to add additional spiritual meaning and significance to their piece.
Illustrative Sacred Heart Tattoo
Of course, Illustrative include everything from Fineline to Esoteric, but our favorite style of Illustrative Sacred Heart may be etching style. Harking back to the medieval age, or eras following that held Christianity close, these designs really capture the history of this particular heart.
A symbol of Christian love and devotion, sacred heart tattoos are about as iconic as the pope himself. No matter what your religious affiliation, you gotta admit that these designs are pretty powerful conceptually. A representation of Jesus' physical heart in symbolic form; they illustrate his undying love and devotion for the human race. Considering Jesus died for our sins, we can kind of understand how a symbol like this could carry some serious emotional weight. And even if you don't get sacred heart tattoos because of how much you dig Jesus, it's still cool that this particular design has such an intense history within the religious world.
Interested in more religious tattoos? See more: Coptic Christian Tattoos - Signs of Devotion.
Sacred Heart Tattoo Inspiration
Through this whole guide on Sacred Heart tattoos we hope you've been inspired by these Sacred Heart tattoo designs, but just in case...here are some more tattoos we think will be great Sacred Heart inspo!