Tattoo History: The Tattooed Ainu Women of Japan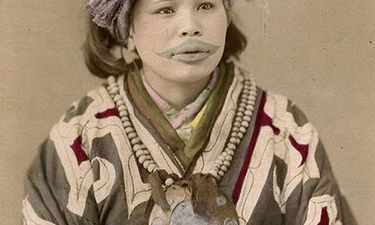 mi

Vintage Portraits of the Ainu women of Japan with Tattooed lips
Tattooing, for some amazing reason, has been a practice since the immemorable ancient times. It's part of humanity. And we've been doing this up to the present to adorn our bodies, to mark ourselves with our life stories, or to express a belief or a part of our creative souls. 
Today the spotlight is on the tattooed women of Japan: The beautiful Ainu with distinctive lip tattoos. Scroll down to see their hauntingly beautiful vintage photographs and learn more! 

The indigenous people of northern Japan called themselves "Ainu" in their language, meaning "People" of their land. 
Among their many traditions were facial tattooing - which was exclusive to females back then, even as a profession. Because they believed that tattooing came from the "Ancestral Mother" of the Ainu Okikurumi Machi, the younger sister of the creator god, Okikurumi.
Tattoos back then were not merely for body decoration, but a woman actually cannot marry if she's not yet tattooed. 
The Ainu considered tattooing as a part of their religion. 
THE PROCESS: Tattooing in their culture was created by the use of a knife and soot to mark the skin. After making incisions to the desired area, the blood is then wiped away with a cloth drenched in hot ash wood or a spindlewood antiseptic called "nire". From the bottom of a kettle, soot is then collected and rubbed into the incisions, while the tattooist sings or hums a poem and recites a spell to permanently mark the skin. 
Did you know? The last tattooed Ainu woman died in 1998.
No matter how unfathomable their reasons are for doing this, I respect the tradition, and believe that all tattooed women of the world are beautiful!