Creative Chaos and Avoiding the Corporate World: An Interview With Tattoodo Partner Karen Buckley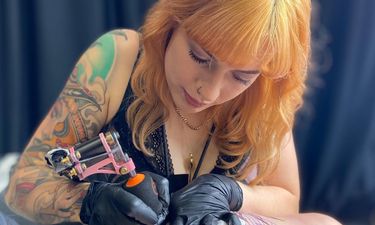 We caught up with Karen to chat about her journey, style and making the art of tattooing better for the planet.
The style of London-based tattoo artist Karen Buckley straddles the line between meticulous detail and colourful chaos. Which is, interestingly, not far from how she'd describe herself. Her juxtaposing work has caught the eye of countless enthusiasts and her geometric, colourful designs are now in high demand. But that's not all that's unique about her. Karen's North London studio, Devils Detail Tattoo, which she runs with her partner, is paving a more sustainable, eco-friendly path for the industry.
Do you remember the first moment you were drawn to art? Are there any important memories that hint at the artist you would become?
The earliest memories I have of being interested in art were from my early childhood. I had a prized Doodle Bear which, looking back, may have been a very early nod to my future in tattooing. As I've grown up, I've always prioritized my art studies and enjoyed creativity across lots of different formats throughout the years. Being a creative in some definition has always been an important part of my personality. The art I produced in school and then through university took a natural progression into tattooing. It has always been a way to express myself, be creative, avoid the corporate world—and be told what to do!
Why were you drawn to tattooing and what made you pick this profession? Who were the tattoo artists you would and still look up to?
I was at university when I decided to get my first tattoo. I got a mandala on my back by the incredible @toogoodtattoo, and it was this experience that inspired me to pursue a career in tattooing.
At the time I was working on a collection of screen-printed skateboard decks for my final collection at university and I felt that the style I had developed would transition well into tattoo designs.
Can you talk about your style and how it developed over time?
I describe my style as Geo-trad, a mix of geometry and colour. The juxtaposition of pattern and colours was something that lent itself well to my screen printing background and I enjoy creating art that is both detailed and brightly coloured. When I first started tattooing I focused on simple dot work pieces which developed into more detailed and complex pattern work. Then, as my skills developed, I began introducing colour. I really enjoy the structure and repetition of dot work and patterns, but I also love the vibrancy and dynamic that colour can then bring to a tattoo.
Does your tattoo style say anything about who you are as a person?
I enjoy the two contrasting techniques of dot work and colour and I think they both appeal to two different sides of my personality. Half of me loves to be organized and structured and the other half enjoys a bit of chaos and disorder.
If you are able to pick, which is one of your favourite pieces you have tattooed?
Here are some of my favourites...
Many artists have a philosophy about their work or why they create it. Do you have one?
One of the most amazing parts of tattooing is the trust and respect that is built between the artist and their client. When the client respects you as an artist and trusts your vision - even when they are struggling to visualize what you have designed - it's something really powerful and entirely unique to this industry. Meanwhile, you as an artist need to pay attention to your client and truly understand what they are trusting you to tattoo on their skin. You need to be clear about what they hope to achieve as a result, both physically and mentally. I find this balance exceptionally special and if that balance is perfect—that's where tattooing magic can happen!
What are your favourite parts about the tattoo industry and where would you like to see change? How do you feel about its future?
My partner and I recently opened our own studio called Devils Detail Tattoo in North London. Our studio is eco-friendly and all the disposables we use are plastic-free. I feel there needs to be more pressure on studios to help the planet and provide artists with disposables that are eco-friendly. We should be prioritizing the planet over profit and artists should demand this simple change in their studios!
Do you have any projects, events, or plans coming up in the future that you'd like to share?
My main focus currently is my new studio. My partner and I want to continue to grow a space that is relaxing and inviting for clients and an amazing space to allow artists to flourish.