Top 10 Most Iconic Film Tattoos of All Time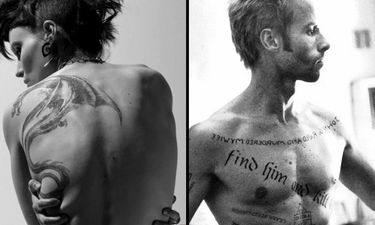 A feature of cinema screens for decades now, here is our pick of the top 10 most iconic film tattoos of all time.
Looking for inspiration? Movies are extremely influential for a number of reasons and that includes reflecting tattoo trends. From classics to animated hits, this list of the top 10 most iconic film tattoos will definitely help you get in touch with your own desires, ideas, and perceptions on ink.
10. Seth Gecko in From Dusk till Dawn (1996)
This outlandish Tarantino cult classic stars George Clooney as Seth Gecko, a criminal on the run after robbing a bank, who unexpectedly faces a fight against vampires. To suit his bold and ruthless character, Gecko has a striking tribal flame design tattooed down his arm, from his neck to his hand. The imperfect and non-symmetrical design fits his gangster persona well and is typical of the era. For most of the film, the audience only get to see the top of the design peeking out from his collar. This adds to his bad-boy image as neck tattoos were still pretty taboo at the time. This iconic film tattoo has since been blamed for one of the worst tattoo trends ever, after tribal designs became a huge hit in the late 90s.
9. Leonard Shelby in Memento (2000)
In this psychological thriller, Guy Pearce plays an amnesiac who uses notes, photographs and tattoos as reminders to help him search for his wife's killer. Critically acclaimed for its non-linear narrative, this film features tattoos as a major part of the plot. The protagonist records key "facts" in the form of tattoos, which he then uses to try and piece a story together. Leonard's tattoos are all positioned on the front of his body, some written backwards so he can read them in the mirror. However, as the story unravels, it is clear that his flawed method only manages to create a fictional narrative. The film leaves its audience with an important message; a reminder that all of our memories are in fact selective, to varying extents.
8. Carl in The Illustrated Man (1969)
Featuring the earliest film tattoos on our list, this Sci-Fi film from the late 1960s is an adaptation of three short stories by Ray Bradbury. The narrative follows a heavily tattooed man who believes his skin is cursed. If stared at too long, his "skin illustrations" come alive and tell bizarre and frightening stories from the future. The only blank patch on his body is said to show the viewer their future, or their demise. While the film was slated by critics, the tattoos in it are pretty impressive. The ornamental designs were hand-painted by multiple artists using vegetable dyes and the muted colours add to their authenticity. To this day, lead actor Rod Steiger still holds the record for most time spent in the make-up chair – 20 hours!
7. Fox in Wanted (2008)
This blockbuster action film stars Angelina Jolie as a female assassin, honing the skills of a frustrated office worker, who unknowingly possesses superhuman killing abilities. Unlike other films in which Jolie had to cover her ink, this film gave her the opportunity to display her tattoos fully and add additional ones. In an iconic nude scene at the public baths, her character Fox shows off her an array of back tattoos, including a real Bengal tiger design. This was done by traditional stick and poke method in Bangkok to celebrate Jolie's Cambodian citizenship and fits her bad-ass character perfectly. She also had a temporary floral tattoo added to her hand, as a continuation of the design on her gun, symbolizing that although feminine, fighting is second nature to her.
6. Lisbeth Salander in The Girl with the Dragon Tattoo (2011)
In this film, Rooney Mara plays a troubled computer hacker, helping a journalist solve the disappearance of a woman. This crime thriller is based on a Swedish novel published in 2005, originally entitled "Men Who Hate Women." After being translated into English, the title was altered and the main character's tattoo became a key feature. Although never explained, the now iconic medieval-style dragon tattoo on her shoulder blade could be a symbol of protection, as in Japanese history, or may be linked to her setting her father on fire for abusing her mother. Either way, it is powerful emblem of strength for this tough female character. In the film, the s-shape design is form-fitting, adding an element of femininity to this dark, mysterious piece.
5. Max Cady in Cape Fear (1991)
In this Martin Scorsese thriller, Robert De Niro plays a psychopath out for revenge after his lawyer, horrified by his crimes, deliberately concealed evidence which could have lessened his 14 year prison sentence. Cady's tattoos in the film were designed to look deliberately "bad". They are faded and imperfect, like real prison tattoos. On his back, Cady has a large crucifix version of the scales of justice. With the bible on one side and a knife balanced on the other, it's clear that his focus is vengeance not forgiveness. Cady's twisted take on justice exhibited through this iconic film tattoo, helps to make this unhinged character even more intimidating.
4. Francis Dolarhyde in Red Dragon (2002)
Based on the novel of the same name, this horror film features yet another psychopath with a prominent back tattoo. In this prequel to Silence of the Lambs and Hannibal, Francis Dolarhyde, played by Ralph Fiennes, becomes obsessed with the William Blake painting "The Great Red Dragon and the Woman Clothed in the Sun." Francis gets an imposing tattoo of the painting, with detailed horns of the beast, covering his entire back. In the iconic reveal scene, Francis exposes the striking tattoo and insists that he is the Dragon, confirming his insanity. He views his ink as a symbol power, but in reality, he has no control over his evil alter ego.
3. Nikolai Luzhin in Eastern Promises (2007)
This thriller stars Viggo Mortensen as Nikolai Luzhin, a professional criminal struggling to balance his morals with the principles of the Russian Mafia aka the Vor V Zakone. In real life, the Mafia use tattoos to tell their criminal history. The film's Director explains: "In Russian prisons you don't exist if you don't have tattoos, because your whole life story is written on your body… you're not trusted if you don't have those tattoos." In a key scene, Luzhin's tattoos are inspected by the mafia bosses and he must account for them. The three domes on his back represent the prisons he's served in and a crucifix suggests he's a thief in good standing. Later, he has stars tattooed on him as he progresses up the ranks; a typical symbol that you must have permission to get tattooed. This film's tattoos were highly researched and were so realistic that Mortensen couldn't show them in public during filming without inciting fear!
2. Captain Jack Sparrow in Pirates of the Caribbean: Curse of the Black Pearl (2003)
The first film in one of the world's most successful film franchises, stars Johnny Depp as the infamous protagonist Captain Jack Sparrow. Sparrow is an eccentric pirate, known for being a drunkard and a trickster, in search of his beloved ship the Black Pearl. Depp's portrayal of Sparrow as a clumsy, lovable rogue has made him one of the most legendary film characters ever, with one of the most iconic tattoos in recent history. His simple, but authentic swallow and sun tattoo on his forearm, is a traditional nautical design. The swallow represents a sailor having travelled over 5,000 miles on water and is perfect for his character, symbolizing Sparrow's adventurous life at sea. Depp later got a real version tattooed in the same spot!
1. Maui in Moana (2016)
The only animated film to make this list is Moana, a Disney film set in the South Pacific. The narrative follows the title character on a quest to save her people with the help of demigod, Maui, voiced by Dwayne "The Rock" Johnson. This film tops the list for several reasons. Maui is Disney's first heavily tattooed character and is portrayed as a wronged victim turned hero, rather than a villain. His traditional Polynesian tattoos show his accomplishments and allude to ancient Maori myths and legends. The detailed designs were created in consultation with Samoan tattoo artist Su'a Peter Sulu'ape to ensure cultural accuracy. They even feature minor flaws to mimic real stick and poke tattoos.
However, most importantly, Maui's animated body art is used to break down old-fashioned, negative stereotypes. His tattoos act as his conscience, with a mini Maui design coming to life and encouraging him to do the right thing. Such a positive representation of tattoos signifies a major shift in cultural perceptions in recent years and as such makes these designs some of the most iconic film tattoos of all time.