Vibrant Jellyfish Tattoos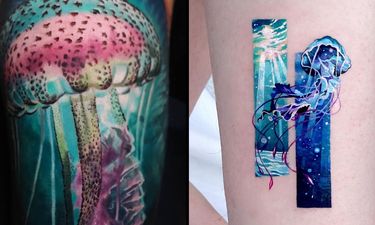 JR

Written by
Jennifer R Donnelly
Join us as we dive deep into the symbolic meaning of the Jellyfish and show you the best Jellyfish tattoo ideas!
Top Jellyfish Tattoo Questions
What do jellyfish tattoos symbolize?
The ancient and mysterious jellyfish can work to symbolize love, intuition, strength, and inner peace in tattoos. Depending upon your spiritual beliefs, the jellyfish tattoo can hold a wealth of deep meaning and intrigue.
Does the jellyfish motif work for a tattoo?
Yes, jellyfish are an excellent motif for a tattoo! Not only is this design easy to place anywhere, but it also works beautifully in a vast array of styles. Thanks to the creature's unusual shape, it also serves to compliment the curves of your body and work as a great filler piece.
What tattooing styles look best for a jellyfish tattoo?
When designing your jellyfish tattoo, rest assured that this creative underwater motif looks amazing in almost any style you can think of! From galactic-themed Watercolor jellyfish to stripped down Dotwork designs, this ancient and symbolic creature makes for an incredible standalone piece.
Jellyfish Tattoo Meanings
If you're looking to commemorate a special love or bond in your life, a jellyfish tattoo may be the perfect selection. It is believed that the Jellyfish's tentacles symbolize the interconnectedness of humankind, reminding us that we are never truly apart from those we love. The jellyfish is also said to be a good omen when it appears in your life, encouraging you to trust your heart and listen to your inner feelings.
The jellyfish tattoo can work as a powerful symbol of acceptance, tranquility, and inner peace. The jellyfish lives in a state of total surrender to nature, allowing the ocean's currents to drift it along its path. So if you're searching for more peace and acceptance in your life, a jellyfish tattoo can be an excellent ode to harmony.
If you're looking for a beautiful tattoo to inspire strength, the jellyfish is a wonderful symbol for adaptability and survivalism. For 500-200 million years, the jellyfish has thrived in our vast oceans, adapting to even the most inhospitable environments. Many body art enthusiasts view the jellyfish tattoo as being a symbol of strength, protection, and defending one's family and friends. While the jellyfish appears calm and serene, its tentacles can deliver deadly stings, making it one of the most stealthy and dangerous creatures when threatened.
Because the jellyfish does not exert any force and moves using the currents of the waters, it is said to represent energetic flow. So if you're looking for a tattoo to inspire more life force, healing and exploration, the jellyfish is an excellent motif. The jellyfish also thrives based upon its ability to surrender to the elements and respond to its intuition. Sensing predators, threats, and changes in the environment, the jellyfish stings to protect itself, but can also succumb to blind trust, allowing the ocean to move it where it needs to go. In this sense, jellyfish tattoos can be excellent symbols of trusting ones inner voice, and knowing when to let go.
Furthermore, practitioners of the healing art Reiki believe that the jellyfish represents the flow of energy, connection, attachments, and healing. The tentacles of the jellyfish are said to showcase our entanglements we create in our human lives, as well as the spiritual connection we share to the all that is. Many who resonate with this belief use the jellyfish tattoo as a reminder not to hold onto things too tightly, because in the end we are always connected to the people and places we love.
Why Jellyfish Make Great Tattoos
Whether you're searching for a large-scale full-color design, or a simple jellyfish tattoo, this motif works wonderfully in a wide array of styles and sizes. For those with ample space to work with, the jellyfish tattoo looks amazing as the beginning of a sleeve or a body hugging rib piece. The tentacles and shape of the jellyfish will allow your artist to truly work with the contours of your body, creating a piece that moves with you and flatters your form.
If you're already covered in tattoos and searching for a filler piece, tiny jellyfish tattoos can work wonderfully in these spaces! Due to the flexible nature of this mysterious creature, your jellyfish tattoo design can be easily crafted to fit into irregular areas with ease.
One of the best parts about designing your jellyfish tattoo is that you will have complete freedom over placement and styles used, allowing your underwater piece to be fully customized without limitation.
Popular Jellyfish Tattoo Ideas
Small Jellyfish Tattoo
If you are searching for a delicate and feminine jellyfish tattoo, you should definitely explore the realm of Fine Line Micro styles! If you're inspired by tiny tattoos with powerful meanings, the jellyfish can work wonderfully in this size.
Watercolor Jellyfish Tattoo
For those who are inspired by the jellyfish's mystical nature and spiritual qualities, a Watercolor style piece works excellently to capture their ethereal nature. From outer space color palettes to vibrant bursts of color, the Watercolor technique lends a special quality to your custom jellyfish tattoo.
Traditional Jellyfish Tattoo
Traditional style jellyfish tattoos appear strong and fierce in their bold lines and powerful use of primary colors, making this a perfect style for a jellyfish piece symbolizing strength and protection.
Geometric Jellyfish Tattoo
If you love modern styles of tattooing paired with ancient wisdom, a Geometric jellyfish tattoo might be the perfect choice for you! The symbolism behind the shapes and patterns used in your design can be made to reflect key qualities of the jellyfish, like interconnectedness and harmony.
Realistic Jellyfish Tattoo
Realistic jellyfish tattoos possess a distinct fine-art feel, and timeless beauty, making this style a popular selection for those connected to this mystical creature. The photo-realistic quality of these pieces usually works well for larger canvases, but talented artists can also create Micro jellyfish tattoo in a Realism style.
We hope you're enjoyed this jellyfish tattoo article and inspiration! See below for more and be sure to book a tattoo with an artist when you're ready!