Get Your Next Tattoo at One of London's Top 5 Tattoo Studios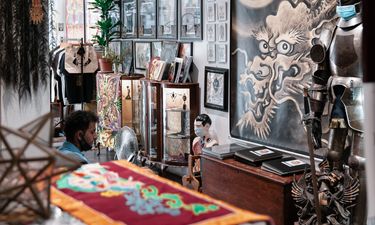 Tattoodo recommends 5 great shops in London that house some of the city's best tattoo artists.
Ah London… the city home to hundreds of incredible tattoo studios has recently found itself on the top of our list for best places to visit as a tattoo connoisseur. With the amount of options available, narrowing down a choice of studio and artist here is quite a task… but we're here to make it easier for you.
From unique artistic styles, to excellent customer service, and stunning creative locations, we've rounded up the best of the best London town has to offer. 
Let's dive in…
Modern Classic Tattoo
Best for Traditional and Japanese styles.
Why we love them:
Kicking off our roundup of great tattoo studios in London is Modern Classic. This family owned and operated shop was established in 2014 by tattooers Stewart Robson & Valerie Vargas. Artists here specialize in Traditional and Japanese stylings but you'd be hard pressed to find a style they aren't capable of. The only problem you'll find here is deciding who to choose… which is where we come in. 
Check out their artists here.
Seven Doors Tattoo
Best for all styles, especially large-scale work.
Why we love them:
Currently the studio comes highly recommended and offers 14 stylistically diverse resident artists to suit the demand for quality tattooing in London town. For Surrealism, and darker concepts done in Black & Grey owner Jondix is your guy. Andrea, Manu, Ryan are all well versed in Traditional/ Old School. Leti for Chicano stylings. If Dark Art & Horror is your thing, see Rafel Delande. Those looking for Ornamental, Blackwork, Decorative and even large scale Japanese work look no further than the artists at Seven Doors. No matter which artist you choose, you'll surely walk out with a magnificent and unique work of art.
Sacred Gold Tattoo
Best for those looking for both tattoos and piercings.
Why we love them: Sacred Gold Sacred Gold is home to a devoted young team who are passionate about tattooing and determined to give nothing less than the best customer service to their clients. You can find artists of all styles here (including Hand-Poke!), making it easy to find something that suits you. If you're not quite ready to commit to forever artwork, the studio also houses a reputable piercing facility offering gorgeous quality jewelry. Collect your next tattoo at Sacred Gold by first checking out their artist roster, we can help you choose the right artist for your style.
Santo Cuervo Tattoo
Best for Neo-Traditional, New School, Realism and generally bright and colorful work.
Why we love them: 
The staff at Santo Cuervo works extensively to provide a welcoming and all inclusive atmosphere. Specializing in custom modern tattoos, the main styles they offer are Watercolor, Neo-Traditional, New School and Realism. The studio is also vegan friendly, offering ​​access to vegan inks, tattoo aftercare, stencil paper, tattoo furniture, right down to cleaning products. Though the more modern styles are their vibe, a rotating roster of amazing guest artists who specialize in a plethora of other styles is also on the table.
Book with an artist at Santo Cuervo on Tattoodo.
Blaec Tattoo
Best for small dainty Fine Line and/or Illustrative tattoos.
Why we love them: Sometimes you just want a little something for you. At Blaec (pronounced 'Black') one can expect the delivery of simple, classic, delicate, understated, and often monochrome tattoos that are all the rage these days. The space feels clean, open and minimalistic and they cater inclusively to clients from all walks of life. 
Check out the artists at Blaec today.
So there you have it, our favorite 5 London studios of the moment! 
If you're doing research for your next artist in London, allow us to help you find the perfect artist for your idea. Submit your tattoo brief here and we'll get back to you with our recommendations, at no cost to you. It's easy & free.