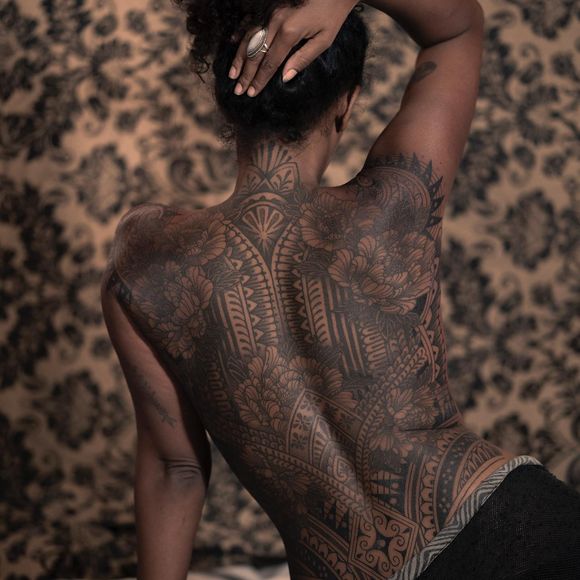 Style Guide: Ornamental Tattooing
This guide to Ornamental tattooing looks at a few of the most known styles within the genre.
Summary
Ornamental tattooing is perhaps one of the oldest styles in the game.
Unlike traditional Tribal tattoos or heavy Blackwork, Ornamental tattoos tend to look and feel "fancier", more intricately designed and energetically "feminine". They typically emphasize geometry, symmetry, and employ black shading and/ or delicate pointillism.
Mehndi, Pattern work, and Decorative styles all fall under the Ornamental category.
Ornamental tattooing is perhaps one of the oldest styles in the game – while designs have culturally criss-crossed all over the place, many of their origins lie in ancient tribal traditions. The first evidence of human tattooing was found on a mummified corpse of a Neolithic Iceman discovered in the Alps in the early 1990s. He had 61 tattoos, most composed of lines and dots, and most of them were found to be located on or near acupuncture meridians, leading anthropologists to believe they served a medicinal role over an aesthetic one.
While this style of tattooing has become more an aesthetic choice today, Smithsonian tattoo anthropologist Lars Krutak notes that while some indigenous people did receive tattoos for purely ornamental reasons to enhance their appearance, this was more the exception than the rule. Most of the time, tattoos were meant to identify tribal affiliation, hierarchy within a tribe, or as with the Iceman, to serve as medicinal therapy or repel evil spirits.
While we already have separate style guides for Blackwork and Tribal tattooing, this piece delves into the specifics of contemporary Ornamental tattooing. Ornamental tattoos can work when you don't necessarily want or need your tattoo to mean anything, and just be beautiful. Unlike traditional Tribal tattoos or heavy Blackwork designs, Ornamental tattoos tend to look and feel "fancier," more intricately designed and energetically "feminine". They typically emphasize geometry, symmetry, and employ black shading or delicate pointillism. They can also be designed with heavier swaths of black, making them useful in "blastovers" (giving new life to an old tattoo that you might regret or not feel particularly aligned with anymore). That said, there can be a fine line between cultural appropriation and appreciation, so it's best to walk into the tattoo shop with an idea knowing where it came from, and what it can mean in that culture before you commit to anything forever.
MEHNDI
It's ironic that Mehndi designs have become some of the most popular references in ornamental-style tattooing, given that they were not traditionally permanently tattooed in the cultures they hark from. In the west, we call Mehndi "henna." This artform, practiced in Pakistan, India, Africa and the Middle East for thousands of years, began as a medicinal treatment, as the paste derived from the henna plant had soothing, cooling properties. Practitioners discovered the paste left a temporary stain on the skin, and it became a decorative practice. Nowadays, you'll still see these temporary tattoos, traditionally applied to the hands and feet, worn mainly for celebratory occasions like weddings or birthdays. Designs frequently incorporate mandala motifs, as well as decorative patterns derived from nature. Given their graceful, delicate aesthetic, it's no surprise these designs have permeated contemporary tattoo culture, where you'll see them not only on the hands and feet, but sometimes even incorporated into large scale work like arm or leg sleeves, or back pieces. Dino Vallely, Helen Hitori, and Savannah Colleen produce some excellent Mehndi-style work.
DECORATIVE
Ornamental tattooing is not limited to Mehndi designs; inspiration also frequently comes from folk art. Decorative style ornamentation may have the appearance of a more traditional craft like crochet, lace or woodcarving. An example of this, and an unlikely source of inspiration for modern ornamental tattooing, is Croatian folk art, which employed heavy line and dot work combined with Christian and Pagan design elements. Designs typically included crosses and other ancient decorative shapes, flows and objects on the hands, fingers, chest, and forehead, sometimes around the wrist to look like bracelets. Check out the work of Blum in Paris for more delicate examples of this work, or Haivarasly or Crass Adornment for a heavier hand.
PATTERN WORK
Pattern work tattoos are typically more geometric than Decorative-Ornamental tattoos, which rely on more organic shapes. In this way they can appear bolder than these other styles, and more aligned with Blackwork, where greater emphasis is placed on sharp edges and clean, repetitive shapes. While you might also see Mehndi-influenced design elements in these tattoos, you'll oftentimes see them placed up against shapes like circles, hexagons or pentagons, laid out in a grid pattern. Tattooers like Raimundo Ramirez in Brazil or Johno in Salem, MA frequently employ pattern work in their designs.
That should give you some food for thought as you contemplate your ornamental tattoo – like we said, this could mean so many things, and so many artists today combine elements from different cultures and traditions into their own unique style.
Article by: Mandy Brownholtz
Cover Image: Dino Vallely