Man's Best Friend: Quintessential Dog Tattoos and Pup Portraits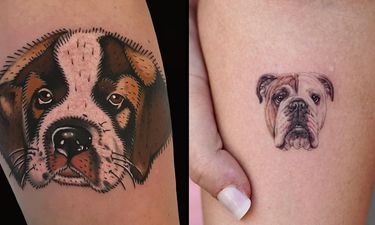 Ta

There's a reason why pups are considered the constant companion of mankind and these dog tattoos will have you howling for more!
There's a reason why dogs are man's best friend, and there are tons of stories out there that prove it. There are also tons of awesome dog tattoos that prove it too! We pulled together this collection of doggies to show our love and appreciation for one of our absolute favorite animals.
All animals are our favorite, but sometimes you just gotta stare at pictures of pups to put a smile on your face, ya know? Whether you own the best hound ever, or you're just an overall fan, or maybe you're contemplating booking a new tattoo very very soon, this collection of dog tattoos is sure to give you the happy feels all over.
Dog Tattoo Inspiration
Feeling stuck on what exactly you want to say with your dog tattoo? We get that. Sometimes people want to show an overall love rather than get a memorial piece or pet portrait. In that case, there are tons of books, movies, and art that can be perfect dog tattoo inspiration!
The day Netflix added Balto to it's revolving door of movies may be one of our favorite moments of all time. Balto is one of those really incredible dog stories that is actually based on real life events and perfect inspiration for any real deal dog lover.
In 1925 a Diphtheria outbreak happened in Nome, a tiny town in Alaska, and a bunch of dog sleds were sent to pick up the antiserum to stop the illness. Many dogs helped save the townspeople, but to this day Balto is remembered for his part.
There's about a million more awesome dog stories that would make awesome dog tattoos. Take the famed statue of an Akita pup, Hachiko, that waited at Shibuya Station almost nine years, every day, for his master to return. There is another dog, Capitán, who visits his master's grave every day at 6pm in Argentina.
And then there are all the heart warming Chicken Soup kinda stories of dogs who save lives, alert their owners of danger, and overall just stun with their devotion and love of their human bff. These dog tattoos are a way for owners and dog lovers alike to share their devotion too!
If movies aren't doing it for you, or books either, maybe check out music. There are plenty of ballads that pay homage to our favorite furry friend. Both Sublime and Cat Stevens have songs called "I Love My Dog". You have The Stooges "I Wanna Be Your Dog", and you've even got Elvis' catchy canine classics "Ol' Shep" and "A Dog's Life". All of these hound hitters could be the key to the best dog tattoo design for you.
Think about it...dogs were probably domesticated about 40,000 years ago...so there's a whole lotta history to inspire your next dog tattoo!
Top Dog Tattoo Styles
Traditional Dog Tattoo
Bold and easily recognizable from a mile away, Traditional dog tattoos partly work so well because the aesthetic matches the dog soul to a tee. You usually know when a dog is around, especially a good dog: you can't stop staring, you wanna touch it all over, you wanna run around showing it to everyone...well, a Traditional pet portrait done super well is exactly the same way!
Realism Dog Tattoo
If you're trying to perfectly capture your personal pooch, then Realism may be the style for you. Tattoo artists who specialize in this style can usually illustrate your puppy pal in ways that make it a super meaningful tattoo for you! Whether done in Black and Grey or vivid color, Realism can be like carrying a photograph of your pup for the rest of your life.
Watercolor Dog Tattoo
Full of fun and fancy, a Watercolor dog tattoo is a great choice for those who want to bring movement and expression to their pet portrait! We've even seen people do a mix of style such as hints of Realism with splashes of Watercolor in the background. Whatever you do, this style is perfect for people who want color and joy!
Geometric Dog Tattoo
This particular style is fantastic for a number of reasons but one of them is that creating a geometric dog tattoo can look like so many different things! You can choose sacred geometry, mandalas, dot details, Fineline, or even create a dog portrait tattoo out of abstract shapes. This style can be personalized to the utmost, making your dog tattoo totally unique.
Blackwork Dog Tattoo
Do you enjoy howling at the moon with your pup? Do you and your dog drive around listening to hardcore or metal? Do you and your dog mostly wear black? If so, a Blackwork dog tattoo may be right up your alley. If you love high contrast, texture, Dark Art, or Illustrative styles, finding a Blackwork tattoo artist is a perfect place to start for your next dog tattoo!
Fineline Dog Tattoo
This is another style that can be beautifully expressive and full of movement. Especially when blended with other styles such as Realism or Watercolor, a Fineline dog tattoo can be very personalized and unique. Whether a reproduction of your favorite photograph or simply an example of your favorite dog breed, Fineline may be the best fit for you.
Top Dog Tattoo Breeds
Bulldog Tattoo
Perhaps best known for their charming snout and drooly kisses, a bulldog tattoo should capture the loyalty and kindness these pups are famous for.
Pitbull Tattoo
Though this furry friend gets a bad wrap, those stereotypes couldn't be further from the truth. A pitbull tattoo is best when it is a symbol of the pure love this pet can give.
Doberman Tattoo
The breed has gotten a lot of attention lately, especially by tattooers. Doberman tattoos have an elegant but tough aesthetic that translates perfectly into a powerful design.
Corgi Tattoo
Okay. Corgi tattoos have probably got to be one of the cutest things on the planet. These lil stubby legged fluff muffins make for some pretty heart warming eye candy.
Chihuahua Tattoo
Our favorites in this category have got to be the perfect portraits coming mainly from Korea. A Chihuahua tattoo looks so awesome as a tiny Realism dog portrait. Hands down. The best.
Shiba Inu Tattoo
A dog with lots of personality, you'll see Shiba Inu tattoos everywhere...not even just on pet owners, but just people who love this breed for its exuberance and joy.
We hope you've enjoyed this guide to dog tattoos. Scroll further to see more inspiration. To book an appointment check out our tattoo artist explore page or book here!