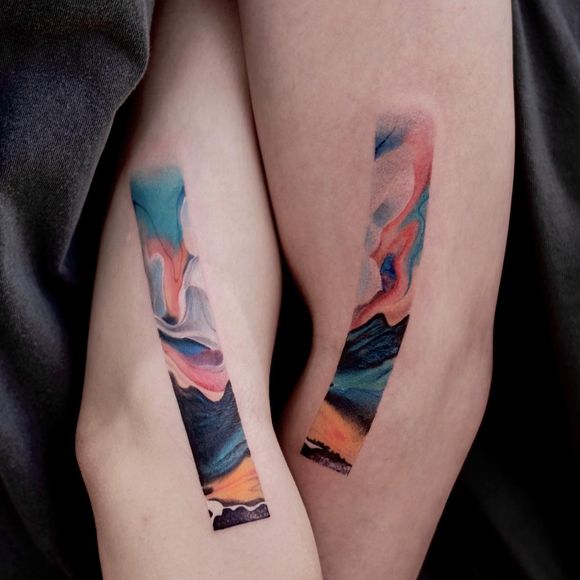 Style Guide: Watercolor Tattoos
In this article we explore the origins, techniques, and aging of pieces within the Watercolor tattoo style.
Summary
The beginning of actual watercolor paintings, what Watercolor tattoos are inspired from, is an ancient practice that includes the use of natural pigments found in the earth.
Many of the skills painters use are actually employed by Watercolor tattooists as well, as the medium and techniques rather easily translates to skin.
A painterly style, Watercolor tattoos can come in splashes of color, reproductions of actual paintings of the past, images of flowers and animals etc.
The lack of black outline has caused some concern for the aging of Watercolor tattoos, so many tattooists are using fine black lines to solve this problem. Others maintain that it's not a problem at all.
Like the fine art that has inspired its stylistic creation, Watercolor tattoos are usually beautiful, organic, graceful plays of color that use the skin as a canvas. Rather newly founded, the trend has since seen a lift due to artists that continue to push the aesthetic, methods and concepts to new heights of ingenuity. In this guide, we research the origins and techniques found within the Watercolor style.
We also examine the issue of healing and aging of fluid color pieces.
The Origins of Watercolor Tattoos
The actual type of painting Watercolor tattoos stem from is practically primitive. In ancient times all pigments for painting were made from organic materials including earth substances like plants, minerals, animals, charred bones and the like. The first examples of watercolor painting may actually be traced to paleolithic cave paintings, however the first refined use of the medium is often thought to be the Egyptian papyrus scrolls. Later used for the Illuminated Manuscripts in the Middle Ages, watercolor painting did not see consistent and widespread use until the Renaissance.
It is no surprise that due to the natural compounds of watercolor pigments it would lend itself well to natural illustrations. The paints were relatively easy to use, very versatile, and traveled well. Although this may all seem completely disconnected to the contemporary Watercolor tattooing style, the techniques and stylistic approaches are very similar to many of the artists working in that particular era. Artists such as Thomas Gainsborough, JMW Turner, John James Audubon, Thomas Eakins, John Singer Sargent, and Eugène Delacroix are only a few painters who used watercolor and propelled it to the reputation of a serious arts material. Many of the skills these fine artists used are actually employed by Watercolor tattooists as well, as the medium and techniques rather easily translates to application on skin.
Tattoo flash is also often painted with watercolor, as well as gouache, a more opaque form of the aforementioned paint. The Watercolor tattoos we see today are created with a vibrant and expansive palette of colors, but this wasn't always so. Restrictions to the primary colors of red, blue, yellow, and green were often all old-school tattooers had to work with at the time flash and modern tattooing was getting its foothold. These pigments not only aged best on paper but on skin as well.
During the late 19th and early 20th century, tattoo flash was making its rounds globally through peddlers, sailors, and artists alike. There was a huge demand for new and inventive designs, as well as a source for tattooists to share their portfolio. Watercolor flash was the quickest and easiest way to do it, and many of the flash sheets from those eras still exist and inspire the Watercolor tattoos we see today.
The Techniques of Watercolor Tattoos
Although most tattoo artists used the watercolor medium to paint their flash, the stylistic differences between traditional artists and Watercolor tattoo artists is immediately recognizable. Of course, the affectations and predilections of each artist will naturally guide their personal aesthetic, but the use of foundation or lackthereof varies between the two styles.
Issues of Aging
Whether freehand, abstract, botanical portrayals, or perfect emulations of famed paintings, Watercolor tattooists rely on the use of color and fluid technique for their work. The lack of black however, is worrisome to many tattooists who maintain that the use of black outlines keeps color pigments from spreading and dispersing. The main issue with Watercolor tattoos to be short, is that they are said not to hold their shape and crispness as well without this foundational black outline.
Some Watercolor tattooists have settled the debate by simply using a black "skeleton" as an "underpainting" which helps keep colors in place. Others maintain that tattoo touch-up is completely normal for any tattoo, watercolor pieces included, and that it really isn't an issue.
The reality is that traditional tattooists use a black outline on their work because the ink is carbon based. Once injected into the skin, the black carbon based ink becomes a 'dam' or wall for keeping colors in place, so the concern of spreading ink becomes a non-issue and the color stays put. Without that black carbon wall, colors used within the watercolor tattoo style tend to fade and disperse more quickly than that of a traditionally-applied piece.
In the end, it's a matter of personal choice, and what the collector wants.
Regardless of the argument, the beauty of the aesthetic and designs is often hard to ignore.
With a foundation in the most ancient and refined of fine arts, used by famed painters and illustrators for centuries, Watercolor tattoos are continuing a tradition most usually seen within the world of galleries and museums. Often that is what tattoo collectors are looking for; using their skin as a walking canvas for highly skilled artisans.
Remarkable in beauty and elegance, frequently highlighting the best that the natural world has to offer, Watercolor tattoos are a trend not likely to see an end any time soon.