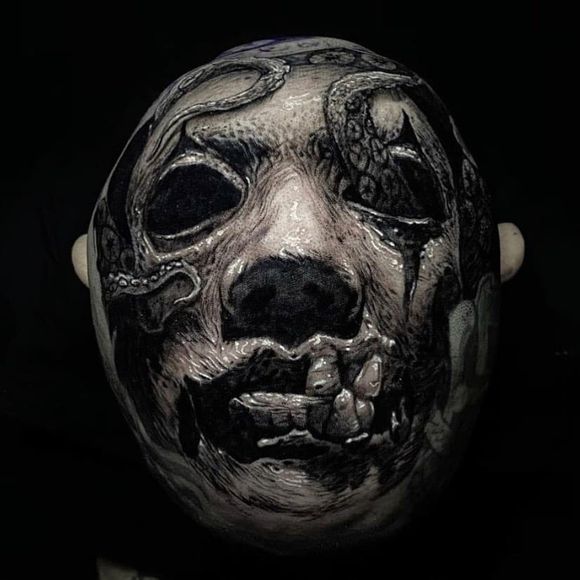 Style Guide: Dark Art & Horror Tattoos
This guide covers Dark Art and Horror tattoos, which depict supernatural or spooky imagery in black and gray.
Summary
Dark Art or Horror tattoos depict supernatural, surreal, or spooky imagery, relying on high contrast and surreal composition.
They allow the wearer to communicate your complex, dark emotionality to the external world without words.
Many artists take inspiration from classic horror films and HR Giger specifically.
Dark Art or Horror tattoos are pretty much exactly what they sound like – tattoos that depict supernatural, surreal, or spooky imagery. As far as subjects, you'll see a lot of demons, witches, skulls, bats, and any other stereotypically "scary" iconography. Ancient alchemical symbols like sigils can be incorporated to add to the mystical air of this style. Sometimes, like in the case of American horror-realist tattooer Paul Acker, you'll even see portraiture of famous horror movie characters like Jason Vorhees or Michael Myers.
These tattoos are typically dominated by a black and gray color palette, but some artists incorporate color. They rely on high contrast and surreal composition, usually defined organically by the shape of the body part they are placed on.
Paul Booth
Perhaps the greatest pioneer of Dark Art tattooing is Paul Booth, a New York City-based artist who owned and operated Last Rites until it closed in 2020 due to the COVID pandemic. Speaking to the organic nature of this tattoo style, Booth tattoos freestyle right onto the skin without an outline. He received coverage in Rolling Stone in 2002 given his popularity with metal musicians, having tattooed members of Slipknot, Mudvayne, Slayer, Pantera, Soulfly and Sepultura with "weeping demons, decapitated Christ figures, transvestite nuns severing their own genitals, cascading waves of melting skulls, [and] muscled werewolves raping bare-chested women." His work has inspired numerous other Dark Artstyle tattooers.
A Dark State of Mind
Given the subject matter described above, these tattoos clearly aren't for everyone. Many people who come to love this style, and many artists who come to create these tattoos, do so from a place of catharsis. In an interview with Prick Magazine, Booth said that it was hard to keep the darkness of his art separate from his mental state. "I spiral into some pretty dark places when I create art," he explained, but went on to say that "I don't think I would even want to keep it separate, [because] at that point it would just be a job. I find the more art I produce the mellower I get. I am pretty laid back and I think it's because I get all the aggression out in my art. This is why I always tell people if I quit making art I would definitely be a serial killer. Those images would become real life, I am sure of it."
With that comes a two sided coin – you are able to communicate your complex, dark emotionality to the external world without words, but you also can no longer hide it either, so proceed with caution. Some people don't want to hide it though – Booth described one client that requested a tattoo of his throat being slit all the way around, with stitches holding his head on. "We cater to the disaffected and the sick," he said. "Every ass needs a seat and I've got a big ass. Contrary to popular belief, I use my instincts a lot to make sure people are ready for what they are asking for. Kurt, the guy wearing the slit throat, waited quite a while for that piece. He lives in the Bible Belt; I wanted him to be ready for the obvious social implications. He still has no regrets."
One's desire to wear a Dark Art tattoo may have nothing to do with coming from a dark place emotionally; they might just be a fan of horror. As aforementioned, American tattooer Paul Acker takes huge inspiration from his interest in horror and comics. He caters to a huge fanbase of horror fans all around the world, who come to him for hyper-real colorful portraits of their favorite slasher film icons.
In the end, as with most tattoos, the decision to wear a Dark Art tattoo is yours alone. It may be more shocking to the outside world than a pretty Ornamental piece or a classic American Traditional design, but that may be just what you're going for.
Article by: Mandy Brownholtz