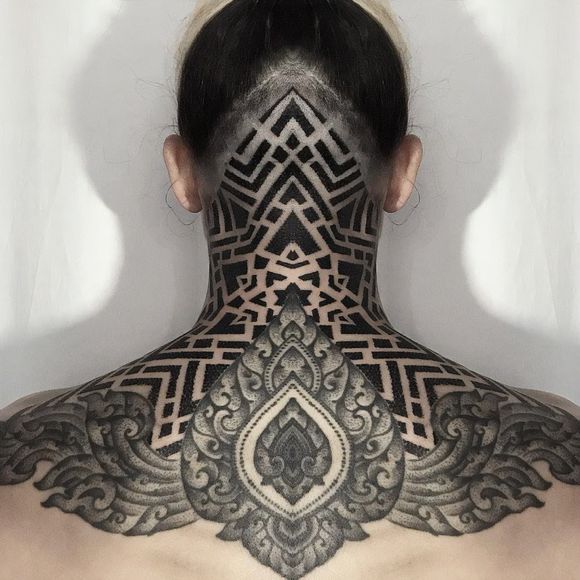 7 Tips & Tricks to Improve Your Tattoodo Tattoo Artist Portfolio
These tips and tricks will help you build an effective, cohesive, and powerfully professional Tattoodo tattoo artist portfolio.
Summary
Use hashtags when sharing your work! This is super important!
Have the focus direct and clear when taking photos of your pieces.
Make sure the lighting exposure is balanced.
Using Portrait Mode will make tattoos look crisp.
Take a photo with a white or black background. Simple and not distracting is best.
Make your portfolio look cohesive. Use the same filter, lighting, or common aesthetic.
As we celebrate the release of our upgraded, super fancy and hella sweet App, we figured we would lend a hand in helping out artists build the best Tattoodo tattoo artist portfolio out there tip by tip. Just check out these simple, but extremely useful tricks, to get your work to stand out and be seen.
Focus
Lack of focus in an image is the number one reason tattoo images fail. Just as you would focus while tattooing, you have to focus on the tattoo when taking a photo of it. Most iPhone and Android cameras have the option to focus closer on what you are taking a picture of. This focus option makes your photo appear less blurry. Open your camera app and tap screen on the tattoo to focus in on it for sharper, clearer tattoo photos.
Exposure
Open the camera app and long-tap on the part of the image you want to focus on. While keeping the finger pressed on the screen, slide up or down to alter the exposure: up for brighter/larger exposure, and down for darker/lesser exposure. You'll notice a brightness-slider on the right of the focus box which moves up/down depending on your slide. Stop the sliding when you reach the desired exposure level. You can then take the picture.
Pro Tip:
Having trouble finding the right lighting? It's easier to edit the details on photos that are underexposed vs. overexposed
Lighting
It's no secret natural lighting from the outdoors, or a window is simply the best. If this is not an option, be aware of the glare your station light is putting off. Glare often makes the tattoo seem blurred, and can ruin an otherwise perfect photo.
Pro Tip:
It is surprisingly difficult to find good lighting in many shops and conventions across the world. If you have the means or interest to invest in a lighting softbox, this will lend itself well to your tattoo photography immensely. It will help soften and even out the lighting in photos, therefore making them more aesthetically pleasing, and make the tattoo look just as it does in person. A plethora of these kits are available on Amazon for as little as US$26.
Portrait Mode
Portrait mode is a camera feature that keeps the subject of the photo in the foreground, while slightly blurring out the background. When in portrait mode, photos look like they were taken with a professional DSLR, and you'll be fooling your followers in no time. This will make the actually tattoo come to life by shifting all of the focus to the tattoo. If your phone doesn't have portrait mode, however, there are clip on camera lenses that you can pick up on Amazon and heighten your phones ability to capture photos with better quality.
Pro Tip:
Portrait mode works best with good lighting, when the camera can differentiate between foreground and background. For optimal tattoo photos, position your client between 1-2 feet away from the desired background.
Backgrounds
What Tattoodo looks for is an aesthetically pleasing photo to catch the eye of our viewers. A tattoo photo taken on used or wrinkled drop cloths, ink, blood, & fluid-spattered dental bibs, though the reality of the tattooing process, do not make for high quality images.
Clean or interesting backgrounds lend themselves well to tattoo photos where the foreground image has the chance to shine, or be complemented by what's going on around it. An unused paper-towel, a basic curtain or wall, even one decorated with flash will help your viewers better focus on the art and the skill you're bringing to the table.
Cohesive Aesthetic
Find a theme between the photos you add. Do you post them all in black and white? Is it always on the same background? Do you put a nice white frame around them? Find a common aesthetic for your profile. Taking the extra time to do so will portray your work in a meticulous, organized, and aesthetically pleasing format. This is important since these pictures will be the first impressions the potential clients get.
Pro Tip:
Some artists like to use filters to make every tattoo look cohesive, so despite the subject matter, each image looks like it belongs together. Photoshop or Pixlr Editor, a free online tool, can be used to apply filters, play with contrast, lighting and more, to make your photos really pop! Just make sure not to oversaturate...you want your work to look bold, but natural!
Hashtags (#)
Hashtagging is hands-down the best way to be found in the Tattoodo App, where millions of users search for tattoo inspiration daily. Tag your photos with popular searches that match your tattoos (e.g. #floral, #blackandgrey, #dotwork)
Pro Tip:
When adding hashtags, the most searched/tagged phrases will appear at the top. These will be the most relevant in their category. The more relevant tags you choose, the more likely it is your tattoos will be discovered by prospective clients!