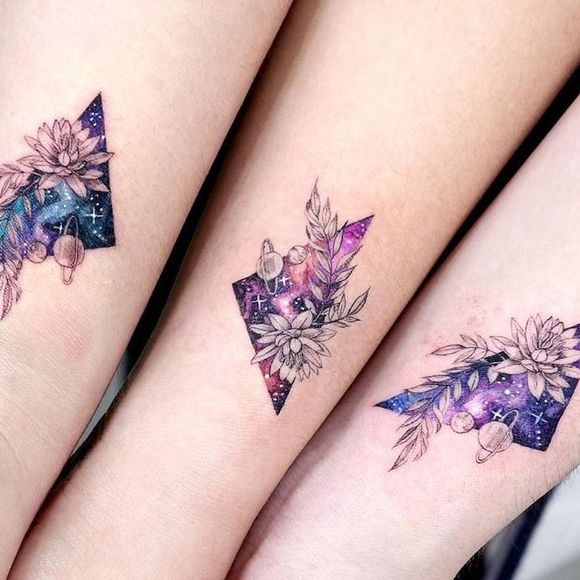 Wrist Tattoos: The Definitive Inspiration Guide
Get inspiration for your wrist tattoos: See popular motifs and placements & the best wrist and wristband tattoo ideas
Summary
Wrist tattoos are a great selection for those wishing to have an easily visible piece of art, that's not too flashy. They can also work as great starting points for those contemplating a sleeve in the future. If you're looking to get something more low-key, this placement is also ideal to showcase tiny and minimalist designs!
Wrist tattoos can be displayed in several different placements, allowing you to customize your design depending on your personal taste.
Some of the most popular motifs for wrist tattoos include: rose wrist tattoos, cross wrist tattoos, and heart wrist tattoos.
Do wrist tattoos hurt? The inner wrist is actually considered to be one of the least painful places to get tattooed, but depending on placement the pain level can vary. Either way, we think wrist tattoos are totally worth the temporary discomfort!
Is the wrist a good placement for a tattoo? Yes, the wrist is definitely a great place for a tattoo! If you are looking to utilize a space that will get prime visibility, the wrist offers an excellent area to display your art. Just make sure before you decide to take the leap that you are comfortable with your tattoo being seen by others, as this placement will be fairly noticeable in professional environments and social settings.
Welcome to our definitive inspiration guide to wrist tattoos! If you're looking to take the jump into your first tattoo, or you're just curious about this particular placement, we've got you covered.
Due to the wrists highly visible positioning, any tattoo you chose to place here will definitely get a lot of attention! That's why it's important to select a design and style that you feel confident you'll be proud to show off for a long time to come.
Keep reading along see our favorite wrist tattoo ideas and designs, and to learn more about anticipated pain levels and best placements!
Wrist Tattoos for Men
Male wrist tattoos have always remained a popular staple, thanks to their easily noticeable placement, lower pain level, and ability to develop into larger pieces like sleeves.
When considering wrist tattoo ideas for men, there are a wide variety of styles, subject matter, and placements to choose from! Not feeling an inner wrist tattoo? Try experimenting with different placement ideas, like the top or side of the wrist. Another desirable look for male wrist tattoos is the wristband, or a tattoo that is designed to wrap around the area of the wrist.
Utilizing masculine elements within your design like fire, skulls and bold lettering can also help bring your tattoo to life! Some of the more popular styles for tattoo designs on the male wrist include:
lettering
nature scenes
crosses
geometric or tribal designs
Try to keep in mind when contemplating your wrist tattoo, that it may not be acceptable to wear something this visible in some professional environments. But, if you work a job that's cool with tattoos, the wrist is an ideal placement, as it will really allow your art to be readily showcased.
If you're feeling ready to commit to a wrist tattoo, read along to check out our picks for the best wrist tattoos for guys!
Wrist Tattoos for Women
Wrist tattoos have always been a popular choice for women, thanks in part to their highly noticeable placement, yet delicate sizing. Whether you're feeling inspired to get a bold or black piece, or you prefer more feminine and soft wrist tattoos, this area works wonderfully to encompass all styles and visions.
Though the wrist is a small space to work with, it definitely provides prime real estate for the phrases, imagery and symbolism that resonates most with you.
If you are having trouble searching for female wrist tattoo ideas, it might be helpful to know that some of the most popular motifs for women right now are:
mandalas
flowers
geometric designs
single word phrases
If you're desiring something less common place, rest assured that the wrist is an excellent space to display any imagery or subject matter that resonates with you, just make sure that it will fit nicely within the space given.
Check out the rest of our guide to see our favorite tattoo designs for women's wrists!
Small Wrist Tattoos
Small and simple wrist tattoos can work wonderfully on anyone! Many consider the wrist to be an ideal placement to display delicate and miniscule designs. If you're looking for a tattoo that won't be loud, but that can be easily viewed by yourself and others, a tiny wrist tattoo may be the way to go!
The wrist itself is a small and understated area, which can be nicely accented by a simplistic and tiny wrist tattoo. Some of the most popular small design motifs for the wrist are:
foliage
crosses
flowers
nature scenes
elemental designs
These popular tattoo designs can provide great inspiration for those seeking a small wrist tattoo with meaning. Tattoos don't have to be packed with detail, or large in size to convey a message, or signify a deeper sentiment. In fact, many of the tiniest and simplest tattoos can contain layers of meaning and significance.
So whether you want a minimalist wrist tattoo, or just want a generally smaller piece, you can still infuse the art with powerful meaning. The best part about little wrist tattoos is that they aren't as readily noticeable by employers, parents, or other people in general. So if you prefer something more discrete, but not totally hidden, this may be the best size and placement for you.
Keep scrolling to check out our top picks for small wrist tattoos for women and men!
Wristband Tattoos
If you don't mind sporting an obvious and larger wrist tattoo, a wristband style piece can be a great way to display your art! Thanks to the wrists slender size and close proximity to the hand, these wristband tattoos can easily wrap around, giving the tattoo a different feel, with the added benefit of a more noticeable and immediate appeal.
When considering this particular style of popular wrist tattoos, there are many design options and elements to consider. Some prefer to do a text based wrist bracelet tattoo, opting for their chosen quote to form a circle around the wrist. Others create permanent jewelry of sorts, utilizing ornamental style tattoos adorned with additional design elements like feathers or crosses.
If you're seeking a particularly masculine looking wrist cuff tattoo, you can always select a tribal design, blackwork lines, or a Celtic inspired band.For women, some of the most popular feminine bracelet tattoo ideas include: lunar elements, flowers, or detailed ornamental art.
If you're searching for a particularly meaningful wrist tattoo, these super cool wristband designs can embody any sentiment you choose. Researching the imagery that appeals to you, and understanding the meaning behind the symbolism, is a great way to piece together what you'd like to create.
Keep scrolling to view our top picks for badass wristband tattoos!
10 Popular Wrist Tattoo Designs and Motifs
Rose Tattoo on Wrist
Flowers create some of the most beautiful tattoos, rich with hidden meaning and perfect for the delicate area of the wrist. Out of all the mesmerizing and beautiful flowers in existence, the rose has always held incredible staying power, remaining one of the all-time favorite selections for wrist tattoos. We feel that the soft and striking beauty of the rose makes for a beautiful and timeless wrist tattoo!
Read also: Rose Tattoos Are Always in Bloom
Cross Tattoo on Wrist
If you're interested in getting a tattoo of a spiritual nature, the cross can be an excellent design to display on the wrist. When considering your cross wrist tattoo design, you can easily create a simple and minimalist piece, or opt for a more detailed tattoo like an ornamental cross bracelet. Since wrist tattoos are almost always visible, selecting imagery that holds personal meaning to you is often a good way to go. While you may get tired of something you selected for its aesthetic appeal alone, tattoos that speak to beliefs and sources of faith are usually cherished for a long time to come.
Heart Tattoo on Wrist
The heart is a universally recognized symbol of love, passion, emotions and empathy. If you're looking for a piece embodying these qualities, heart tattoos on the wrist can be an excellent way to display these sentiments. For those who don't prefer ambiguous art, or who might be looking to just create a super cute wrist tattoo, hearts work wonderfully!
Tattoo gallery: The Top 250 Best Heart Tattoos of the Year
Wrist Name Tattoos
Looking to memorialize someone special in your life, or pay tribute to a loved one who's passed? Name tattoos on the wrist can be a special way to honor or remember someone close to you. Keep in mind that since the wrist is a highly visible space, you'll be seeing this name for a long time to come! So try and make sure this is a choice you're comfortable with before proceeding.
Wrist Arrow Tattoo
Arrow tattoos for the wrist come in a wide array of styles, ranging from simple and tiny designs, to motifs including elements like feathers, roman numerals, mandalas, and more! The arrow is said to symbolize force, power, travel and direction.
Depending on the way your arrow is positioned it can also hold additional meaning. If you're looking for a tattoo to symbolize friendship, crossed arrows are an excellent selection, as they have been used by Native Americans to signify deep connections. If you're searching for an arrow to represent peace, you can select a broken or pointing down arrow. For a symbol to ward off evil, you can use an arrow pointing to left, and to inspire spiritual protection you can select an arrow pointing to the right.
Flame Wrist Tattoo
For those who want a unique and cool wrist tattoo, fire elements are an excellent design selection. Throughout the ages, fire symbolism has been associated with many different things including; illumination, light, warmth, protection, transformation and creation. Whether you prefer to use strong color choices, or would rather keep your tattoo all black, flames work to add layered meaning and an edgy flair to the wrist.
Mandala Wrist Tattoo
Mandalas are experiencing a huge influx in popularity when it comes to tattoos, and the best part is that they work wonderfully in small and large spaces alike. If you're seeking a deeply meaningful wrist tattoo, the mandala serves to represent the nature of reality within its design.
The circular shape of the mandala reminds us that life is eternal, and that everything is connected. The designs within the mandala are used to represent the journey of life, and our individual place within the cosmos.
The mandala is generally used as a tool for meditation, and with the easily visible placement of the wrist, these tattoos can serve as permanent visual aids for contemplation and inner knowledge.
Read also: Representing the Universe: Mandala Tattoos
Skull Wrist Tattoo
If you're intending to make the most out of life while you're here, a skull wrist tattoo may serve as the perfect reminder for you. Skull symbolism often is used to remind us of the concepts of death, mortality and impermanence along our human journey. Your skull wrist tattoo doesn't have to feel dark, or drab though, as there are various ways to create fun and juxtaposed imagery with skulls. Some elect to use additional elements like flowers or bold colors, while others prefer intricate and bright sugar skulls.
If you want to go dark with your imagery, there are also many styles and motifs incorporating only black, or displaying terrifying and realistic looking skull designs. Whatever you choose, the wrist is an ideal placement for your unique skull tattoo!
Tattoo gallery: The Top 250 Best Skull Tattoos of the Year
Dragonfly Wrist Tattoo
The dragonfly is recognized throughout the world as being a powerful symbol of transformation, transcendence, change and self-realization. The small space of the wrist works well to capture this beautiful creature, adding a delicate quality to the design. You can easily create a colorful and striking dragonfly wrist tattoo, or strip it down to display a minimalist aesthetic. Either way, this wrist tattoo works as a wonderful statement to growth and evolution, while looking absolutely beautiful.
Bird Tattoo on Wrist
What could symbolize the concepts of freedom and liberation better than a bird taking flight? If life is weighing you down, or you're searching for an inspirational wrist tattoo, imagery utilizing birds could serve to uplift you, while also looking stunning. Many who resonate with this imagery have elected to add in additional design elements like; feathers, quotes, and branches.
Tattoo gallery: The Top 250 Best Bird Tattoos of the Year
Wrist Tattoo Placements
Side Wrist Tattoo
A more subtle and less common placement than the traditional inner wrist tattoo, is the side wrist. Many opting for this placement choose designs that work well in a linear fashion, like quotes, phrases, roman numerals, or arrows, just to name a few.
Tattoos on the side of the wrist can be significantly more painful than those on the inner wrist, so make sure before committing to the art that you are prepared for the process! Although the area is largely comprised of bone and can be uncomfortable, the end result is a permanent piece of art, well worth the pain!
Inner Wrist Tattoo
The most common and popular placement for wrist tattoos is the inner wrist. This area allows for great visibility and a lower pain level than other options like the side, or top of the wrist. The wider space available here allows for bigger pieces to flourish and more detailed imagery to be displayed than other wrist placements. Designs like flowers, mandalas, skulls, and dragonflies work excellently as inner wrist tattoos!
Top of Wrist Tattoo
If you're looking for a wrist tattoo that really stands out, the top of the wrist is an ideal placement! Artwork here will be easily noticed due to the close proximity to the hands, so while we love this style, it is not advised for those who may face backlash at their job, or from family members. If your employer doesn't care about tattoos, and you prefer a strong placement, the top of the wrist is an excellent space to create a unique piece that can easily trail down to the hand.
The pain level for this placement is considered to be pretty high, due to the bones and thin skin present within this area. But, if you're ready to face the pain and feel committed to this placement, we definitely recommend it!
FAQ's About Wrist Tattoos
Is the wrist a good place for a tattoo?
Yes! We believe that the wrist is an optimal placement for any type of imagery, phrasing, or symbols you love. While the pain level can vary from minimal to uncomfortable, the end result is a stunning and easily visible piece of art. Before taking the leap into your wrist tattoo, ensure that this placement will not affect your employment, or cause unwanted friction with parents. For those who prefer to keep their tattoos more private, this placement may not be best, but if visibility isn't an issue, the wrist is a prime area to showcase your unique design. Another important factor to keep in mind is the healing process and aftercare involved in your wrist tattoo. If you constantly wear watches or tight fitting bracelets around the wrist, this placement could create fading and disruption in the healing process. If your job requires a great deal of movement from the wrists, this can also affect healing. To ensure your wrist tattoo stays looking on point for a long time to come, make sure to check out our
detailed tattoo aftercare guide
!
The quick and easy answer is yes, but not as intensely as other placements like the feet, chest or ribcage. The least painful place on the wrist to get tattooed is the inner wrist, due to its fleshier and less boney space. The tops and sides of the wrist are the most painful due to the thinner skin and bones beneath. If pain really isn't your thing, a tiny tattoo, or an inner wrist tattoo may be the best way to go.
Like any tattoo placement, wrist tattoos can fade with time or continued friction. Luckily though, the majority of wrist tattoos are safe from excessive fading, as they are commonly placed on the inner wrist. If fading is a concern for you try avoiding areas the side of the wrists, where fading is a common concern.
How much does a wrist tattoo cost?
Unfortunately there is no way to gauge how much a particular tattoo will cost, but typical shop minimums for small tattoos usually fall around $50. Depending on your artists level of experience and quality of work, hourly prices may vary. Make sure that you discuss pricing with your artist prior to your tattoo so that you'll know what to expect. Read more about tattoo pricing and costs:
How Much Does a Tattoo Cost?
Final Word About Wrist Tattoos
We hope this guide helped inspire you along your journey to selecting the perfect wrist tattoo! While some may prefer more hidden or subtle placements, many people find great joy in their wrist tattoos as they are always able to see them, and can share them with others easily. Wrist tattoos can embody a wide range of styles, design motifs, and size options. They work beautifully as the start to sleeves, or as single stand-alone pieces. Both men and women can rock wrist tattoos with ease. Whether you prefer solitary images, designs that span around the wrist, or minimalist and tiny options, wrist tattoos can do it all. Keep scrolling to check out our picks for best wrist tattoos!